Ten years ago, senior nurse Chris Carter took a risk which would prove to be life-changing. Leaving a job that he loved in the NHS for a leap in the dark – a career with the British Army. It was a choice that not only changed his life but arguably it also changed the lives of many Zambians critically in need of nursing care.
Because his decision not only led to a new job, it also indirectly opened the door to a new and unexpected adventure when, rich in operational experience, he later answered a call for volunteers to go to Zambia to teach critical care.
A rewarding experience in the making. But he wasn't expecting to end up heading a team which would be collaborating internationally and leading a program which would have a national impact on the future healthcare set up in a sub-Saharan Commonwealth country.
A new job a new life
It all started with that choice he made at the crossroads of his caring career. He said :
At the time it was at the height of the Afghanistan and Iraq campaigns, and I was looking for a new opportunity,
I'd always wanted to work internationally, and I'd always had the aspiration to work in a combat zone. Another aspiration was to test myself in a developing country and I knew the Army could offer me all that. I felt, if I don't do this now, I never will.
A decade after taking that decision, Chris, 39, is now a Major in the Queen Alexandra Royal Army Nursing Corps, and all of those aspirations have been answered, and more.
Today he is a critical care nurse and a nurse lecturer working in the Defence School of health-care education, a military unit embedded in Birmingham City University. There he heads up a team responsible for training the Armed Forces future student nurses. He has a tour of duty of Afghanistan tucked under his Sam Browne belt, as well as other deployments to the Middle East.
For many that would be more than enough to keep them occupied. But the urge to serve is strong in Major Chris Carter. Which is why in 2015 he answered an ad in a medical journal for volunteers to set up a critical nursing care program in sub-Saharan Africa. And so, his intense relationship with the Commonwealth country of Zambia began.
Looking at the list of skills and life experience that the job called for, it was clear that Chris had just what the doctor ordered. And as far as he is concerned it's his career in the Army that he has to thank for that. He said:
In the Army, it's not that they give you opportunities as such, they are available, and if you seek them out, and work hard for them, then you can get there.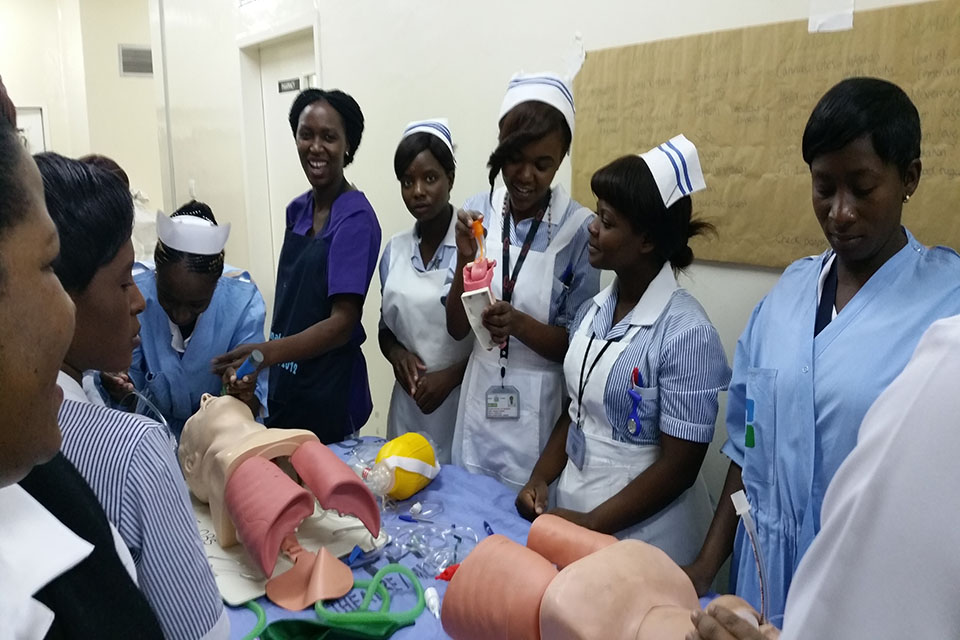 Zambian nurses in training
Benefits for training UK Armed Forces nurses
Not only do they get to see the treatment of diseases such as TB and malaria, which while rare in the UK, in their careers they will have to know about, but perhaps, more importantly, the pressures of practising in a resource-limited environment. Major Carter said:
We watched a Dr performing a procedure and I talk the students through it. I tell them to watch how he and the nurses were working – only opening equipment when they needed it, so they don't waste anything – because it's too precious.
I challenge them… imagine you are on board a ship, or in the field. You're not going to have an infinite supply of gloves, oxygen, swabs… when you've got 10 patients on a ward, and there's only three of you, there's no agency you can call, no extra staff, it's just you.