Twitter has a new look! How are the reviews and who is eligible to get it?
Devdiscourse News Desk
|
New Delhi
|
Updated: 26-06-2019 18:20 IST | Created: 26-06-2019 18:20 IST
---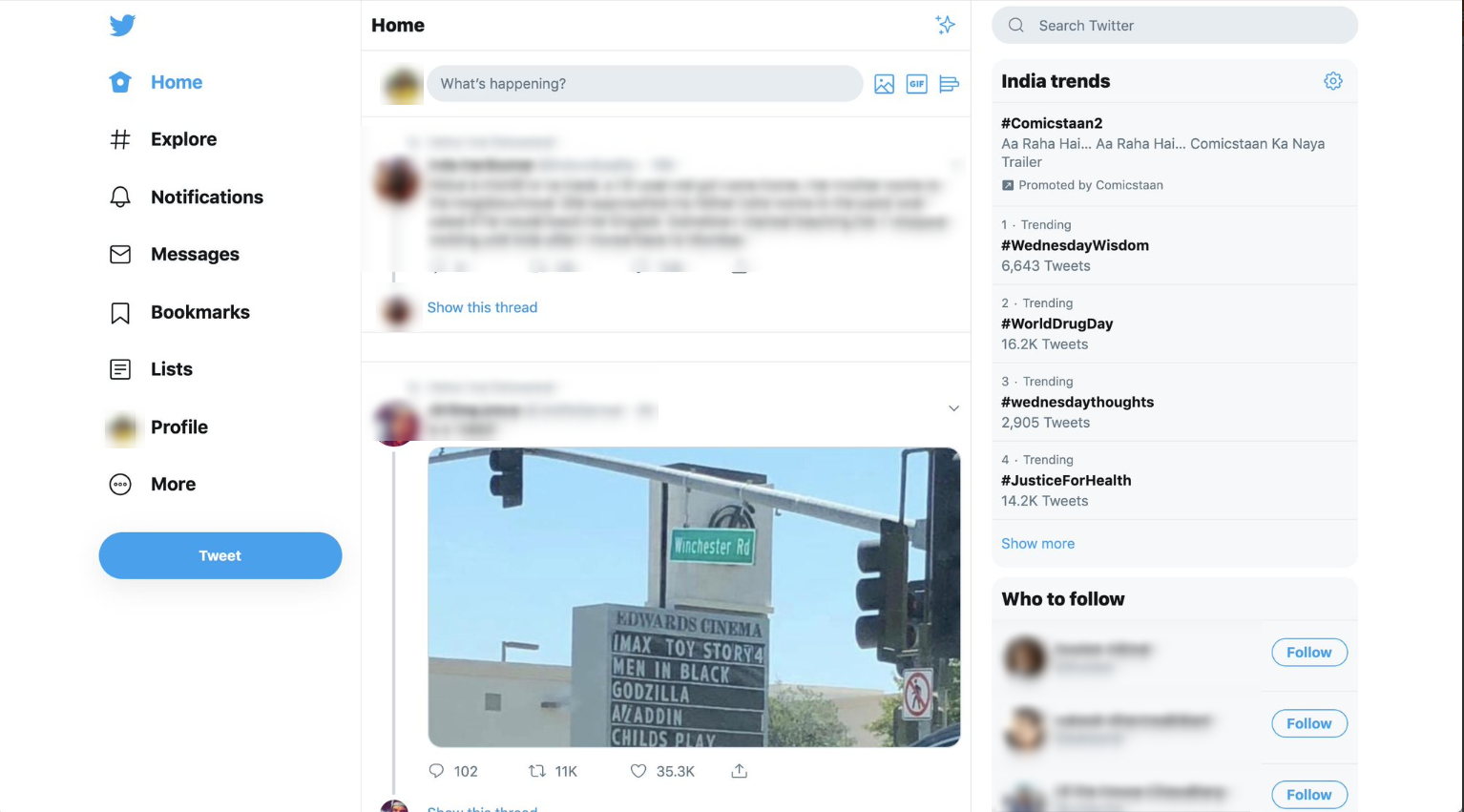 Twitter has quietly unveiled a new look and it has taken, well, Twitter by storm with reviews from all over the world pouring in. The new look is getting mixed reviews, with some users complaining about the feed not being in chronological order, while others liking the user interface changes.
The new look is chunky yet clean with a fewer number of things on screen and a bigger font. Trends section has been moved to the right side on Home screen while options to go to your profile, messages, lists, notifications and other things stay on the left. There is also a big tweet button at the bottom of the options on the left, which was earlier in the top right corner.
The new look has not been officially rolled out yet, some selective users have got their hands on the refreshed design, and a lot of people among them are not impressed.
EW. EW. EW. WHAT IS THIS NEW TWITTER LOOK? pic.twitter.com/c07odrhRB9

— ☽ αηηιє ☾ (@isaymeow) June 26, 2019
bruh the new pc twitter update looks ugly as hell pic.twitter.com/rJB393lybE

— fel ☂︎ #renewandimack (@lullabycomet) June 26, 2019
According to a new study, 90% of people don't like the new twitter look. The other 10% think they're on Facebook by mistake.

— Angie Pamela Jolie (@PamelaJoliet) June 26, 2019
Some people are liking the new look as well, which seems to be inspired by the mobile theme.
#Twitter New Look... Liked it... pic.twitter.com/wp6CmFT0yC

— Nagendra Gadamsetty (@NaGadamsetty) June 25, 2019
thanks @Twitter the new design looks more customizing and more usefull... That's why I only use this social media #twitter 🇮🇳 pic.twitter.com/bZcCVDOyUf

— Tuhinadri Halder (@tuhinadre) June 26, 2019
The new UI for Twitter on desktop: Everything looks BIG :D pic.twitter.com/YQiwS9UeWi

— Miss Merc 🇰🇷🇵🇭 (@_missMerc) June 26, 2019
But can you get the new look of Twitter just yet? Twitter has not made any official statement about the refreshed design yet but it is expected to roll out very soon for all the users.
---