TAFE launched free Mobile App for farmers for renting tractors & farm equipments
JFarm Services, India's leading tractor and farm equipment rental platform is part of TAFE's CSR initiative to support small and marginal farmers. It is based on 'Farmer-to-Farmer' model (F2F) in which farmers can offer all brands of tractors and agricultural equipment to farmers on rent through Mobile App on Android phones. The initiatives aim to aid rural entrepreneurship and generate additional revenue for farmers. 
Devdiscourse News Desk
|
Guwahati
|
Updated: 29-08-2019 11:00 IST | Created: 29-08-2019 10:59 IST
---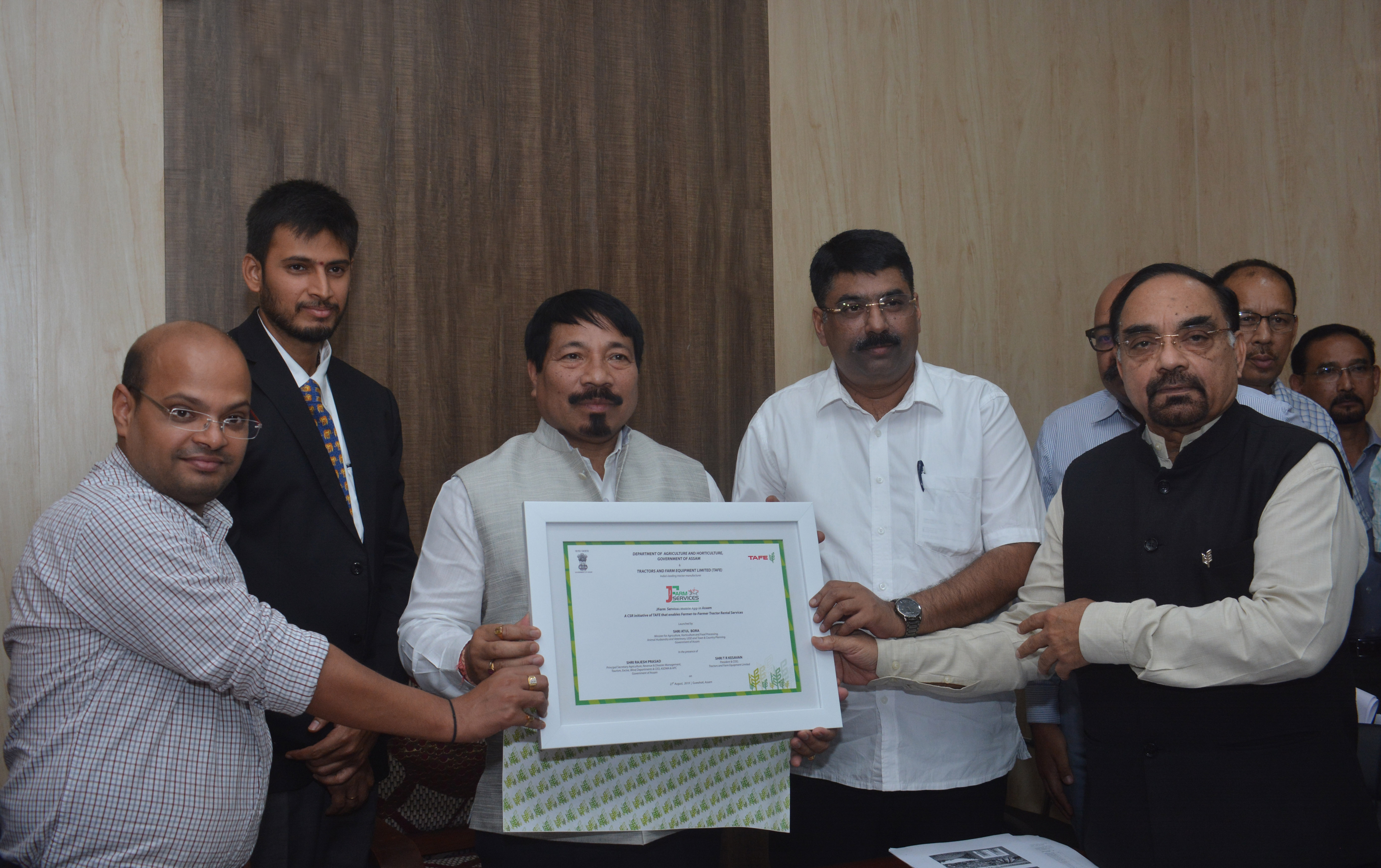 The farmers in Assam can now rent out their tractors and farm equipment's to small farmers through mobile. In a major initiative, an agriculture requirements manufacturing company has launched a Mobile App in Assam wherein the farmers can rent out their tractors and farm equipment's to needs farmers.
TAFE - Tractor and Farm Equipment Limited, a Chennai based company has launched the initiative as part of its CSR project. This initiative was formally launched in Assam in partnership with the State Government, by Shri. Atul Bora, Minister of Agriculture, Horticulture and Food Processing, Animal Husbandry & Veterinary and Town & Country Planning, Government of Assam. TAFE's JFarm Services aims to increase easy access to farm mechanization solutions through the rental of tractors and modern farm equipment to small and marginal farmers, enhancing their productivity and increasing their income significantly. It facilitates the hiring of tractors and modern farm machinery to farmers, free of cost, through itsFarmer-to-Farmer (F2F) rental platform. TAFE'sJFarm Services will collaborate with the agricultural development officers of the Assam Government to ensure wide outreach and successful roll-out of the platform.
Agriculture continues to be the primary occupation in Assam. About 70% of the population in the state is dependent on agriculture as a source of livelihood. With the majority of them being small or marginal farmers, there is tremendous potential in the state for growth and increase in productivity through farm mechanization.
Ms. Mallika Srinivasan, Chairman & CEO - TAFE, said: "India is a land of small farms. A majority of farmers in our country, almost 85% of them have no access to farm mechanization to improve their yields and income. JFarm Services is a CSR initiative that allows both - farmers offering their tractors and farm equipment on rent, and smaller farmers seeking this service, to benefit directly from the JFarm Services app. It is our aim to reach out to the farmers of Assam, touch the lives of millions of farmers across the country and achieve our Honorable Prime Minister's vision of doubling farmers' income by 2022." The JFarm Services App will connect tractor owners and Custom Hiring Centres (CHCs) operated by tractors and equipment owners directly to farmers seeking farm mechanization solutions, thereby facilitating a fair and transparent rental process while focusing on quality, dependability and timely delivery.JFarm Services offers the farmers and renters a wide range of prospects for hiring and renting farm equipment and connects them directly to negotiate and fulfil their respective requirement. With this pioneering platform, TAFE brings the benefits of the technology-enabled sharing economy to boost the income of farmers. Mr. T R Kesavan, President & COO, Product Strategy & Corporate Relations - TAFE, said: "TAFE, in collaboration with the Government of Assam, has launched JFarm Services to create sustainable agricultural productivity and growth for the state through the shared economy model. Small and marginal farmers hold about 85% of the total land holdings in the state. This initiative will support the state in making farm mechanization available to these farmers. JFarm Services is completely transparent and is free of any hidden charges or commissions."
Farmers can also hire tractors and equipment via the JFarm Services Android App or by contacting the toll-free helpline 1800-4-200-100 / 1800-208-4242. The App can be used on low-cost Android phones, is designed to run on very little data and can be used in English and Hindi apart from the various other regional languages.
(With inputs from PR24X7)
---