Sports News Roundup: Tennis-Tsitsipas anticipates fewer bathroom breaks in Indian Wells; Motor racing-F1 veteran Grosjean passes Indy 500 rookie test and more
---
Reuters
|
Updated: 07-10-2021 10:37 IST | Created: 07-10-2021 10:29 IST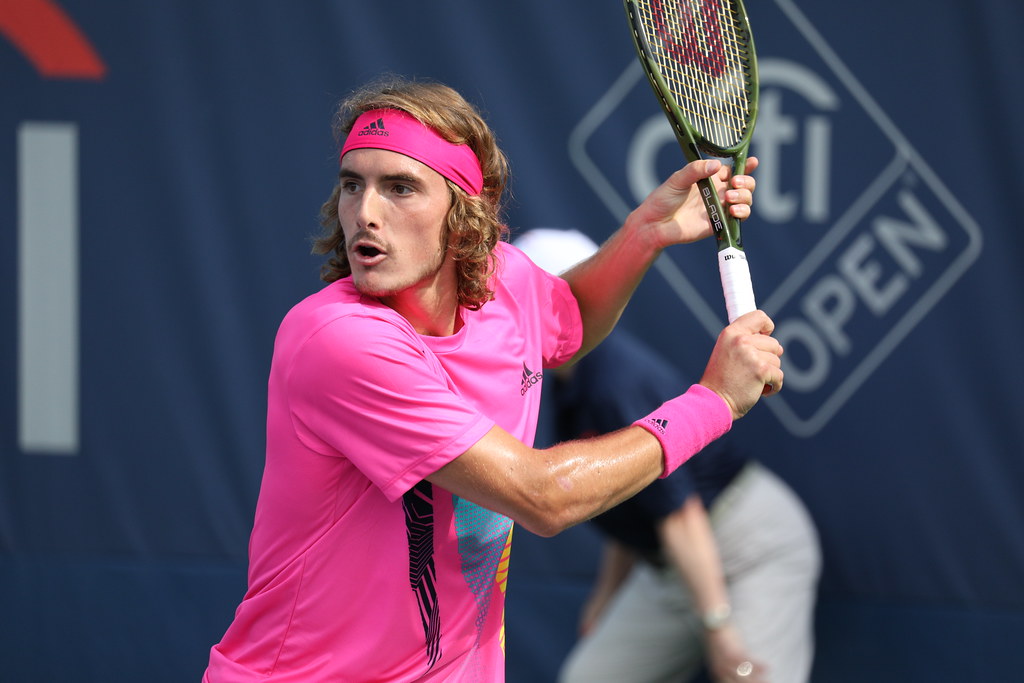 ---
Following is a summary of current sports news briefs.
Tennis-Tsitsipas anticipates fewer bathroom breaks in Indian Wells
Stefanos Tsitsipas, who came under scrutiny at the U.S. Open for the timing and length of his mid-match bathroom breaks, on Wednesday said the dry conditions in Indian Wells will mean fewer trips to the restroom. "It's very dry here," Tsitsipas said ahead of his first match at the tournament in the Southern California desert, where he is seeded second.
Motor racing-F1 veteran Grosjean passes Indy 500 rookie test
A veteran of 179 Formula One starts, Romain Grosjean was back in class on Wednesday passing his Indianapolis 500 Rookie Orientation Program (ROP), setting the 35-year-old Frenchman up for a shot at qualifying for the "Greatest Spectacle in Racing" next May. Grosjean, who made the jump to IndyCar this year, had told his family he would not race on the more dangerous ovals after a fiery crash in Bahrain that ended his F1 career.
Soccer-'No more silence': NWSL players return to the field
Banners and signs declaring, "PROTECT THE PLAYERS" and "NO MORE SILENCE" ringed National Women's Soccer League (NWSL) pitches on Wednesday as teams took to the field for the first time since sexual misconduct allegations rocked the competition.
The matches were the first since a report from The Athletic on Thursday outlined allegations of sexual coercion and misconduct from former North Carolina Courage head coach Paul Riley, prompting the league to postpone last weekend's games.
Soccer-Courage were unaware of sexual misconduct allegations against coach, says owner
North Carolina Courage owner Steve Malik said the team only became aware of sexual harassment and coercion allegations against former coach Paul Riley when they were reported last week. National Women's Soccer League (NWSL) games at the weekend were postponed after The Athletic on Thursday outlined allegations of sexual coercion and misconduct by Riley, who led the Courage to back-to-back championships in 2018 and 2019.
Tennis-Zverev welcomes ATP investigation into abuse allegations
Alexander Zverev welcomed an ATP investigation into allegations of domestic abuse against him, saying on Wednesday it was about time. World number four Zverev's ex-girlfriend Olga Sharypova said in an interview with online magazine Slate on Aug. 25 that the German was emotionally and physically abusive to her during their relationship.
Motor racing-Hamilton and Verstappen renew battle in Turkey
Lewis Hamilton clinched his seventh Formula One world championship in Turkey last year while Max Verstappen had a race to forget, but this time the title remains wide open and the Dutch driver could be the one celebrating on Sunday. Only two points separate Mercedes' championship leader Hamilton from his Red Bull rival with six races left after Istanbul and the battle set to go down to the wire.
Report: Urban Meyer makes latest apologies to Jaguars
Jacksonville Jaguars coach Urban Meyer continued his rounds of apologies on Wednesday, this time addressing his team about his behavior in Ohio last week. NFL Network characterized Meyer as "honest and pretty forthright" as he talked to the players, adding he "expressed remorse and asked for forgiveness."
Sailing-Women to race with men in 'groundbreaking' SailGP shift
SailGP will include female sailors in its adrenaline-filled racing for the first time this week by adding an extra crew position aboard its "foiling" catamarans. There have been few routes for top female sailors to progress beyond events such as the Olympics and SailGP has implemented a pathway in an effort to address this gap.
Reports: Terrelle Pryor arrested for assault, throwing pumpkins
Former Ohio State star and NFL player Terrelle Pryor was arrested Wednesday near Pittsburgh and charged with simple assault, criminal mischief, and harassment, according to multiple media reports. Pryor allegedly got into a phone argument with a woman, texting and calling her repeatedly, before striking the woman and throwing a deck chair at her.
Boxing-Fury promises to knockout Wilder in heated press conference ahead of trilogy fight
A furious Tyson Fury vowed to knock out Deontay Wilder when the two rivals meet for the third time on Saturday in Las Vegas with the Briton's WBC heavyweight title on the line. The undefeated Fury (30-0-1), who battled Wilder (42-1-1) to a draw in 2018 before taking the belt from the American 20 months ago, was the aggressor in Wednesday's press conference, repeatedly berating the former champion.
(This story has not been edited by Devdiscourse staff and is auto-generated from a syndicated feed.)