Never wanted to field like this: Indian midfielder Hardik after being ruled out of Hockey World Cup
Indian men's hockey team midfielder Hardik Singh has been ruled out of the ongoing FIH Men's Hockey World Cup in Odisha after sustaining a hamstring injury, announced Hockey India on Saturday
---
ANI
|
Updated: 21-01-2023 14:45 IST | Created: 21-01-2023 14:45 IST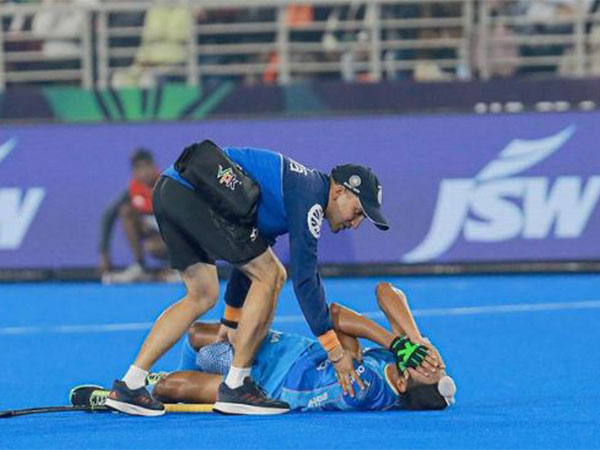 ---
Indian men's hockey midfielder Hardik Singh took to social media on Saturday to express his dissatisfaction and disappointment over being ruled out of the ongoing FIH Men's Hockey World Cup due to a hamstring injury. Indian men's hockey team midfielder Hardik Singh has been ruled out of the ongoing FIH Men's Hockey World Cup in Odisha after sustaining a hamstring injury, announced Hockey India on Saturday.
Hardik took to Instagram to share his thoughts after being ruled out of the tournament. "Unfortunately, my dream of playing in the world cup ended due to a hamstring injury, and I never wanted to leave the field like this, especially in the world cup. They always say everything happens for a reason, and I am trying to figure out why, and it will take some time. It sucks that I can't repay that trust anymore and add value to the field... But OUR tournament is not over yet. It's only really starting NOW! vs pre-quarterfinal. Let's go, boys!!!," said the caption of Hardik's post.
Ahead of India's crucial crossover match against New Zealand on Sunday, Hockey India in a statement announced the replacement of midfielder Hardik who sustained the during India's match against England on January 15. Having rested the youngster for the match against Wales, and subsequent assessment, Hardik has now been ruled out of the FIH Odisha Hockey Men's World Cup 2023 Bhubaneswar-Rourkela.
Hardik will be replaced by alternate player Raj Kumar Pal. Talking about the decision made by the team management, Chief Coach Graham Reid said: "Overnight we had to make the difficult decision of replacing Hardik Singh in the Indian Team for Sunday's match vs New Zealand and the subsequent World Cup matches."
"While the injury was not as severe as the initial incident suggested, time was not on our side and after our ongoing thorough rehabilitation process and functional and on-field assessment today, it has been decided that we will replace Hardik with Raj Kumar Pal. While it is extremely disappointing for Hardik personally of course, given how well he played in our first two matches, we are excited at the prospects of Raj Kumar joining the group for the remaining World Cup matches," Reid added. Having finished second in Pool D with seven points and two wins and a draw, India will need to win against New Zealand in the crossover match on Sunday to make the quarterfinal of the World Cup.
At 1900 hours IST on 22nd January 2023, India will take on New Zealand in the crossover match at the FIH Odisha Hockey Men's World Cup 2023 Bhubaneswar-Rourkela. (ANI)
(This story has not been edited by Devdiscourse staff and is auto-generated from a syndicated feed.)