Government to establish 20 Embryo Transfer Technology Centres in India
This center will produce high genetic merit bovines of Gir, Sahiwal, Lal Kandhari, Dangi, Deoni, and Gaolao.
---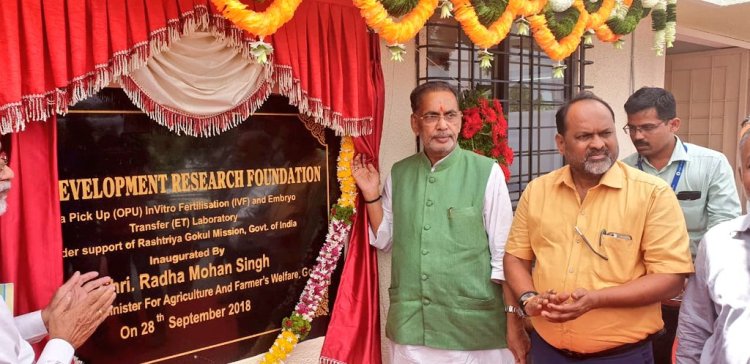 ---
Twenty Embryo Transfer Technology Centres are being established in the country and a proposal of 19 centers has been approved so far. This was stated by the Minister of Agriculture and Farmers Welfare Shri Radha Mohan Singh at the foundation laying ceremony of Embryo transfer Technology ceremony of Embryo Transfer Technology (ETT) center in the Bharatiya Agro Industries Foundation (BALF), Uruilikanchan, Pune. The Minister further stated that 3000 high genetic merit bulls of indigenous bovine breeds are being produced from these centers. Two of these centers are to be set up in Nagpur and Pune in Maharashtra.
The Minister also said that there is a huge demand for semen from high genetic merit bulls of indigenous bovine breeds. At the same time, the number of certain breeds has decreased considerably and so, ETT can prove to be extremely effective in enhancing productivity and breed improvement. Keeping this in mind, an ETT center is being set up in BAIF, Urulikanchan and Rs 5.07 crore has been released for this. This center will produce high genetic merit bovines of Gir, Sahiwal, Lal Kandhari, Dangi, Deoni, and Gaolao.
The Minister observed that agriculture and dairy business complement each other for the social and economic upliftment of cattle farmers. To achieve this objective, it is essential to have good quality livestock breed in order to increase production. Under the Rashtriya Gokul Mission, 10 semen centers have been identified for the production of Sex Sorted Semen for the production of more female animals. Proposals for two centers, in Uttarakhand and Maharashtra, have been approved. The foundation stone of sex-sorted semen center in Rishikesh, Uttarakhand was laid in June 2018. Besides, INDUSCHIP has been developed for the genomic selection of indigenous breeds and 6000 dairy animals have been genetically evaluated using INDUSCHIP. The Minister informed that under the flagship scheme Rashtriya Gokul Mission, the current government till March 2018 has approved projects worth Rs 1600 crore in 29 states out of which Rs 686 crore has been released. 20 Gokul Grams are also being established under this scheme. Apart from this, Under the Pashu Sanjivni component of the scheme, 9 crore milch animals are being identified using UID (Unique Identification Device).
In a separate function, while addressing the inauguration ceremony of National Level Workshop on Nutri-cereals (Millet), the Minister said that nutri-cereals (jowar, bajra, ragi, and other small millets) as compared to wheat, paddy, maize etc. have special significance because of their nutritional value. These are used for foodgrain, animal feed, and fuel.
(With inputs from PIB)