Maritime transport post-COVID 19: Disruptions ahead in business models, techno-investments, regulations
Cargo shipping is a crucial part of the global supply chains and is likely to become more resilient along with efforts to make supply chains resilient but cruise liners could face much more disruptive changes.
COE-EDP
|
Updated: 23-04-2020 10:20 IST | Created: 09-04-2020 02:50 IST
---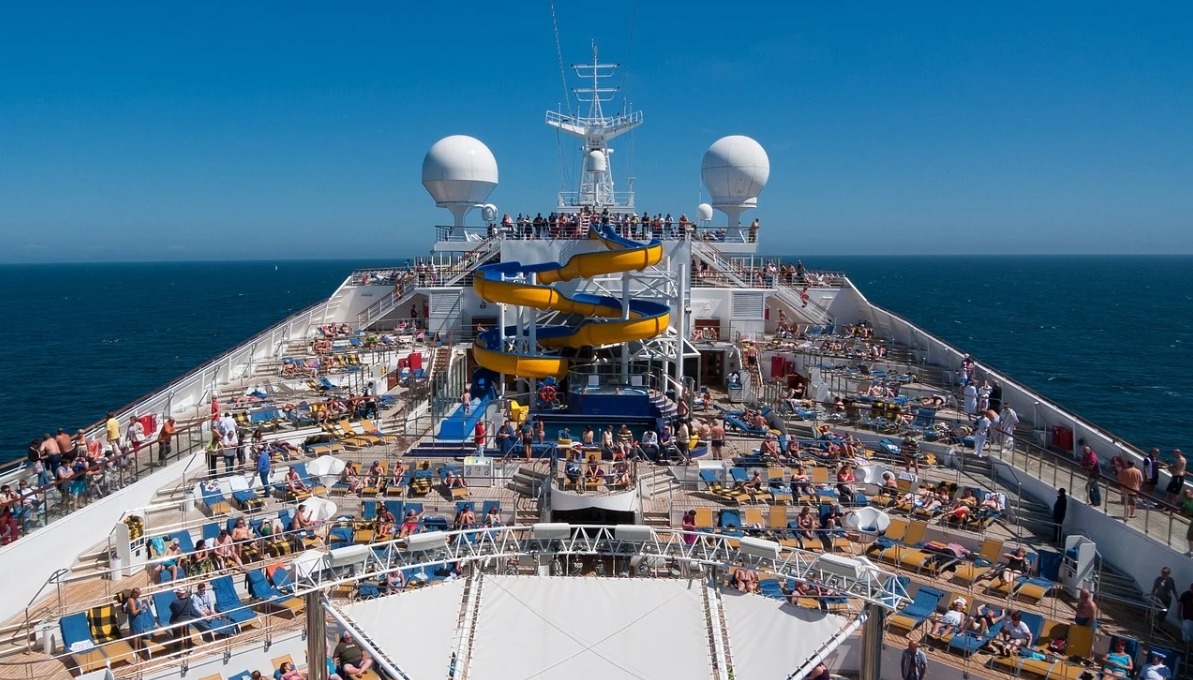 The words "ships" and "coronavirus" together in a sentence have formed some tragic headlines in the past few months which would always be a reminder of one of the most tragic crises in the maritime transport industry. As much as the pandemic is dangerous on the land, it's presence on ships has been even more traumatic and has been followed by dilemmas in which ships were banished to the oceans on their own for weeks when countries refused to take them in.
In the initial stages of the outbreak, the movement of ships, both cruise and cargo, wasn't affected much. But as the infection started spreading across China, the shipping industry started to feel the pressure building up as supply chains started going dry and ports began operating with lesser capacity.
The outbreak spread much farther than the common perception at the time and soon gained grip over the whole world. Supply chain disruptions were massive as all major countries including India, European nations and the US restricted exports, bringing the shipping industry to its knees.
The impact on shipping was somewhat expected as the situation unfolded and industry players had started preparations. But for cruise companies, all hell broke loose within a matter of few days. The infamous Diamond Princess episode, where hundreds of passengers were stranded for weeks in the sea, will be a stain in the history of cruise lines but that is still not the only nightmare of the industry as more such incidents were reported in the following weeks.
Companies faced a further setback when authorities advised people against going on cruise altogether. The US State Department has advised against travel on cruise ships after CDC noted an "increased risk of infection of COVID-19 in a cruise ship environment." The British government has also advised vulnerable citizens against traveling on cruise ships.
While the exact impact of coronavirus on maritime transport would unfold in years to come, the emerging trends show that the companies should brace for disruptions which could reshape the industry.
Bleeding shipping industry
Initially, when the outbreak spread through China, shipping companies were already expecting lower demand due to the Chinese New Year. It is the longest festival in the country and many schools and businesses are closed on the occasion.
The pressure started to be felt when China decided to extend the holiday in view of the outbreak which impacted supplies, workers were stuck at home or away from their places of work, impacting operations at factories as well as ports. Besides, warehouses around dock areas in China were also not operating at full capacity which forced ships to turn to other ports.
As the virus started spreading to other countries, screening procedures and other preventive measures were introduced at many ports which delayed deliveries and pickups. Orders were getting canceled, costs were increasing, trade opportunities were reducing and the industry started to feel the real extent of the pandemic.
The outbreak soon spread across the world, economic activity in all major countries plunged by March and a global recession was looming. Supply chains collapsed as both the supply and demand side struggled due to the restrictions imposed to contain the virus and cargo ships started piling up in ports. The reduction in the general movement of people also drastically reduced the demand for crude, and countries that were importing millions of barrels per day suddenly started limiting imports, which led to massive revenue losses in the shipping industry.
The outbreak also significantly brought down the number of international flights, reducing air cargo capacity and forcing manufacturers to switch to waterborne transportation even for higher-value and more time-sensitive cargo. But cargo shipping still struggled due to overall slump in economic activity and increased scrutiny on seafarers.
Guy Platten, Secretary-General of the International Chamber of Shipping association, said authorities refusing entry or quarantining ships "are now commonplace", while seafarers currently stuck on-board ships were unable to return home due to difficulties with changing crews.
Long-term scars for cruise operators
While the shipping industry was able to offset some of the impacts due to a sharp fall in oil prices, the outbreak created absolute chaos for cruise liners, which emerged as the hotbeds for the spread of coronavirus.
It started in early February with Diamond Princess, the cruise ship that was supposed to dock in Japan but was denied permission to do so because positive coronavirus cases were detected on board. The whole ship, carrying over 3,700 people including crew members, was quarantined and remained in the sea for weeks as Japan feared that disembarking passengers could lead to the spread of the virus in the country.
Over the course of weeks, passengers were forced to self-isolate themselves in small cabins and more than 700 people were ultimately infected with the virus, making it the site of the highest number of coronavirus cases outside China at the time. Over 10 people died in the following days with the latest death linked to Diamond Princess reported on March 28.
Another ship of the same company came under scrutiny as 2,700 passengers of a cruise ship called Ruby Princess were allowed to disembark in Sydney and were asked to self-isolate at their homes. The passengers were asked to travel by themselves and were free to use public transport.
Passengers disembarked on March 19 and on the next day it was announced that 3 passengers and a crew member have tested positive for the virus. The cases soon started piling up, the rest of the passengers were traced and tested, total COVID-19 cases linked to the cruise have now soared to over 360 and 6 people have died. A criminal probe has been launched into the incident.
Several other incidents have happened in the past few weeks, prompting governments to ban cruise ships from their ports and ultimately forcing major cruise operators to suspend most or all operations.
Cargo shipping as a lifeline of international trade
Cargo shipping is a crucial part of the supply chains and cannot be replaced in the near future. Without cargo ships, it wouldn't be viable for many countries to fulfill the demands of their citizens, even that of essential goods.
According to UNCTAD, commercial shipping moves around 80% of the globally traded goods which includes the world's food, energy, and raw materials, as well as manufactured goods and components. This also includes vital medical supplies, which are crucial for fighting the coronavirus pandemic, and supports millions of jobs.
In view of the COVID-19 pandemic, trade bodies and international organizations have urged countries to remove restrictions on cargo ships and support seafarers to ensure continuity of supply chains. "We can't ignore the fact that without crews to man our ships, the trade will cease to operate. This means food, medicine and commodities will no longer arrive in ports and people will be directly impacted," Platten said.
International Maritime Organization Secretary-General Kitack Lim has also made calls urging governments to adopt a "practical" approach on crew changeovers. "I urge a practical and pragmatic approach to crew changeovers and resupply. Seafarers are on the frontline of this global calamity," Lim said.
Most countries have kept their ports open for cargo ships but have stepped up screening efforts instead in a bid to contain the virus. The increased checks and scrutiny in various ports are precluding free access to seafarers, says UNCTAD.
What lays ahead
Cargo shipping is an irreplaceable part of global supply chains and is expected to remain crucial for many years to come but would still not make it to the other side unscathed. Technological disruptions can be expected in the industry and companies strive for more resilience to natural disasters and disease outbreaks.
Changes in global supply chains would also directly impact the shipping industry if countries aim to reduce dependency on China. The shipping industry is also heavily dependent on China because of its importance as a manufacturing hub and steps taken to make supply chains more resilient would automatically mean a more resilient shipping industry.
Cruise operators could face more disruptive changes in everything from their business models, technological investments and even regulatory structure once the outbreak is over. Cruise companies might need to finally take significant steps to address the environmental impact of their massive ships to attract the millennial generation.
Most cruise companies are registered in small countries and not the countries where these ships often dock or where the majority of their customers come from. This way the companies avoid the regulatory structure of countries in which they operate. But the political clout of cruise operators in major countries is shrinking and this became a problem for cruise companies during the outbreak when many countries banned cruise ships from their docks.
Countries have expressed willingness to work with these operators and US Vice President Mike Pence has said, "we want to work with the cruise line industry to ensure that when we come through this, that cruise lines and the medical services that are available for the passengers and all of the crew, that cruise lines are safer than ever before and can prosper for years to come." But cruise companies would need to change tactics and heed to long-pending demands in exchange for a supportive environment in the post-coronavirus world.
In the case of revamped supply chains
As countries aim to make supply chains more resilient, the shipping industry is deemed to change to keep up with the demand. Countries would try to avoid putting all their eggs in one basket which would mean shipping companies would also have to optimize.
China is an economic powerhouse and plays a crucial role in global trade, both as an exporter and an importer. The more the supply chains depend on China, the more the revenues of the shipping industry align with the developments in the Chinese economy. Annual imports of all types of cargo into the country grew by 1,510 million tons (equivalent to 49 percent of growth in world imports) between 2008 and 2018. While disruptions in manufacturing activity in the country sparked shortages of a wide variety of products across the world.
To reduce the dependency on China, other countries can adopt more inward-looking policies and diversify supply chains to include suppliers as well as buyers from other regions. In both cases, shipping companies should be open to changes in their operating models to ensure the transformation is efficient, which would also make the shipping industry more resilient to shocks.
Analysts have also said that the post-coronavirus future will be the age of digital disruption in the industry following the footsteps of upgrades in manufacturing and supply chains. Different segments of robotics and freight technology would also witness more investments as the industry witnessed setbacks due to lack of labor due to the restrictions imposed to contain the COVID-19 pandemic. The crisis might serve as a catalyst for technological advancement that could reduce costs in the long run and make the shipping industry more resilient to natural disasters and outbreaks.
Dealing with changing demographics
COVID-19 pandemic has left permanent stains on cruise ships and the near-future doesn't seem very bright for companies in the industry. While the whole world is gripped with fear and uncertainty, cruise passengers had it much worse as they were stuck in the sea in confined spaces which became the hotbeds of coronavirus.
The affected cruise ships were carrying passengers of many nationalities and remained in the headlines for many days across the world. Consistent negative coverage could cement perceptions about the risks of going on a cruise and lead to changing behaviors and beliefs of its potential customers and impact its prospects.
But despite the setbacks, analysts say that the industry might survive. The cruise line industry is highly concentrated and a few companies dominate most of the market share. These companies have deep pockets and are somewhat resilient to shocks because of resources at their disposal and their flexibility to reduce expenses.
The industry is growing steadily and 2020 was poised to be a record-breaking year for the business, according to pre-coronavirus forecasts. The industry was expecting to carry more than 32 million passengers, almost twice as many as in 2009.
But the path of growth of the industry might not be the same and its demographics could change due to the outbreak. Elder generation contributes a significant portion of revenues of cruise lines and the panic caused by the coronavirus outbreak in the generation, the most vulnerable group to the disease, might drive them away from cruise ships, which are known to be a notorious incubator for infections like coronavirus due to their emphasis on communal dining and group activities in confined spaces. In 2019 alone, US CDC reported ten cases of outbreaks on ships, 8 of Norovirus and 2 unknowns.
Luckily enough for these companies, they were already working on getting more young people on board. The perception of millennials towards cruise ships is changing and it is becoming an "undiscovered" experience for the younger generation, studies say.
Recent researches by Mintel showed that millennials see cruise ships as a nice way to enjoy every minute of a holiday, including travel time. The results of the study showed that 38% of those who are interested in taking a sea cruise in the next five years are aged 16-34, while 34% are aged 35-54 and only 28% are aged 55-plus. "Millennials who are interested in cruises say they like being able to visit many destinations without having to pack their bags and to make the most of their journey while they are traveling," said Marloes De Vries, a travel analyst at Mintel.
But millennials are increasingly concerned about their environmental footprint, something that the cruise industry is often criticized for. Studies show that the younger generation wants to get on a cruise but companies would have to change tactics, invest more in green technologies and alter their business model, if needed, to cater to the target audience because millennials might not be equally impressed with the offerings that excite the older generation.
Centre of Excellence on Emerging Development Perspectives (COE-EDP) is an initiative of VisionRI and aims to keep track of the transition trajectory of the global development sector and works towards conceptualization, development, and mainstreaming of innovative developmental approaches, frameworks, and practices.
---
FIRST PUBLISHED IN:

Devdiscourse