Deepti Naval, Supriya Pathak fondly remember Farooq Shaikh on 75th birth anniversary
---
PTI
|
Mumbai
|
Updated: 25-03-2023 13:41 IST | Created: 25-03-2023 13:38 IST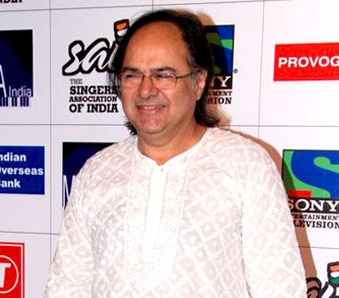 ---
Deepti Naval fondly remembers her favorite co-star Farooq Shaikh as a ''buddy'' on his 75th birth anniversary while Supriya Pathak says he will always be identified for his grounded personality.
It was Sai Paranjpye's 1981 romantic-comedy "Chashme Buddoor" that marked the beginning of a successful on-screen partnership between Naval and Shaikh, who passed away in 2013 at the age of 65.
Their natural chemistry led many filmmakers to cast them together in over half a dozen films, including "Saath Saath", "Kissi Se Na Kehna", "Katha", "Rang Birangi", "Faasle", "Listen to Amaya" and "Tell Me O Khuda".
Reminiscing about her first film with Shaikh, Naval said they felt comfortable with each other right from the beginning.
''From 'Chashme Buddoor', we hit it off instantly as co-actors. We were very comfortable with each other because nobody was a big star. We as newcomers were both starting on the same foot.
''He was a trained actor and from the theatre, while I was completely untrained but we found a comfort zone with each other in our working life and it was very easy to work on the sets with each other," the actor told PTI.
Naval, 71, said she learnt a lot about acting from Shaikh. As a performer, Shaikh was very spontaneous, a quality that they both had in common, she added.
''I have learnt a lot by watching other people's work because I am not a trained actor and I have never been to a film school or learnt acting from anyone. Farooq was a very convincing and most natural actor, so I have learnt a lot from him.'' Pathak, who collaborated with Shaikh on the 1982 drama "Bazaar", said she was always amazed by how the actor remained grounded in the highly competitive movie industry.
''There are very few people in this industry who are good human beings, apart from being a good actor. He was such a beautiful man who worked in the competitive field and kept his niceness intact.
''This is what I learnt from Farooq, that you don't have to become crooked or vicious or malicious inside. You can remain beautiful, do good work and be successful,'' the 62-year-old actor told PTI. Born on March 25, 1948, Shaikh made a tremendous contribution in films as well as theatre and TV. He started his career in 1973 with ''Garm Hava'' but is best remembered for his performances in films like ''Shatranj Ke Khiladi'', ''Chashme Buddoor'', ''Kissi Se Na Kehna'' and ''Noorie''.
His last film was ''Club 60'', which was released just weeks before his death on December 28, 2013. Before that, he essayed the role of a father to Ranbir Kapoor in ''Yeh Jawaani Hai Deewani''.
Shaikh also hosted the popular Zee TV show ''Jeena Issi Ka Naam Hai'', in which he interviewed many Bollywood celebrities.
Naval recalled that she and Shaikh became ''friends for life'' soon after "Chashme Buddoor".
''He was my buddy. But we would fight a lot because Farooq would irritate me all the time. He would fool around with me on the sets, tease me, etc, and we felt like we had a picnic," she said.
Their on-screen pairing in multiple in the early 1980s led many people to speculate that they were more than friends. But Naval said nothing could be further from the truth. ''We were not romantically inclined toward each other. People are dying for me to say that we were romantically inclined but I am sorry to disappoint everyone, we were not drawn to each other," she said.
''When I say, he is part of my personal life, it means like Manisha Koirala and Mita Vashisth, Farooq too was my personal friend. These are the people who are there for me whenever, whatever happens," she added.
Naval said Shaikh had a corny sense of humour.
''Once a journalist asked him, 'you must have fallen in love with Deepti?' and he said, 'Yes, even now, I can't sleep thinking about her'. That was Farooq's weird sense of humour, he was always cynically smiling.
''And I was like, 'Oh my god, they are going to take this seriously'. I used to get very pissed with that kind of sense of humour," she recalled. Naval said they both had love and respect for each other.
''We had great on-screen chemistry. We had regard for each other as actors, we had respect for each other. On the sets, we were always working, and never against each other." Pathak said Shaikh's goodness was reflected in his performances in films.
''If you see any of his work, you will see there is truth in that personification of that person. The kind of goodness that he had as a person reflected in his work and that gave him the uniqueness of the kind of acting or characters that he could portray," she added.
Shaikh's other co-star Shabana Azmi paid a tribute to the actor in a heartfelt post on Twitter. The two actors worked together in Satyajit Ray's 1977 movie ''Shatranj Ke Khilari'' as well as ''Lorie'' (1984), ''Ek Pal'' (1986), and ''Anjuman'' (1986).
They also worked in the popular stage play ''Tumhari Amrita'', which was directed by Feroz Abbas Khan.
''Happy birthday. Dekha yeh din main kabhi nahin bhoolti! (See, I never forget this day). Tumhari Amrita #Javed Siddiqui #Feroz Abbas Khan'' she tweeted.
(This story has not been edited by Devdiscourse staff and is auto-generated from a syndicated feed.)