The Sex Lives of College Girls Season 3: Release date, cast and what to expect
---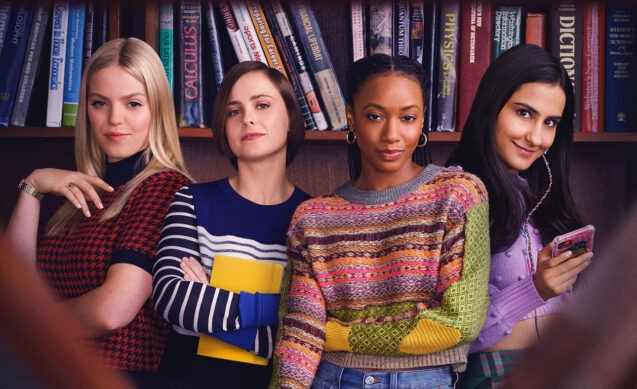 ---
The Sex Lives of College Girls is an HBO Max series that debuted in November 2021. Mindy Kaling and Justin Noble created the program, which chronicles the lives of four freshmen housemates at Essex College in Vermont. The program soon garnered a passionate following among spectators for its funny yet sensitive portrayal of sexuality and coming-of-age experiences.
With Season 2 wrapping up on many important cliffhangers, fans awaited Season 3. Fortunately, HBO Max announced that the program has been renewed for a third season less than a month after its Season 2 premiere. We'll take a closer look at everything we know so far about The Sex Lives of College Girls Season 3, including the premise, cast, and release date, in this article.
The Sex Lives of College Girls Season 3 plot: What to expect
The finale saw Kimberly realizing her feelings for Canaan and kissing him, but deciding to keep it a secret from Whitney, who was her roommate and Canaan's ex-girlfriend. After seeing the kiss, Whitney decided to move into the Kappa house, leaving Kimberly to keep the truth from her.
Bela chose to change schools after being thrown off the Foxy and out of her new flat. In episode 7, however, she was given the opportunity to reflect on her actions and the hurt they caused others. Unfortunately, she failed the final examination, leaving her character with an unknown destiny.
In the season 2 finale, Leighton reunited with Alicia, her season 1 girlfriend, after splitting up with Tatum, who looked identical to her. She was also excited to move into the Kappa house until an alumnus and benefactor made derogatory statements about gay and nonbinary persons.
In terms of The Sex Lives of College Girls Season 3, viewers are wondering if Whitney and Kimberly will ever reconcile following the events of the finale. Will Bela return to Essex and try to atone for her actions in season 2? Justin Noble, the show's creator, hinted at a redemption narrative for Bela, who needs to work on bettering herself and winning everyone's forgiveness. It will not, however, be an easy road for her. In an interview with Deadline, showrunner and co-creator Justin Noble hinted at this possibility.
"In episode 7, we get this glimpse of her at the end going down the path and sitting in this mental health bubble and thinking, and we've never seen that from her. That's the show giving her an opportunity saying, 'Hey, sometimes what you're doing can hurt other people.' She thinks about it, and then the finale gives her a test, and she fails miserably."
The Sex Lives of College Girls Season 3 cast: Who will return?
The Sex Lives of College Girls Season 3 is expected to feature the same core cast as the first two seasons. This includes Pauline Chalamet as Kimberly, Amrit Kaur as Bela, Reneé Rapp as Leighton, and Alyah Chanelle Scott as Whitney. In addition, recurring cast members Mekki Leeper, Christopher Meyer, Ilia Isorelýs Paulino, Lolo Spencer, Renika Williams, and Mitchell Slaggert are also expected to return.
While there have been no official casting announcements for new characters, Season 3 may introduce some new faces to the show's universe. As the show focuses on college life, there are plenty of opportunities for new characters to enter the fray, whether as fellow students, professors, or other figures on campus.
The Sex Lives of College Girls Season 3 release date: When to expect It
At this time, there is no official release date for The Sex Lives of College Girls Season 3. It's unclear when filming will begin or how long post-production will take. However, based on the timeline of previous seasons, it's possible that Season 3 could arrive on HBO Max in late 2023 or early 2024.
Also Read: Euphoria Season 3: Major changes to storyline teased, premiere may delay until 2024