Zico-produced boy group BOYNEXTDOOR makes grand entrance into K-pop with album release
---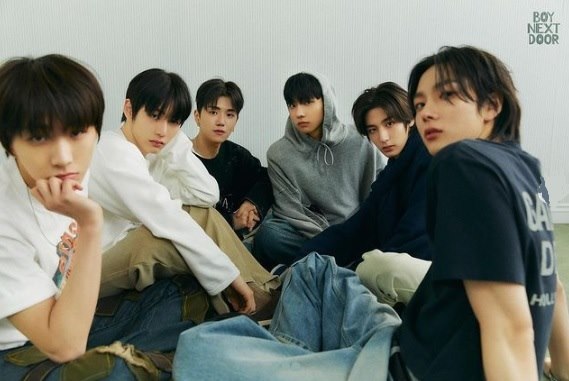 ---
The K-pop industry is buzzing with anticipation as the highly-anticipated boy group, BOYNEXTDOOR, produced by renowned artist Zico, makes its grand entrance onto the scene. The group, the latest addition to the prestigious HYBE artist lineup, aims to captivate audiences with its unique sound and relatable music.
The excitement surrounding BOYNEXTDOOR reached its peak during the media showcase for their debut single, "WHO!", which took place at 2 PM on the 30th KST. The six-member group, consisting of Sungho, Riwoo, Jaehyun, Taesan, Leehan, and Woonhak, introduced their entire triple-title track album during the event, leaving fans eagerly awaiting its release.
BOYNEXTDOOR, true to its name, seeks to establish a connection with listeners through its honest music, which depicts everyday stories in a down-to-earth and comforting manner. Leehan, one of the group members, emphasized the significance of their name, stating, "The name 'BOYNEXTDOOR' perfectly expresses who we are. Our appeal lies in our natural, comfortable, friend-like charm."
Zico played a pivotal role in shaping BOYNEXTDOOR's identity, serving as the general director and main producer for the group. Taesan expressed gratitude towards Zico for his guidance, saying, "Zico constantly emphasized our individuality and guided us on how each member's unique character could blend into the group." The members admired Zico's dedication and tireless support, with Woonhak adding, "Working and recording together, we've learned a lot from observing Zico's approach to music. His attitude has been a great motivation for us to strive harder."
The members of BOYNEXTDOOR have left their artistic mark on their debut album by actively participating in songwriting and establishing the group's musical identity. Jaehyun, Taesan, and Woonhak contributed to the songwriting and lyrics of "But I Like You," and they also penned the lyrics of "Serenade." Woonhak expressed his hopes for their music, stating, "While creating music, I've always hoped that listeners would resonate with it. That thought played a significant role in the album-making process."
Despite the pressure of being the youngest act under HYBE, BOYNEXTDOOR remains grateful for the attention they have received. Leehan expressed their appreciation, saying, "We are truly grateful for the immense attention. We look forward to hearing things like 'HYBE's youngest' or 'KOZ is different.'"
BOYNEXTDOOR's highly anticipated debut album is set to be released at 6 PM KST today. With their unique musical style, individuality, and heartfelt dedication, BOYNEXTDOOR aims to make a lasting impression in the K-pop industry and win the hearts of fans around the world.
Also Read: Siren: Survive The Island hits the small screen! Know the reality show in detail