Madhya Pradesh: Tribal family makes iron from particular stone using traditional scientific process
They possess no supernatural powers. They simply use a scientific process to do it. The family has displayed its skill at the India International Science Festival 2022
---
ANI
|
Updated: 22-01-2023 17:58 IST | Created: 22-01-2023 17:58 IST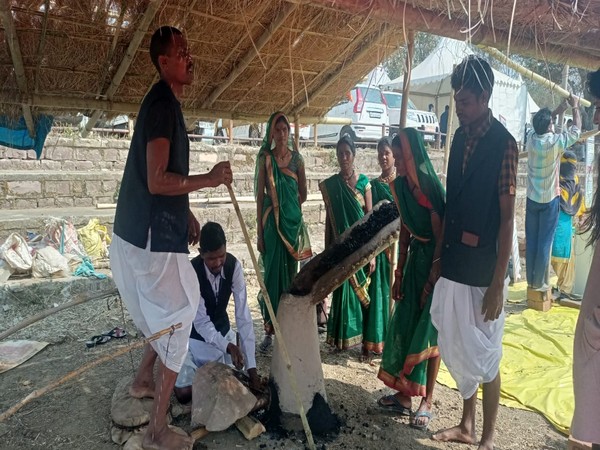 ---
A tribal family from Dindori district in Madhya Pradesh can turn pieces of stone into iron. But this is no miracle. Nor does the family have any supernatural powers to do that. They change stone pieces into iron purely through a scientific process for which they count only on nature, because they collect raw material for it from forests.
The family comprising seven members has covered around 460 km to reach the state capital Bhopal to display their skill at the India International Science Festival 2022 being held on the premises of Maulana Azad National Institute of Technology (MANIT). The four-day science festival began on Saturday. The iron they make is rust free, said Moti Singh Maravi, a member of the Agariya tribe found in Mandla, Dindori, Balaghat and Sidhi districts of the state.
Making stone in this way is his family business which they have been doing for centuries, Maravi said, adding that "I have been doing this since my childhood. Our ancestors began it. The aim is to keep the tradition alive." About the process to turn stones into iron, Maravi said, "They prepare a mud furnace in which they put the stones they call Kaleji Patthar along with coal."
"We pump air into the furnace through a pair of bellows which we operate with our legs. The process continues for four hours and the outcome is around 200 grams of iron," he said. The quantity of iron produced through the process depends on the quality of stones, he said.
The iron is used to make various traditional implements like axe, sickle, plough, chisel, hammer and tongs, Maravi said. A woman from the family, Indravati Maravi said, "Our forefathers used to go to forests in search of Kaleji stone. We have learnt the art of making iron from stone from our forefathers."
Another member of the family Santu Maravi said, "We prepare tools for farmers as well as supply iron to Vigyan Bhawan, tribal Museum and to other places. We also make iron on demand." "We get raw material from forests. We also prepare coal by burning wood and use it to manufacture iron. We use nearly 21 kg of coal made of wood to make approximately 200 grams of iron from around seven kg of stone," Santu said. (ANI)
(This story has not been edited by Devdiscourse staff and is auto-generated from a syndicated feed.)