Rajasthan: BJP's Kirori Lal 'injured' during clash, hospitalized
Rajasthan Chief Minister Ashok Gehlot accused Meena of using the widows for political gains. Meena, in turn, has accused the police of "trying to kill him".
---
ANI
|
Updated: 11-03-2023 07:48 IST | Created: 11-03-2023 07:48 IST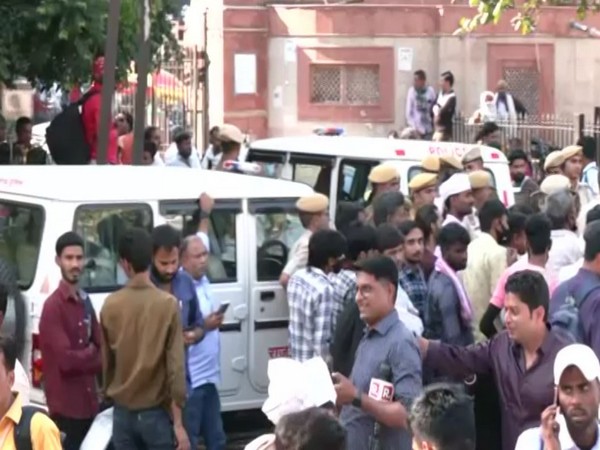 ---
Rajasthan Police rushed BJP leader Kirori Lal Meena to Sawai Man Singh (SMS) hospital in Jaipur after he reportedly sustained 'injuries' during a clash with police on Friday. While BJP workers staged a protest outside the hospital. Meena and the workers of the party were detained by police on Friday on their way to Jaipur. He has been supporting the protesting widows of Pulwama attack soldiers, in favour of their demands.
Lal had alleged that the widows were insulted by the police. However, the police denied the allegations. BJP MP Kirori Lal Meena, who accompanied the protesting widows at the spot, alleged that the widows of the soldiers killed in the Pulwama terror attack were insulted by the state government.
"The allegations made by Kirodi Lal Meena are false. Protestors were removed & 9 members were arrested for maintaining law & order after they refused to listen to our instructions," Anil Sharma, ACP, Bagru told ANI. Deputy Leader of Opposition Rajendra Rathore and former BJP State President Arun Chaturvedi also reached the hospital.
"Such kind of treatment is not even given to terrorists. His condition is deteriorating. Police tore apart his clothes. It is a matter of shame for the Rajasthan Chief Minister," Arun Chaturvedi told ANI. However, he couldn't specify the nature of injuries sustained by MP but said "Reports suggested that injuries were not life-threatening".
Rajendra Rathore alleged that BJP MP Meena was manhandled, and kicked by the police. Meanwhile, the protests by the Pulwama widows intensified on Thursday as they sought justice from the Ashok Gehlot-led Rajasthan government by putting grass in their mouths.
They staged a protest in front of Sachin Pilot's residence on Wednesday and marched towards the Chief Minister's residence today where they were stopped by the police. The widows had earlier alleged that the police personnel had misbehaved with them. (ANI)
(This story has not been edited by Devdiscourse staff and is auto-generated from a syndicated feed.)