More than 19,000 cops on Ganesh immersion duty in Mumbai; BMC makes arrangements
---
PTI
|
Mumbai
|
Updated: 27-09-2023 20:58 IST | Created: 27-09-2023 20:42 IST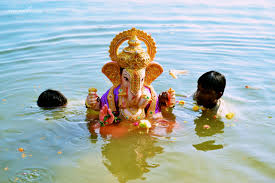 ---
Mumbai Police are deploying more than 19,000 personnel, including officers, to thwart any untoward incident when processions will be taken out to immerse idols of Lord Ganesh on Anant Chaturdashi, the last day of the festival, which falls on September 28.
Similar security arrangements will be in force for Eid-e-Milad, which will be marked by organising processions on Friday.
The Brihanmumbai Municipal Corporation has posted 1,337 lifeguards, including 1,035 at 69 natural water bodies and 302 at around 200 artificial ponds, and arranged 53 motorboats at natural water bodies, an official said on Wednesday.
Various Muslim organisations and religious leaders have decided to take out Eid-e-Milad processions on Friday instead of Thursday in view of Anant Chaturdashi on the appeal made by the police.
Police personnel to be on security duty include 16,250 constables, 2,866 officers, 45 Assistant Commissioners of Police, 25 Deputy Commissioners of Police, 8 Additional Commissioners of Police and other senior officers, the official said.
In addition, 35 platoons of State Reserve Police Force (SRPF), a company of Rapid Action Force, Quick Response Teams (QRTs) and Home Guards will remain present at important locations in the city, he said.
''Considering that a large number of Mumbaikars throng streets to bid adieu to Ganpati bappa on Anant Chaturdashi, Mumbai Police is ready with the deployment of personnel to avoid any kind of untoward incidents,'' the official added.
Traffic Police personnel will ensure that traffic snarls are avoided when processions will be taken out, he said.
Thousands of household and public Ganesh idols will be immersed at 73 places, including at Girgaon Dadar, Juhu, Marve and Aksa beaches, on Anant Chaturdashi.
All the processions in the city will be closely monitored by CCTV cameras, the official said, adding that policemen in plain clothes will mingle in the crowd to ensure that law and order is maintained.
Separate control rooms will be set up to monitor the immersion processions, the official added.
A total of 10,000 civic employees will be on duty and 250 control rooms, including 72 at natural water bodies and 178 at artificial ponds, have been set up to monitor the immersion of Ganesh idols. The BMC has also placed 468 steel plates at various sea-fronts so that vehicles carrying idols do not get stuck in the sand. Besides, 46 German rafts are being arranged for immersion of huge idols in the sea. A total of 242 inspection towers have been set up at natural water bodies and artificial points, apart from deploying fire-fighting vehicles and trained manpower at the immersion spots.
A total of 96 ambulances will remain parked at the immersion spots, the official said. Earlier this week, BMC said 68 welcome posts have been established at various locations at the immersion sites. 75 first-aid centres and 61 mobile clinics are also kept ready. Around 1,083 flood lights and 27 searchlights have been installed for effective illumination at the immersion points in collaboration with the Brihanmumbai Electric Supply and Transport Undertaking (BEST). Changing rooms and 150 ''Nirmalya Kalash'' have also been put up at various spots.
To avoid overcrowding at the immersion spots, the civic body has appealed to the citizens to register the immersion time for their idols on its website — https://portal.mcgm.gov.in, besides asking them to reach BMC via ''MyBMC WhatsApp Chatbot at 8999-22-8999 to find nearby Ganesh immersion sites.
Citizens have been asked to avoid entering the sea during immersion and seek help from trained personnel. The BMC also appealed to people to stay away from dark or secluded areas during immersion.
(This story has not been edited by Devdiscourse staff and is auto-generated from a syndicated feed.)