Uganda COVID-19 response: Was off to a good start but reopening dwindled prospects
Uganda has shown success in using health information to enhance efficiency of disease surveillance, reporting and monitoring. The success, however, has critical challenges confronting it as the country resumes normal activities.
---
COE-EDP
|
Updated: 27-10-2020 11:14 IST | Created: 27-10-2020 11:14 IST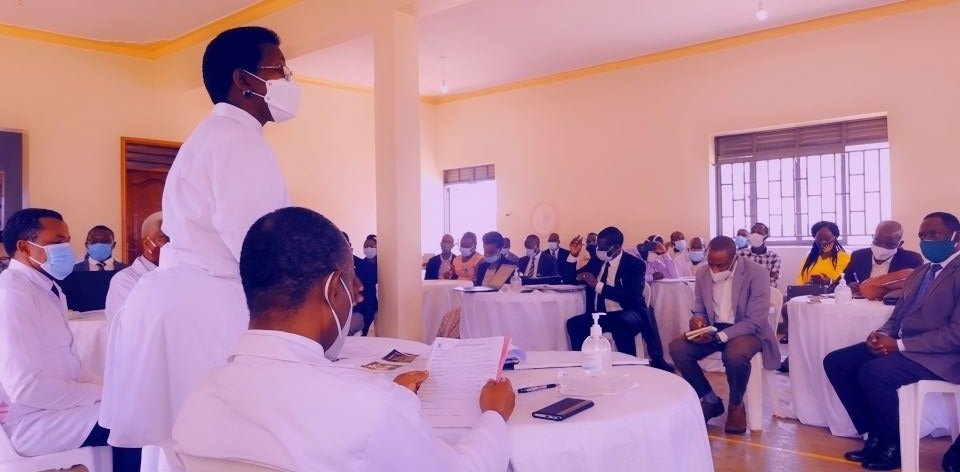 ---
Over the past few months, Uganda has emerged as a poster child on how to tackle a pandemic like COVID-19 despite having a low-resourced health system. The country has been ranked as the top African country and tenth among all countries in suppressing the pandemic by the Lancet Commission.
Uganda's response to COVID-19 contrasts with many other African countries that did not impose such strict measures and even those that did began easing them prematurely to protect their fragile economies and mostly poor populations. Uganda, on the other hand, implemented tight restrictions which included shuttering businesses, banning public transport, and closing borders.
The East African nation's response has also been shaped by lessons learned from its years of fight against other deadly infectious diseases like Ebola and the Marburg virus.
However, the 'success' came at a cost as evident by one of President Yoweri Museveni's recent statement that, "(Uganda) cannot remain in lockdown indefinitely - because the economy must grow." But ever since Uganda has started easing restrictions, its tally of COVID-19 cases has surged many times, crossing 11,000 cases on October 22 from about 2,100 on August 22 – a more than 500 percent increase in just two months.
What factors have contributed to this surge in cases and is Uganda's response really as efficient as it being said? This analysis aims to answer these questions and evaluate the country's response to COVID-19 as well as its health information system.
Uganda's COVID-19 response
On March 18, even before the first case was reported in the country, Uganda banned all public gatherings including places of worship, pubs, weddings, music shows, rallies, and cultural meetings. A few days later, on March 22, Uganda recorded the first case of COVID-19 and subsequently, on March 25, public transport was suspended as well.
But as COVID-19 cases kept rising, Uganda imposed a nationwide curfew by the end of March. "Except for cargo planes, lorries, pickups, and trains, starting on March 31 at 1900 hours, there will be a curfew throughout the whole of Uganda" President Museveni had said.
Over the next few weeks, Uganda acted quickly and decisively to fight COVID-19, utilizing the lessons learned during earlier outbreaks of deadly diseases in the country.
While the country allowed the movement of trucks in and out of its borders, mass testing was being conducted since April to reduce the risk of transmission from truck drivers.
In early May, when Uganda had less than 1,000 cases and no deaths, the country started conducting rapid assessment surveys within the communities to evaluate the extent of transmission before easing any restrictions.
These early and targeted interventions worked and Uganda was being lauded across the world. it started easing one of Africa's strictest lockdown on May 5 after President Museveni declared the infection "tamed." The Ministry of Health has attributed the success to its quick response to the pandemic.
Uganda's past experience in dealing with deadly outbreaks like that of Ebola, Yellow Fever, and Measles was also being attributed to the country's effectiveness in suppressing COVID-19. While this pandemic has its unique challenges such as quick spread, other aspects like preparedness and surveillance are pretty much what has been done over the years.
When COVID-19 hit Africa, Uganda was already on alert because of an Ebola outbreak in the neighboring Democratic Republic of Congo. Awareness campaigns were already running and passengers were already being screened. Even though this pandemic is different than other outbreaks in the country, the past experience helped Uganda kickstart a well-prepared response quickly.
The Ebola detection training extended to immigration and port health staff at entry points including borders and airports. Uganda's first case was also detected by one of those trained health workers on March 21 at the airport.
But the COVID-19 spread in the country has surged since August as Uganda started resuming normal activities. The success achieved since March is being wiped off and Uganda has crossed the 11,000-case mark recently, up from just about 2,000 in mid-August. This surge highlights that while Uganda's COVID-19 response had been effective when the movement was restricted, the country needs a robust health information system that can support a quick transition to this and future 'new normals' as restrictions can't be implemented indefinitely.
Uganda is a low-resourced country and shortages were imminent but critics say that such instances could have been better managed to ensure supplies reach those who need them the most.
As early as May when the country hadn't even reported 1,000 COVID-19 cases, Nakaseke hospital was reportedly overwhelmed by quarantining the contacts of individuals who test positive.
Nakaseke hospital management committee's chairperson Mariam Kaberuka had said that the referral unit lacks the necessary inventory needed to handle the increasing number of contacts of infected individuals. Contacts had to reportedly sleep on the floor due to lack of beds and there weren't enough food supplies in the isolation ward.
Shortages worsened as COVID-19 cases surged in Uganda and laboratories started reporting severe shortages of testing supplies and delays in returning results which limits the efforts to effectively respond to new cases.
An integrated health information system equipped with tools to manage and monitor healthcare supplied could not only increase accountability but also ensure the most efficient use of available resources by enabling informed decision-making.
Uganda's Ministry of Health has admitted lapses in COVID-19 test results which had resulted in incorrect test results delivered to individuals. Some people had reportedly received multiple result slips, one of which indicated they were positive while the other said they were negative. Some had also claimed different results from two different samples collected on the same day.
These inconsistencies could be traced back to early June when Museveni thrashed Makerere University laboratories for handing out incorrect test results. "Some of the 679 confirmed cases were classified as positive when they are not by a laboratory in Makerere because they were careless. Apparently, there were a few people working there and probably got tired," he had said.
These mixups could have had a drastic impact on the overall response as people receiving false positives would need to wrongly start treatment, wasting already scarce resources. While those are actually infected might have given a go-ahead to spread the disease in the community when they were handed a negative test result.
An integrated health information system can increase accountability, enhance surveillance and transparency in the system to reduce such problems.
Testing irregularities have been reported in various media reports over the past few weeks including one where a designated testing center didn't have testing kits or doctors to carry out COVID-19 tests.
Several reports have detailed the struggle of patients in securing tests, some of which had to pay exaggerating amounts charged by private laboratories for the test.
Moreover, delays of as much as 10 days in getting test results have often been reported. Such delays reduce the effectiveness of medical help and tracing efforts as patients might have spread the disease to many people and have themselves recovered by the time testing results come out. Although Uganda has religiously released the numbers of 'new' cases, recoveries, deaths, and tests, these numbers mean little if those 'new' cases should have been recorded 10 days ago.
There have also been discrepancies in numbers where the Ministry of Health's data show a higher number of tests but those tests aren't reflected on the official COVID-19 portal www.covid19.gou.go.ug, highlighting a lack of integration in the system and response.
The Ministry of Health also recently reduced the number of accredited laboratories allowed to test for COVID-19 reportedly due to a lack of testing reagents. The reduction in testing laboratories came at a time when cases in the country are surging and delays in the release of results have become common.
Cases among health workers
The majority of the COVID-19 cases in Uganda were recorded in the weeks after the partial lifting of the lockdown and a sizeable number of them have been reported amongst health workers, who are said to be operating in risky situations, without the required protective gear.
According to WHO, major factors that lead to infections in health workers include inadequate access to personal protective equipment, exposure to asymptomatic patients who do not show signs of the disease, and re-purposing of health workers for COVID-19 response without adequate briefing.
Private health workers in Uganda have raised concerns over the inadequate infection, prevention, and control training sessions as the number of positive cases surge. These workers have claimed that most of them haven't received face-to-face training and the sessions that were provided only benefited a few health workers. The risk of infection among health workers is also surging as facilities get overwhelmed by the skyrocketing of COVID-19 cases in Uganda.
Shortages of protective equipment including masks, face shields, PPE kits among others have also become common amidst the dire need.
Shortcomings in functioning of rest of the health system
Supply of blood has sharply declined in Uganda as fewer people are donating and schools are closed due to restrictions, according to health authorities. Schools have usually been the largest group of donors in the country but closures imposed to stop transmission of COVID-19 have drastically impacted these donations and the consequences are sometimes deadly. Multiple deaths among the poorest residents of Kampala have been attributed to blood shortages.
On the other hand, some pregnant women died in labor even in the early stages of the outbreak as authorities banned private transport without special authorization, and women were forced to walk to the hospital to give birth.
Experts have also raised concerns about people on vital medication to fight HIV AIDS. About 1.4 million people in Uganda are infected by the disease and 1.2 million of them are expected on medication but limited access to health centers due to the pandemic could have dire consequences for these people. UNAIDS has warned that Sub Saharan Africa could face up to 500,000 HIV-related deaths due to the pandemic-induced restrictions.
Uganda health information system
The Ugandan government and other stakeholders have taken various initiatives to move from a paper-based system to a much efficient electronic system for health information management. With the deployment of OpenMRS at the district, and sub-district levels and the adoption of District Health Information System 2 (DHIS2) as the national health information system, Uganda has undergone a transformation in how its health information is managed.
However, different levels of implementation across regions and facilities with varying levels of successes in OpenMRS and DHIS2 have resulted in prevailing challenges that have hindered full implementation.
While all districts report data electronically, the percentage of health facilities that are equipped to do so varies. Some facilities are still paper-based with partial electronic HMIS implementation which means that data is often collected on paper and transferred to the electronic system at a different stage, resulting in duplication of efforts and inefficiencies. On the other hand, many facilities that have deployed an electronic system have failed to ensure interoperability with the national system and with the system of other facilities. With different operations, technological development, and various digital health information systems that have taken root in the country, it will be challenging to get a uniform system based at all levels.
Infrastructure challenges are another aspect hindering the implementation of an integrated, nationwide health information system. Internet connectivity in Uganda is poor and costly relative to African countries of similar demographics. Many facilities, especially in rural areas, aren't equipped with adequate hardware to electronic record and report health data, which limits health information dissemination, information sharing among experts, decision making, knowledge gaps, etc. that hinder efficient patient care.
Acknowledging these issues, Uganda has launched its eHealth Strategy which puts great emphasis on leadership and governance, enterprise architecture, health information systems integration, and interoperability. The strategy also aims to set standards for reporting of health data to enhance integration between various digital health information systems that exist in the country.
Conclusion and agenda for discussion
Uganda's COVID-19 response has been commendable and aspects of its strategy have even been touted as the 'ideal' response. But ever since the country has started resuming normal activities, its tally of cases has skyrocketed, rising many times in just a span of a few weeks.
Hospitals are being overwhelmed and shortages of medical equipment have become common, impacting the quality of healthcare. An integrated, automated health information system that connects all levels of the health system might be the answer to Uganda's problems as it can support a country in quickly transitioning to new realities without impacting comprehensive surveillance of the complete health system.
While the Ugandan government and other stakeholders have continuously worked to enhance the quality of health information recorded at various levels in the country, challenges remain due to the varied adoption of electronic systems. Interoperability has emerged as a critical challenge confronting Uganda's efforts to adopt and implement a nationwide health information system and the country has acknowledged these issues.
The availability of reliable health information in a timely manner is vital to efficiently manage the health system even during a pandemic. Without such information, it's impossible to gauge the actual impact on a health system – a situation witnessed in many African countries impacted by COVID-19. While Uganda's healthcare data is often touted as more reliable than most African countries, challenges still remain in ensuring that the country's health information system becomes a core building block that provides real-time information to policymakers for taking targeted actions.
VisionRI's Centre of Excellence on Emerging Development Perspectives (COE-EDP) aims to keep track of the transition trajectory of global development and works towards conceptualization, development, and mainstreaming of innovative developmental approaches, frameworks, and practices.
FIRST PUBLISHED IN:

Devdiscourse