Soaring inflation dampens Ramzan's spirits in Pakistan
Rising food inflation has hit Pakistanis particularly hard this year. Ramzan - the festival of prayer and lavish food preparations has been overshadowed by soaring inflation in the country as the price of fruits has increased from PKR 350 to 400.
---
ANI
|
Updated: 28-03-2023 07:36 IST | Created: 28-03-2023 07:36 IST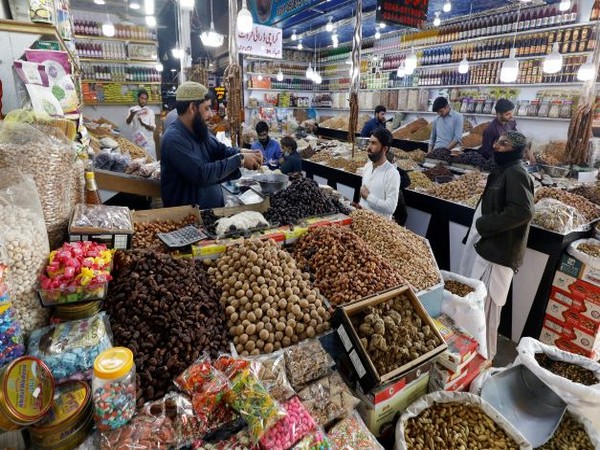 ---
Rising food inflation has hit Pakistanis particularly hard this year. Ramzan - the festival of prayer and lavish food preparations has been overshadowed by soaring inflation in the country as the price of fruits has increased from PKR 350 to 400. Moreover, tightened budgets have hit Pakistan's poorest hardest. The price of fruits in Pakistan has increased from Pakistani Rupees (PKR) 350 to 400, Pakistani vernacular media Jinnah Edit reported.
The Pakistani local media reported that the people of the country boycotted purchasing expensive fruit from Friday to Sunday last week expressing anger and displaying that the public has the will to take a stand against consumer exploitation. Amid the increase in the prices of fruits, a slogan of boycott is being raised at the public level and a growing call is being made to follow so as to control inflation. As per the news report, if the people of Pakistan will follow the slogan it can help in inflation control.
Highly upset with uncontrollable inflation, people in Gilgit have started adopting the culture of boycotting. Boycott culture refers to the campaign of the people not to purchase expensive fruit and this campaign is being followed in every province, Pakistani vernacular media Daily K2 reported. Even social workers and citizens from all walks of life have stopped to purchase fruit due to high prices.
People of Pakistan are showing their resentment by way of boycott which has brought to the fore the need for the Pakistani government to implement the official price list of products without any delay and set up a complaint camp or a consumer court where a magistrate can decide on the matters related to consumer exploitation, sub-standard consumer items, Pakistani vernacular media Daily Islam Edit reported. Unlike previous years, indulgence in Ramzan month is proving to be a pricey proposition for many this year. Dates are being sold for up to euro 3.5 per kg, which is unaffordable for many households with staggering food costs, reported DW News.
"Inflation has risen so much that things selling for Pakistani Rs 200 per kg past year are now priced Rs 500 per kg. At the same time, petrol, bus fares, rent and other expenses have also increased tremendously. What can we do?" said a Pakistani citizen.High prices mean many travels further afield to find deals at wholesale markets, reported DW News. The all-time high price of wheat flour pushed weekly inflation in Pakistan up 1.80 per cent week-on-week and 46.65 per cent year-on-year during the seven-day period that ended on March 23, pointing to even tougher times ahead in the country, Geo News reported.
Pakistan Bureau of Statistics (PBS) data issued on Friday attributed the surge in the sensitive price indicator (SPI) to the increase in prices of tomatoes (71.77pc), wheat flour (42.32pc), potatoes (11.47pc), bananas (11.07pc), tea (7.34pc), georgette (2.11pc), lawn (1.77pc), long cloth (1.58pc), pulse mash (1.57pc), prepared tea (1.32pc), and gur (1.03pc)."Everything has become too costly. I ask the government to reduce prices because of Ramzan. They should think of the Muslims who are fasting. There are poor labourers here who push wheelbarrows from morning until evening and earn only Rs 200 at the end of the day. What are they going to eat during Ramzan?" another Pak citizen told DW News.The PBS noted a decrease in the prices of chicken (8.14pc), chilli powder (2.31pc), LPG (1.31pc), mustard oil and garlic (1.19pc) each, pulse gram and onions (1.06pc) each, vegetable ghee 1kg (0.83pc), cooking oil 5 litres (0.21pc), pulse moong (0.17pc), pulse masoor (0.15pc) and eggs (0.03pc), Geo News reported. Pakistan is going through one of its worst economic crises in years. Inflation has surged more than 30 per cent. The Pakistani state usually offers relief packages during the month of Ramzan, but this year, the cash-strapped government have little to give.
"So far the government has only arranged flour at discounted prices, nothing else. I think that's not enough. The government should also pay attention to the price of sugar, cooking oil and other things that are consumed during Ramzan. The government should subsidize some other items, especially cooking oil," said another Pakistan citizen. "The major reason behind the increase in wheat price is the change in subsidy mechanism. The government has now shifted from general subsidy to a targeted subsidy through BISP [Benazir Income Support Programme]," said Fahad Rauf, head of research at Ismail Iqbal Securities, adding with the onset of Ramzan, food prices would continue to rise, Geo News reported.Moreover, the International Monetary Fund (IMF) has asked Islamabad to provide external financing assurances before it takes the next step with Pakistan to release the bailout tranche, reported Geo News.
The prices have skyrocketed amid the ongoing month of Ramzan, Geo News reported. According to a vendor, the price of chicken has increased to PKR 350 per kilogram, and the price of rice has increased by PKR 70 per kg to PKR 335 per kilogram. During a visit to markets in Khyber Pakhtunkhwa's (KP) capital city to check and compare edibles prices with those issued by the district administration, it was discovered that food prices have surged in the holy month, as per the report by Geo News.
In a separate statement, another vendor said that fruit prices have also risen over the last month. Sweet oranges cost PKR 440 per dozen, oranges cost PKR 400 per dozen, bananas cost PKR 300 per dozen, pomegranate costs PKR 400, Iranian search apple costs PKR 340 per kg, Kohati guava costs PKR 350, and strawberries cost PKR 280 per kg. Moreover, the skyrocketing prices also impacted the meat market, with mutton rates increased from PKR 1,400 to PKR 1,600 per kg, eventually reaching PKR 1,800 per kg. A butcher in the local market said, "The rates issued by the district administration do not suit us." (ANI)
(This story has not been edited by Devdiscourse staff and is auto-generated from a syndicated feed.)