Ihsan Abdel Kouddous: Google doodle celebrates Egyptian journalist and author
---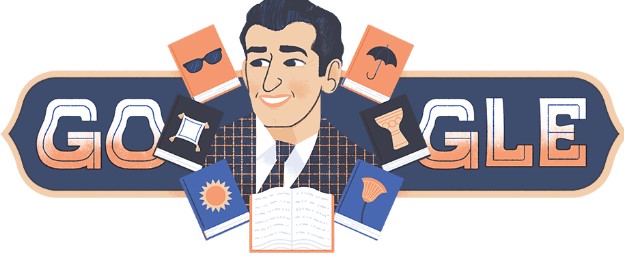 ---
Today Google honors Ihsan Abdel Kouddous, an Egyptian writer, novelist, and journalist and editor in Egypt's Al Akhbar and Al-Ahram newspapers.
On this day in 2022, the first widespread English translation for Koddous' book, I Do Not Sleep, was released. It appealed to the masses in Arabic and across the globe when he wrote it in the 1950s, but it wouldn't be translated into English until much later because literary critics dismissed his simple, direct style.
Ihsan Abdel Kouddous, was born in Cairo, Egypt, on January 1, 1919. He developed a love for reading in his youth and began writing short stories and poems at age 11. After graduating from law school, he worked as an apprentice lawyer while trying out a journalism career at a magazine founded by his mother, Rose Al-Yousef. While working here, Kouddous realized he wanted to work in the industry he was passionate about. He dove into writing articles and stories and became an editor for Egypt's daily Al-Akhbar newspaper and editor-in-chief for news outlet Al-Ahram.
As a journalist, Ihsan Abdel Kouddous covered a variety of current events. In his popular column A Cafe on Politics Street, he wrote about social issues with a conversational narrative technique, similar to discussions a person might overhear in a cafe. He was jailed several times for his controversial writings and political stances, but that didn't prevent him from sharing his views.
In addition to his journalism, Ihsan Abdel Kouddous wrote over 60 fictional books and short stories. Common themes from his books are love, politics, and psychology of social behavior, spirituality, and religion. Strong female characters were central in many of his works, with books like I Am Free advocating for women's equality and independence.
Ihsan Abdel Kouddous received several awards for his passionate writing, including first prize for My Blood, My Tears, My Smile, Best Screenplay for The Bullet is Still in my Pocket, an Order of Merit of the First Class from the president, and shortly after his passing in 1990, an Order of the Republic of the First Class.
Today, people around the world can appreciate the dozens of films adapted from his novels and enjoy his books that have been translated into German, French, English, Ukrainian, and Chinese.
Source: Google doodles