India stands as one of leading nations of world in terms of scientific and technological prowess: Dr Jitendra Singh
The Minister said that India is on a mission in the very first year of Amrit Kaal.
---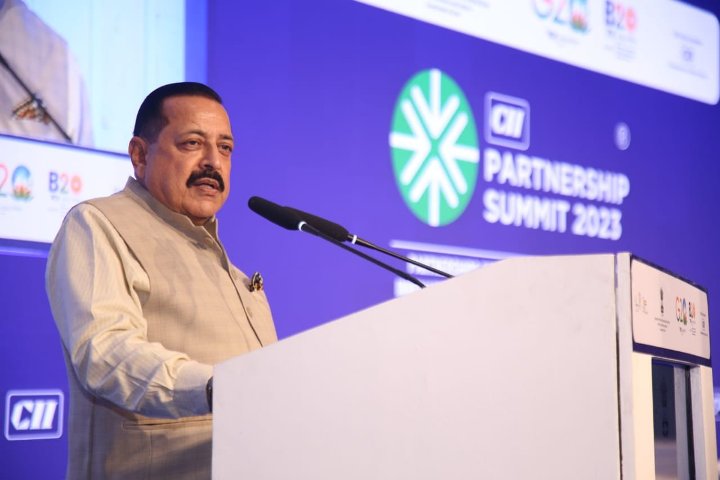 ---
Union Minister of State (Independent Charge) Science & Technology; Minister of State (Independent Charge) Earth Sciences; MoS PMO, Personnel, Public Grievances, Pensions, Atomic Energy and Space, Dr Jitendra Singh said here today that India is fast emerging as the world's knowledge based economy and over the last few years, it has grown by leaps and bound when it comes to innovation and technology. India stands today as one of the leading nations of the world in terms of scientific and technological prowess, he said.
Addressing the plenary session of the 28th edition of The CII Partnership Summit being held in partnership with Department for Promotion of Industry and Internal Trade, Ministry of Commerce and Industry, Government of India, Dr Jitendra Singh said that the Innovation prowess of any country is instrumental in shaping and sustaining its industrial sectors, delivering economic growth, jobs, wealth creation and ensuring a strategic edge. The Covid-19 pandemic taught the business world an important lesson – 'innovate or perish'.
The Minister said that India is on a mission in the very first year of Amrit Kaal. This mission is technology-driven towards achieving its aspiration of becoming a USD 5 trillion economy. "Technology will therefore be at the centre-stage in this phase of socioeconomic growth and development", he added.
Dr Jitendra Singh emphasized that the present Government clearly puts a strong emphasis on strengthening the Nation's ecosystem of Research, Innovation and Technology development to achieve this aspiration. He added that the technology-driven, and innovation-focused enterprises that form the bedrock of an innovation nations have moved from being a buzzword to a critical component of national economic and strategic power.
Having leapfrogged from 81st to 40th in the Global Innovation Index 2022, the Minister said that we must aspire to be in the top 25 in the near term and in the top five by India @ 100. "Our Hon'ble Prime Minister has provided a huge impetus to innovation by adding Jai Anusandhan to the country's evergreen slogan of Jai Jawan, Jai Kisan, Jai Vigyan", he added.
The Minister said that an enabling atmosphere for innovation was missing in the earlier policy initiatives and political dispensation but now that atmosphere is being provided by the political dispensation led by our Prime Minister Narendra Modi.
Dr Jitendra Singh further highlighted that the Indian industry is the backbone of the fastest growing large economy of the world and has the potential to revolutionize and bring in a technology movement. He added that integration of Research, Start-ups, Academia and Industry is no longer an option but a dire necessity to attract young innovators in the country, particularly in the States to come out with cutting-edge and globally competitive products and solutions.
Talking further about Industry, the Minister said that the key concern is R&D contribution by the private sector, less than 40% of the national GDP. This is in contrast to the global average of over 70%, especially in developed economies. It is important for industry to scale up investing in R&D and initiate collaboration through sponsorship research with the other pillars of the Quad, supported by policy and funding from the Centre.
Talking about Startups, the Minister said that India has the third-largest startup ecosystem and is home to the fastest-growing unicorns. Startups are very important as they are a source of new ideas and technologies. He added that linking Start-Ups with Industry right from the beginning as equal stakeholders in order to ensure sustainable Start-Ups is essential. Support from industry and government is crucial. "Thanks to Prime Minister Narendra Modi, there is a new awakening that has dawned in this country regarding Start-up India and Stand-up India. The result is that from just 350 start-ups we have more than 90,000 and we have more than 100 unicorns", he added.
Dr Jitendra Singh mentioned that today the young talent of India, including especially Women via startups or otherwise, are scripting the saga of success for a thriving innovation led economy. This is creating valuable Intellectual property and simultaneously generating sizeable employment. "As we move ahead, we must consider creating synergies of startups with large corporates for incubation and handholding. In particular, women entrepreneurs must be encouraged to participate in the research, innovation and technology ecosystem of the country", he added.
The Minister emphasized that a seamless and collaborative innovation ecosystem will enable a dynamic ecosystem. Private-public partnerships must be aligned with the national goals. "The time is opportune to collectively harness the strengths of all the innovation ecosystem stakeholders and quickly take India to the next level of technology and innovation leadership", he added.
(With Inputs from PIB)