NASA's Perseverance Mars rover picks up two more hitchhikers
---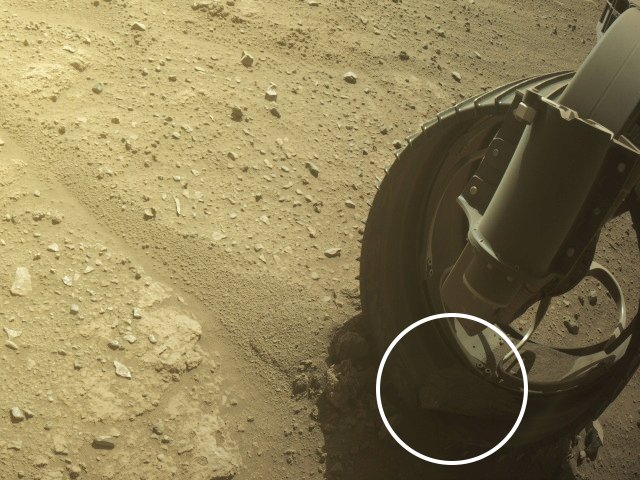 ---
NASA's Perseverance Mars rover has picked up two additional rocky hitchhikers while navigating the rugged Martian terrain, the mission team tweeted recently. These rocks, which found their way into the rover's right front and rear wheels, aren't doing any damage to the wheel as they are designed to withstand the harsh Martian environment and continue functioning optimally.
According to the mission team, the Perseverance rover is equipped with thicker and stronger wheels compared to previous Mars rovers. The wheels, two front and two rear are made of aluminum, with cleats for traction and curved titanium spokes for springy support.
This is not the first time Martian rocks have hitched a ride on the rover. Last year, a rock found its way into the rover's front left wheel, and since then it has been hitching a ride. This pet rock has made periodic appearances in the left Hazcam images.
You might know I carry a "pet rock" in my left front wheel, which tumbled in there over a year ago. But did you know others have joined the journey too? I've picked up two additional hitchhikers, in my right front and rear wheels. Fine by me – let's keep rolling! pic.twitter.com/YFg62M6CBC

— NASA's Perseverance Mars Rover (@NASAPersevere) March 17, 2023
The Perseverance rover's mission is to search for signs of ancient microbial life on Mars and collect samples for a possible return to Earth. The rover recently finished building the first sample depot on an outer world by depositing 10 duplicate sample tubes, which will serve as a backup if the rover fails to deliver onboard samples to a future robotic lander. In that case, a pair of Sample Recovery Helicopters would be called upon to collect these samples and return them to Earth for in-depth analysis - a joint endeavour between NASA and ESA (European Space Agency).