Emerging Growth Story and ICT as a Catalyst in African Economic Outlook 2019
Subhro Prakash Ghosh
|
Updated: 14-06-2019 00:52 IST | Created: 14-06-2019 00:51 IST
---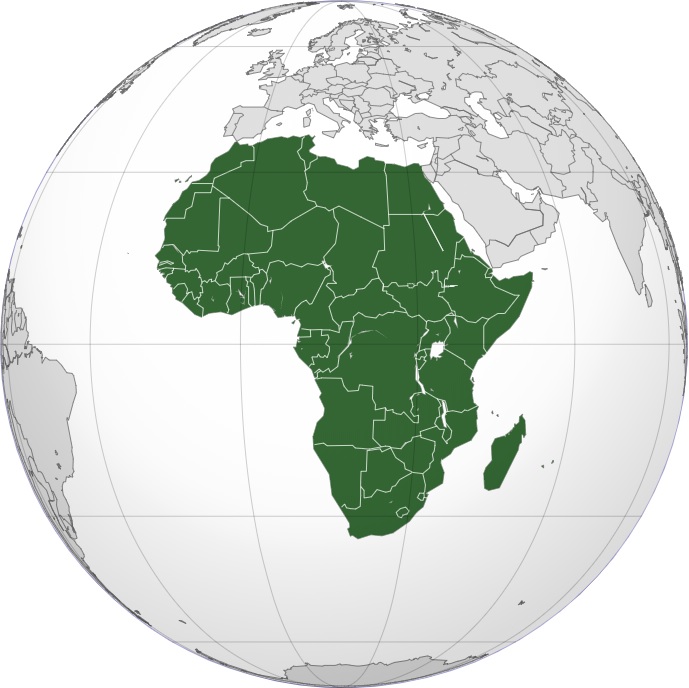 Some time back, Africa was portrayed in varied reports as the planet's poorest inhabited continent with its entire combined gross domestic product (GDP) barely a third of US' GDP. But now the situation has changed. International Monetary Fund last year projected a chart based on countries' GDPs in its Economic Outlook that surprisingly showed African countries, mainly Nigeria and South Africa already surpassed GDPs of New Zealand, Singapore, Qatar, Hong Kong, Portugal to name a few. Nigeria is the biggest economy in the African continent, as of 2018, in terms of nominal GDP followed by South Africa, whereas Egypt is the second biggest after Nigeria in terms of PPP (Purchasing Power Parity). A recent report dubbed African Economic Outlook 2019 revealed by the African Development Bank (AfDB) on June 11, 2019, gives amazing growth figures for the continent.
What does AfDB's report say?
The future of Africa is getting brighter with no iota of doubt. According to AfDB's President, Akinwumi Adesina, the continent's general economic performance continued to recover in 2018 with real GDP growth estimated at 3.5 percent. The report was launched on the sidelines of the 54th AfDB Annual Meeting in Malabo, capital of Equatorial Guinea. It gives data on Africa's economic performance and outlook.
AfDB's report clearly cites that the rapid pace of growth in the African continent is expected to accelerate to 4 percent in the current year, and conversely with a tad surge to 4.1 percent in 2020. The momentum is irrefutably strong, what Akinwumi Adesina clarifies, and up from a mere 2.1 percent in 2016. While launching 'African Economic Outlook 2019' AfDB's Director of Research, Hanan Morsy said that, despite the fact above-given figures are higher in comparison to other emerging and developing nations, 'it remains insufficient to address the structural challenges of the persistent current and fiscal deficits and debt vulnerability.' Hence, what Hanan Morsy said, the challenge is twofold – to raise the current growth path and to increase the efficiency of growth in generating employment.
AfDB took to Twitter after launching the report saying that Hanan Morsy listed three policy actions that could augment GDP growth to 4.5 percent per year in the overall continent. Those are removing bilateral tariffs, eliminating non-tariff barriers and keeping rules of origin sample. She also suggested the implementation of the World Trade Organization's Trade Facilitation Agreement to reduce the time it takes to cross borders and the transaction costs tied to non-tariff measures. The countries, she cited, can negotiate with other developing countries to reduce by half their tariffs and non-tariff barriers on a most-favoured-nation basis.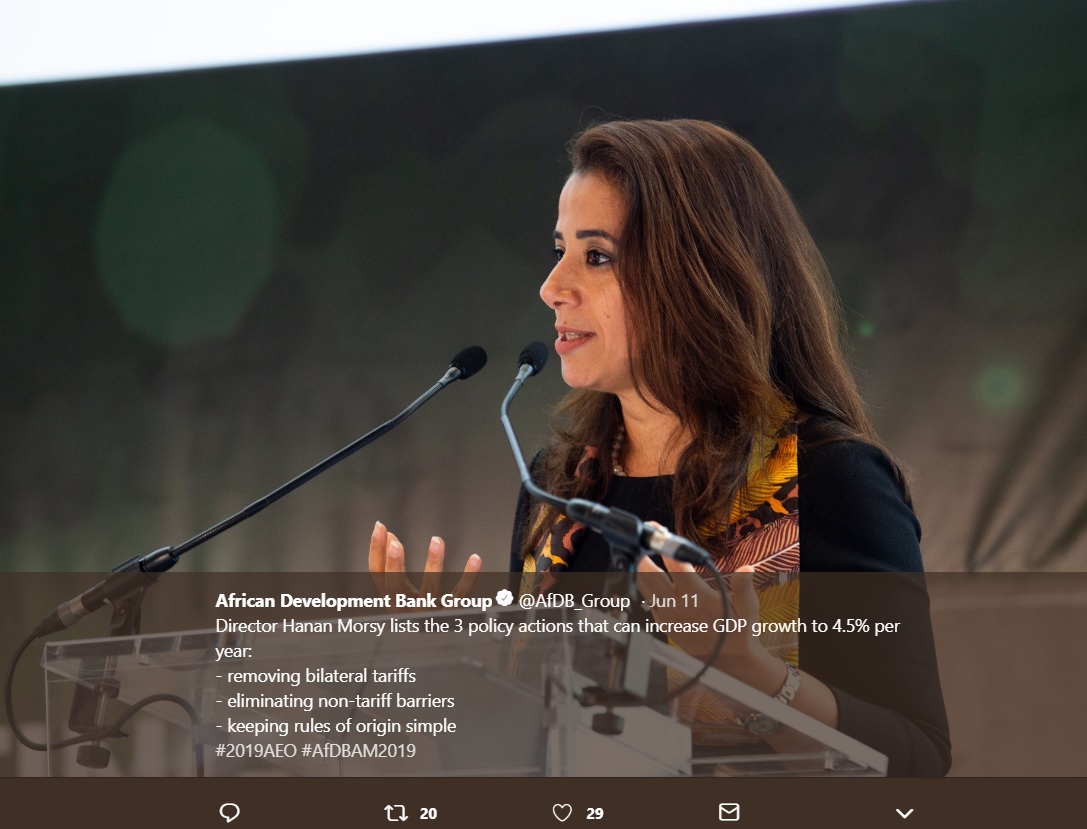 Image Credit: Twitter / African Development Bank Group
The report discusses Africa's macroeconomic performance at length
African Economic Outlook 2019 revealed that East Africa led with GDP growth estimated at 5.7 percent in 2018, followed by North Africa, West Africa, Central Africa, and Southern Africa at 4.9, 3.3, 2.2 and 1.2 percent respectively. Of overall Africa's projected 4 percent in the current year, North Africa is likely to account for 1.6 percent points as the GDP growth in the region is inconsistent due to Libya's frequent alteration in economic circumstances.
On the other hand, AfDB's report points towards East Africa as the fastest growing region, which is projected to achieve growth of 5.9 percent and 6.1 percent in 2019 and 2020 respectively. In countries like Comoros and Burundi, growth continues to remain weak due to political uncertainty whereas the countries like Rwanda, Ethiopia, Djibouti, and Tanzania witnessed growth in GDP of almost 6 percent between 2010 and 2018. However, growth in Central Africa is gradually convalescing but remains below the average for Africa as a whole. And the growth in Southern Africa is likely to remain moderate in 2019 and 2020.
AfDB's report gives more clarity on the drivers of economic growth in Africa that have been gradually rebalancing in recent years. While the year 2018 observed a dwindle in consumption's contribution to real GDP growth from 55 percent in 2015 to 48 percent, net exports have had a positive contribution since 2014. Now majority of the top-growing companies are still focusing on consumption considering it 'as an engine of growth'. Alternatively, due to plummeting average inflation from 12.6 percent in 2017 to 10.9 percent in 2018, the inflationary pressure to the common people eased with a growing chance of increasing the savings. The inflation in overall Africa is projected to further shrink to 8.1 percent in 2020.
The Report emphases on job creation
AfDB's 'African Economic Outlook 2019' report has inserted the requirement of increasing job-growth in the second point citing that the continent's working-age population is projected to augment from 705 million in 2018 to nearly 1 billion by 2030. The pressure to provide decent jobs will embellish as a big challenge because millions of young population will join the labour market. In order to restrict unemployment in the overall continent considering the growing population, according to the report, Africa requires the generation of around 12 million new jobs or opportunities every year.
While giving a figure of 1 percent rise in GDP growth between 2000 and 2014 that achieved only 0.41 percent growth in employment (it means employment was rising at less than 1.8 percent a year), the report warns about those unfortunate days by 2030 when 100 million people will be counted jobless, if the current trend lingers much.
ICT as a catalyst for economic development
AfDB has already refined its approach toward Information and Communication Technology (ICT) operations and it is playing a pivotal role by providing support for e-government and innovation. The bank provided a gargantuan amount of USD 30 million loans to the Rwandan government last year for the establishment of the Rwanda Innovation Fund. The project's objective is to enhance innovation economy in Rwanda and the East African Community (EAC) region, focus on funding tech-enabled Small and Medium-Sized Enterprises (SMEs) and develop country's innovation ecosystem capacity.
Even countries like Lesotho and Gabon received loans for conducting feasibility studies for e-government infrastructure projects, whereas Ethiopia received a loan for building a technology park. Meanwhile, the recent foraying of Microsoft into Nigeria and Kenya by launching Africa technology development centres is a big example of Africa's transmutation into ICT implementation with an objective to combat unemployment. Even IBM, a few days back, in association with the South Africa's University of the Witwatersrand, unveiled its quantum computer program in 16 African universities.
In the implementation of digital technology, Rwanda seems to be ahead of all the African countries. A recent gathering in Kigali brought policymakers, technical experts and educators from sub-Saharan African countries to explore how to improve the skills of the African youth for the digital age. In April 2019, Bank of Kigali introduced digital marketing agents in all its branches across the country to ensure the clients are enabled to migrate to digital channels, like using of mobile applications, internet banking platforms, etc. Meanwhile, Transform Africa Summit titled 'Boosting Africa's Digital Economy', which took place in Kigali between May 14 and 17, 2019, attracted over 4,000 participants from varied sectors who shared how technology can transform the internet users in Africa.
Although the report by AfDB mentions financial support provided by the Bank to various African countries in developing ICT, still it gives emphasis mainly on the implementation of the latest technologies in the agricultural sector. The ICT implementation in almost all sectors is tangentially emphasized in the report. However, it is imperative to say that the ICT has much importance to catalyze economic growth and development in overall Africa, and the African countries are in need to invest substantially for the adoption of ICT in various sectors to amplify economic growth and development in the region. On this aspect, the report lacks a detailed assessment.
---
FIRST PUBLISHED IN:

Devdiscourse News Desk