Careerist Reviews Provide Insight into This Educational Platform's Online Tech Courses
Read Careerist reviews to learn about this online platform's pros and cons. Careerist provides part-time courses for people who want to start a tech career from scratch. Students and graduates share their opinions about the quality of Careerist courses.
---
Ladislav Hovach
|
Updated: 04-07-2023 16:10 IST | Created: 04-07-2023 15:58 IST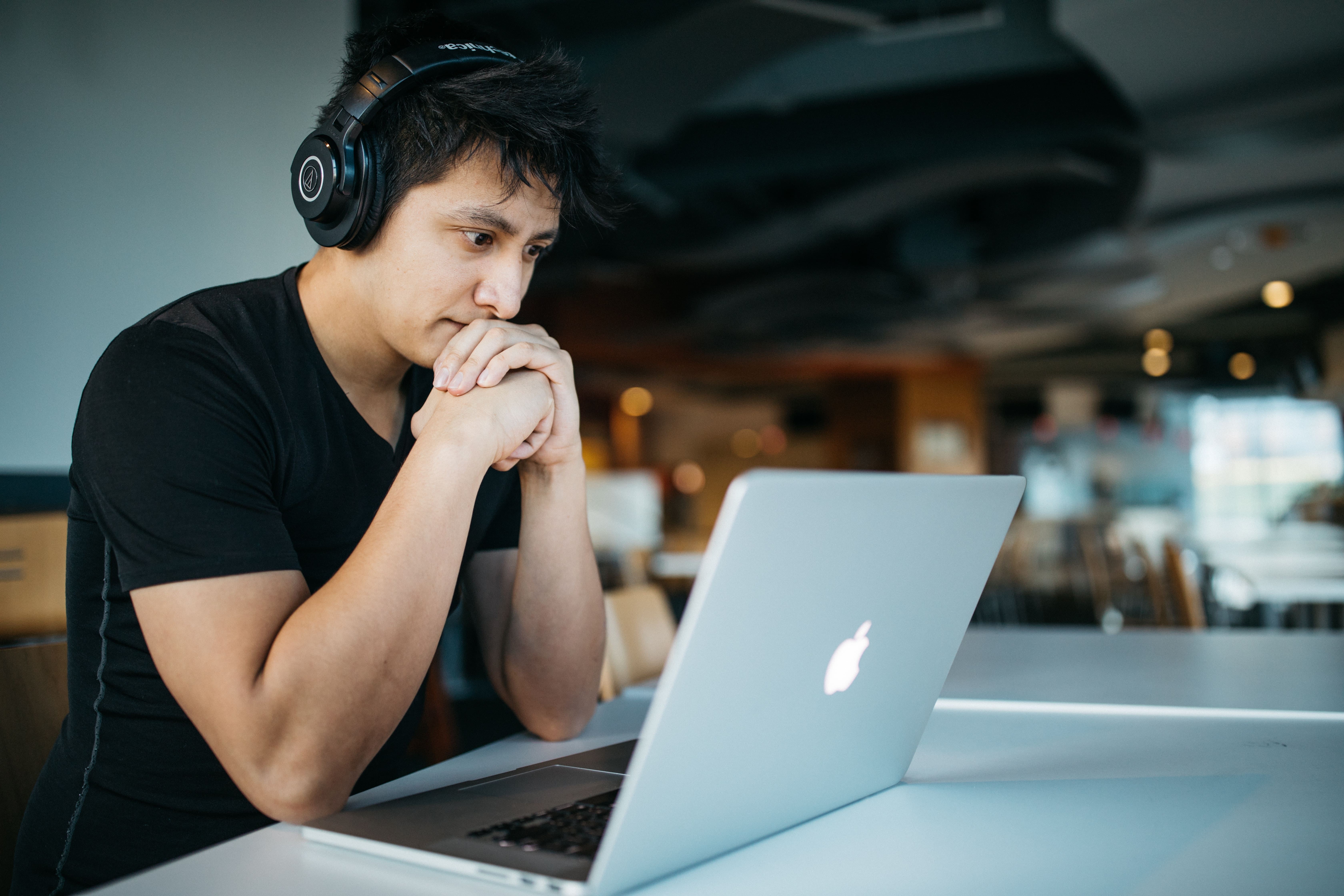 ---
Students and Graduates Review Careerist's Online Tech Courses
When you start thinking about online tech courses, Careerist might come to mind. It began offering programs in 2019 and has established a positive reputation. When you check Careerist's reviews, you can see that these training programs help people land jobs in the tech industry. Let's learn more about Careerist's platform and training programs by examining student and graduate feedback.
Main Offerings and Competitive Advantages
Careerist programs aim to achieve three key goals:
Deliver a life-changing education. The platform gives students the knowledge and skills to get high-paying jobs in high-demand industries.
Focus on practical training. Courses include the skills students need for their new jobs. The programs also cover the art of composing a resume, applying for jobs, and negotiating better salaries.
Make high-quality tech education available to the broadest possible audience. Careerist believes that anyone dreaming of a tech job should be able to get one relatively quickly without obtaining a college degree in the field.
You can find reviews of Careerist in credible media such as Forbes, Silicon Valley Business Journal, and ABC News.
The cumulative professional experience of Careerist instructors exceeds 100 years. The individual experience of each instructor typically exceeds seven years. They have worked for well-known employers such as Google, Meta, Xerox, Bank of America, and IBM.
You can currently find graduates of this platform in 40 US states. Careerists launched the Job Application Service to facilitate the process of matchmaking graduates with employers. It's AI-powered, accelerating the search for job openings and making searches more precise. With the help of this tool, students can:
Practice one-on-one interviews with HR managers.
Learn how to ace job interviews.
Optimize their resumes and LinkedIn profiles.
Upgrade their online presence.
The Job Application Service offers new postings to its users every day. Graduates can choose from all types of jobs: full-time, part-time/short projects, in-house, hybrid, or remote roles. Different job types offer flexibility and help preserve a comfortable work-life balance.
Another competitive benefit worth mentioning is the 100% money-back guarantee. It applies to individuals who complete the program but fail to land a job. To qualify for this offer, you must attend all the classes and submit all the assignments on time. The terms and conditions for the money-back guarantee include additional stipulations about time frames and job channels.
Fast and Straightforward Sign-Up Process
Fill in a short form on the official Careerist website to get started. There are several ways to find it:
Open https://www.careerist.com/ and scroll down to the bottom of the main page.
Click the "Our Programs" button in the top horizontal menu on the main page. Select a program and click the gray "Join Now" button in the upper-right corner of the program's page.
Click the "Get Free Consultation" button when you come across it.
The form consists of three fields: your name, email, and phone number. You can also tick a box to receive automated text messages from the course provider. Ticking the box lets Careerist send you helpful information—you are not committing to purchasing the program. The platform keeps your data confidential, and you can unsubscribe from the messages anytime.
A Careerist representative will call you to answer questions and help you choose the program that best meets your needs.
What Happens Next
After the initial consultation, you can choose a payment option:
100% upfront payment. The most cost-efficient option with the highest discount.
A personalized plan that lets you pay the tuition fee in installments but costs a little more.
After you pay, the learning begins! You can study live with the other students or at your own pace. Apart from lectures, the program includes hands-on assignments, homework, and quizzes.
After the courses, you should be ready to cope with real-life tasks. At this point, you'll participate in a remote internship to experience what it's like to work in tech. You can also add the internship to your resume.
When you finish the internship, you'll benefit from one-on-one career mentorship. Your mentor will enhance your resume and LinkedIn profile while helping you prepare for job interviews.
In the last stage, you'll start looking for job openings with the help of the Job Application Service. Even after you sign a contract with an employer, you'll stay in touch with the Careerist team. You can ask them for advice on any work-related topics.
5 Programs Available
Below, we'll talk about the curriculum and benefits of each respective program. We'll also tell you how much you can expect to earn after graduation. After completing the program, you'll receive a certificate.
So far, this online boot camp does not include courses dedicated to Java/C++/Go development, data analysis, product management, and other tech niches. They might expand program offerings in the future.
Students from all over the world are eligible to participate in this program. However, the program's salary statistics only apply to the US and Canada. In other countries, employers tend to pay a bit less.
1. Manual QA
Duration: 15 weeks
Weekly workload: 6–8 hours
Number of modules: 8
Cost if paid upfront: $4,200
Average salary in the US: $87,000
"QA" stands for "quality assurance." These professionals don't build digital products. Instead, developers create the products, and the QA department tests them. QA specialists ensure that apps and websites operate as intended and fulfill their initial requirements. Manual QA specialists hunt for bugs and report them to developers, who make the necessary changes to improve the products.
Manual QA testing is a great entry point into the tech industry. You don't need to learn coding to start working.
2. QA Automation
Duration: 24 weeks
Weekly workload: 6–8 hours
Number of modules: 6
Cost if paid upfront: $4,900
Average salary in the US: $113,000
Automated QA specialists conduct automated tests, build algorithms and study Python—the most popular programming language in the world. Manual QA graduates can join the automation program to boost their professional skills. Alternatively, students can enroll in this program immediately (without studying manual QA first) if they have a basic technical background.
3. Sales Engineering
Duration: 9 weeks
Weekly workload: 7 hours
Number of modules: 9
Cost if paid upfront: $4,900
Average salary in the US: $100,000
Sales engineers detect customer pain points and devise ways to fix them. Companies use sales engineers to help create products that satisfy consumers, increasing product demand. This occupation doesn't require coding skills or prior sales experience. During the sales engineering program, you'll have 30 immersive training sessions where you learn to enhance digital products to meet consumers' needs.
4. Systems Engineering
Duration: 24 weeks
Weekly workload: 6–8 hours
Number of modules: 12
Cost if paid upfront: $4,900
Average salary in the US: $112,000
The systems engineering course focuses on the basics of computer science. Unlike a university program, it's highly pragmatic. It features only the information you genuinely need for your day-to-day work. You'll learn to handle hardware and software, ensuring they operate smoothly to give users the best experience possible.
5. UX Design
Duration: 16 weeks
Weekly workload: 8–10 hours
Number of modules: 6
Cost if paid upfront: $4,550
Average salary in the US: $98,000
UX design is the newest course in the curriculum. UX professionals ensure that the interfaces of digital products are user-friendly and visually appealing. They research consumer demands to make data-driven decisions about design—such as which color palette to choose, how many buttons to add to the page, and where to place buttons for maximum conversion. You'll learn to use Figma, one of this occupation's most functional and popular tools. Instructors also cover communication skills to help you convince shareholders and clients to use your design ideas.
Affiliate Program
In addition to tech courses, Careerist offers an affiliate program for marketers. Its target audience includes:
Sales professionals.
Content creators and opinion leaders.
Anyone interested!
The affiliate's mission is to spread the word about the platform and encourage people to join.
To apply as an affiliate, you should fill in the same short program interest form with your contact details and wait for a call. After you're accepted, Careerist will email a link to your dashboard. The dashboard allows you to generate referral links and transparently track your activities. The average student transaction is $5,000—you'll earn a percentage for all leads you refer to the platform.
Student and Graduate Opinions
You can find Careerist reviews on many platforms. Students and graduates assess this online program's quality of instruction, program support, and other important aspects. Career Karma features over 860 Careerist reviews—here are a few!
Cerys Chandler shares that instructors provide helpful information at the very first lesson. They won't make you listen to long hours of theory, as typically happens at a university. The curriculum design produces professionals who can hit the ground running and help companies grow.
In his Careerist QA review, Eric Verreau states that it took him only two months to land a job after graduation. He found the instructors genuinely helpful, and the information provided was 100 percent relevant to the job.
While UX design is the newest course, you can already see many positive reviews for the program. For instance, it helped Jitka Konechna become a senior UX consultant at a large company.
Chu Thao opted for the UX design program as well. She emphasizes the importance of the communication skills she learned during the course. She loved that the instructors found a common language with students and shared many smart tips.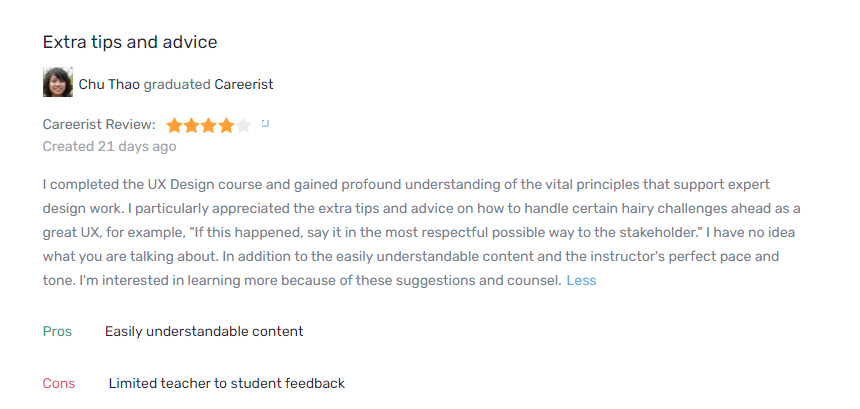 Marcos Martins believes that professionals with any level of expertise can benefit from the QA Automation course. He notes that the homework assignments are very similar to the tasks graduates will face at their jobs.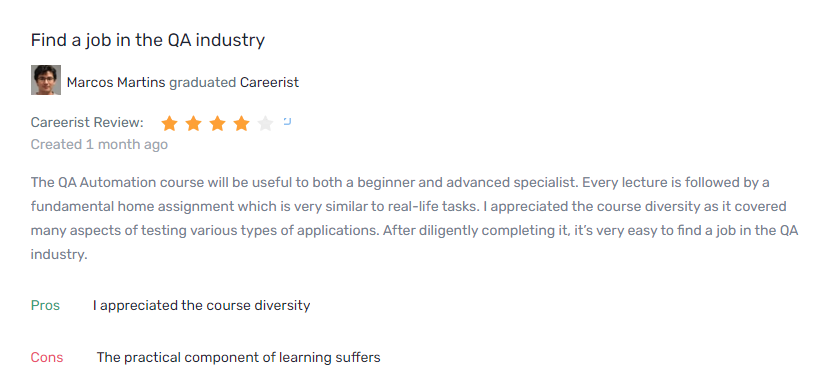 While most reviews are positive, some graduates do mention drawbacks. Anja Holanti complains that students must spend long hours in front of the computer. However, any job in the digital industry will involve many hours sitting in front of a computer. While people from other industries might find this aspect of a tech job challenging, strong salaries and growth opportunities compensate for this shortcoming.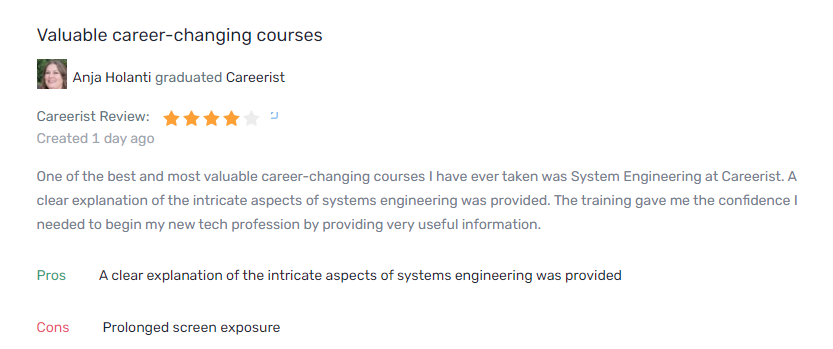 Chongrak Lui mentions that online courses traditionally have less credibility. However, employers know that credibility varies by program. Employment statistics show that companies of any size, from small start-ups to tech giants, regularly hire graduates of online programs. A student's success largely depends on their diligence and the credibility of the specific educational program. Chongrak admits that the Careerist team helps students secure jobs.
Elizabeth Kulikova mentions limited cultural exposure. However, you'll quickly become accustomed to working in a diverse and multicultural environment when you secure a role. Elizabeth praises the overall quality of her Careerist education.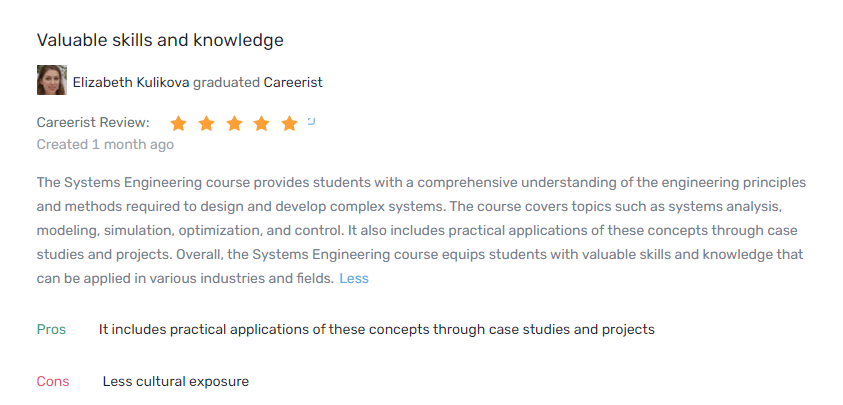 Conclusion
This educational platform seems worth your attention based on the overall reviews and company reputation. Consider Careerist if you're interested in trying your hand at tech. You should be able to get high-quality education for a reasonable price in a relatively short time. You can even participate in these part-time programs without quitting your current job. If you're interested in learning more, visit Careerist's website!
(Devdiscourse's journalists were not involved in the production of this article. The facts and opinions appearing in the article do not reflect the views of Devdiscourse and Devdiscourse does not claim any responsibility for the same.)