International Women's Day: Women playing pivotal role in building Naya J-K
On the occasion of 'International Women's Day', J&K women have hundreds of success stories to share with the world as the abrogation of Article 370 has proven to be a blessing for them.
---
ANI
|
Updated: 07-03-2023 09:20 IST | Created: 07-03-2023 09:20 IST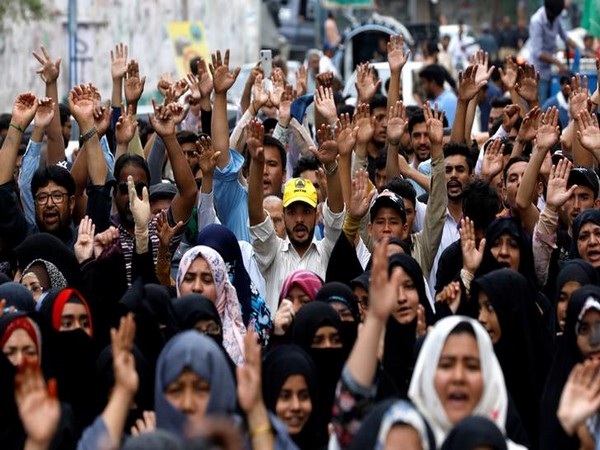 ---
On the occasion of 'International Women's Day', women from Jammu and Kashmir have hundreds of success stories to share with the world as the abrogation of Article 370 has proven to be a blessing for them. After August 5, 2019--when the Centre announced its decision to scrap J&K's special status and bifurcate it into two Union Territories--J&K women have truly come to know what empowerment and freedom means.
Women in 'Naya Jammu and Kashmir' have become symbols of success and are scripting a new chapter in the history of the Himalayan region. The women-oriented schemes that were launched by the government post-abrogation of Article 370 have put them on the path of becoming self-reliant and independent.
Besides helping women to become successful entrepreneurs the government has given them major roles in administration and in police. Special scholarship schemes for meritorious young female students have enabled them to chase their dreams. As of date women in J&K are doctors, engineers, lawyers, businesswomen, professors, deputy commissioners, district police chiefs, administrative officers, singers, sports stars etc. They have carved a niche in every field and are sharing their success stories with everyone.
J&K women during the past three years have become an inspiration for their counterparts nationally and internationally. They are the same J&K women who till 2019 were considered weak and incapable. But they have proved their detractors wrong by the dint of their hard work and determination. During the past three years women have played a pivotal role in building 'Naya J&K,' they have grabbed every opportunity that has been provided to them.
The centrally sponsored women-centric welfare schemes have shown them the way. Panchayat Raj Institutions have been creating awareness about the women empowerment schemes at the grassroots level and are acting as nodal points in rural areas. The economically independent women have become a part and parcel of 'Naya Jammu and Kashmir." They are playing a significant role at social, economic, political, educational and judicial fronts. Mass awareness has been created about the rights of women. Their achievements are being acknowledged and shared with the world.
Pertinently, from 1990, when Pakistan-sponsored terrorism broke out in J&K, till 2019 the terrorists and the separatists made every attempt to curb the freedom of women. The gun-wielding terrorists tried everything from enforcing the rule of wearing a veil to stopping women from going out to work but women always resisted their moves and didn't succumb.
The empowerment of women in J&K is an indicator of how the ground situation in Union Territory has changed in three years as the fairer sex is excelling in every field without any threat or intimidation. Women are playing extraordinary roles in shaping their families, society and organizations with an untiring determination as the regime led by Prime Minister Narendra Modi has instilled a sense of security by taking decisive action against the terrorists and their supporters.
J&K is among one the few places in the country that can boast of showcasing extraordinary women from very early times. The legendary women from the Union Territory like Queen Didda, Kota Rani, Lal Ded, Habba Khatoon and others have played a dynamic role in reshaping the lives of modern-day women. In recent times more and more women have been given leadership roles. They have become decision-makers and leaders.
Notably, after 2019, Self Help Groups (SHGs) in J&K have become a symbol of women's power in the Himalayan region. At present, there are more than 56,000 Self Help Groups in J&K and as many as 5 lakh women are associated with these groups. According to the official figures, about 55 per cent of gram panchayats have been covered under women SHGs in J&K and the efforts are on to achieve the target of covering 100% grass root institutions. Women are playing a major role in transforming the economy of the rural areas in J&K.
UMEED scheme of J&K Rural Livelihood Mission (JKRLM) since 2019 has been working relentlessly to engage the women from marginalized sections of the society into gainful livelihood ventures. The mission is to make every attempt to reach out to the rural population across J&K and to provide women with sustainable livelihood opportunities and nurture them so that they come out of poverty and live dignified life.
The JKRLM has brought self-sufficiency among rural women. They have not only come out of poverty but their status has also been elevated within their own families by this mission. The JKRLM is extensively based on capacity building and strengthening of community-based institutions by empowering rural women at different levels. In November 2022, the JKRLM and Meesho, India's fastest-growing internet commerce company, signed a Memorandum of Understanding (MoU) to support the growth of 1,800 Self-Help Groups (SHGs) by providing them an online platform to launch and grow their business and empower the rural women entrepreneurs.
Women empowerment schemes like POSHAN Abhiyaan. Anganwadi Services, Pradhan Mantri Matru Vandana Yojana (PMMVY), Beti Bachao Beti Padhao.One Stop Centre, Universalisation of Women Helpline, Child Protection Services, Scheme for Adolescent Girls, Swadhar Greh, Hausla, Tejaswani etc. are also helping the women to march towards their goals. Women in rural areas are no longer confined within the four walls of their homes. They have become equal stakeholders in society and are sharing equal responsibilities with men. The government has fixed a target of at least ensuring 33 per cent representation of women in every field with the ultimate aim of achieving a 50-50 ratio between men and women. Participation
The women are taking part in recruitment drives of the security forces, competitive exams for gazetted and non-gazetted posts and have shunned social taboos. They are donning police uniforms and combat dresses and are standing with men. Women constitute about 47 per cent of the total population in J&K and their active participation in every field has helped in restoring normalcy in the Himalayan region, which witnessed a Pakistan-sponsored onslaught for 30 long years.
To celebrate women's empowerment and to commemorate 'International Women's Day' J&K administration this year has been organising special Women's Sammelans in different districts. Women achievers are being felicitated and encouraged to share their success stories with the world and send a message that women have become J&K's identity. (ANI)
(This story has not been edited by Devdiscourse staff and is auto-generated from a syndicated feed.)