Gujarat: Bajrang Dal protests against film 'The Creator - Sarjanhar' in Ahmedabad
'The Creator - Sarjanhar' is slated to be released on May 26.
---
ANI
|
Updated: 25-05-2023 14:46 IST | Created: 25-05-2023 14:46 IST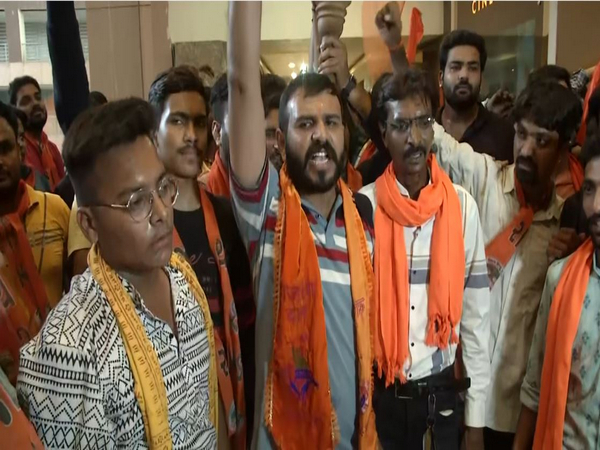 ---
Members of Bajrang Dal on Wednesday staged a protest at a multiplex theatre in Ahmedabad against the upcoming film, 'The Creator - Sarjanhar', alleging that the film is promoting "love jihad". 'The Creator - Sarjanhar' is slated to be released on May 26.
The makers of the movie said that it propagates the unique idea of 'One world, one religion'. The film furthers the agenda of freeing the world from artificially created borders which is the best way to save humanity and the world itself. "This movie conveys that one should go against their religion and parents to go for a love marriage. This movie encourages 'love jihad'," Hiran Rabbai, one of the protestors said.
The protestors said that they will continue to protest against the screening of the movie. "We will go to any extent to make sure that this movie is not to be screened. We will give such a message to the movie makers that when they try to do this kind of movie again they will think twice," Rabbai said.
The protesters were taken away by the police later. The film has been written and directed by Praveen Hingonia and it has been conceptualized and produced by Rajesh Karate 'Guruji'.
The film stars Dayanand Shetty, Shaji Choudhary, Bhuvnesh Mam, Rohit Chaudhari, Jashn Kohli, Raza Murad, Himani Sahani, Eliza Sehgal, Bushra Sheikh, Anant Mahadevan, Sanjay Swaraj, Pramod Mahoto in pivotal roles. Shaji Chaudhary will be seen playing the main villain in 'The Creator - Sarjanhar'. Before this film, Shaji had played important characters in 'Jodha Akbar', the popular web series 'Mirzapur' and recently he was also seen in Shahrukh Khan's superhit film 'Pathan'.
During the trailer launch in New Delhi, Dayanand Shetty said, "The story of the film is so unique and different that I couldn't resist saying yes to it. Through propagating the idea of a world without borders, the film talks about saving humanity on a global level. I am playing the role of a revolutionary scientist named Dr Ray who believes in the concept of 'one world, one religion' and wants to transform the world with his unique thoughts. I am pretty sure that people will not only like our film but they will also relate to my character in a big way." (ANI)
(This story has not been edited by Devdiscourse staff and is auto-generated from a syndicated feed.)