Will Netflix's APAC ambitions threaten Hotstar in India's streaming wars?
According to a 2021 report by independent transaction advisory firm RBSA Advisors, India's OTT streaming industry, including video and audio, has the potential to grow almost nine-fold to touch USD 15 billion by 2030.
---
ANI
|
Updated: 13-03-2023 07:06 IST | Created: 13-03-2023 07:06 IST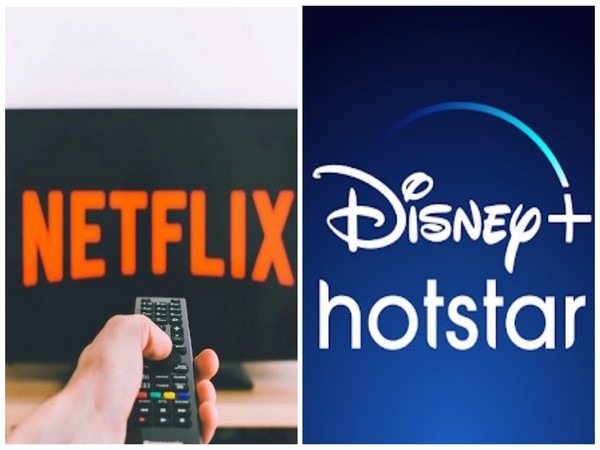 ---
By Lee Kah Whye Last week, a report by an Asian-based research firm projected that American over-the-top (OTT) video streaming service provider Netflix will grow its Asia-Pacific revenue by 12 per cent to USD4 billion.
This is expected to be mainly driven by a rebound in the Australian market, "robust levels of growth in the developed East Asian markets of Japan and Korea, where revenue per user tends to be high; and material gains and contributions from the developing markets of India, Indonesia, Philippines and Thailand," said regional research and analysis firm Media Partners Asia (MPA). The Asia-Pacific region is an important one for Netflix given that Netflix "home" market of the US and Canada, which contributed 44.6 per cent of its global revenue, is stagnant, highly competitive, and challenging to grow. Based on its latest financial report, it lost 919,000 paid subscribers in the US and Canadian markets in 2022 but still managed to eked out a 9 per cent revenue increase.
Although Netflix did not comment on the reason for the revenue growth, Q4-22 was the first quarter that Netflix's new ad-supported service which was launched in November was included in its earnings results. Neither did it disclose what portion of the new subscriptions are from users who have opted for this cheaper service. Subscribers in its home base expanded by 909,000 in Q4. Netflix is depending on exponential growth in APAC to supercharge its global growth.
According to a 2021 report by independent transaction advisory firm RBSA Advisors, India's OTT streaming industry, including video and audio, has the potential to grow almost nine-fold to touch USD 15 billion by 2030. This would include USD12.5 billion for the video market and USD2.5 billion for audio. The size of the OTT market in 2020 was around USD 1.7 billion.
RBSA said that the key drivers of the growth include the fact that India has the second-highest per capita consumption of online video in the world, the cheapest mobile data in the world, high growth in rural internet penetration and the steep rise of smartphone users in India, estimated to be over 760 million in 2021. OTT platforms have been making enormous investments in originals to spur subscription demand. Together with acquired content, RBSA projects that subscription video-on-demand will make up 93 per cent of the total OTT revenue in India (as compared to 87 per cent globally), increasing at a CAGR (compounded annual growth rate) of 30.7 per cent between 2019 to 2024.
Furthermore, the advisory firm expects user penetration to increase from 25.8 per cent in 2021 to 32 per cent in 2025 with OTT users at 462.7 million. As of the end of 2022, industry insiders estimate that Netflix has around 6 million subscribers. The leading streaming platform in India by far is Disney+Hotstar with 57.5 million subscribers.
This is after it suffered its largest quarterly reduction in paid subscribers of 3.8 million in the October to December 2022 quarter. Its subscribers declined mainly as a result of it losing the rights to the Indian Premier League (IPL). That it no longer has rights to the IPL may benefit Netflix in its subscriber acquisition drive in India.
Local content creation is a key factor in growing the APAC market. Research firm MPA anticipates that Netflix will up its local content spending in the region by 15 percent to USD 1.9 billion, representing 47 percent of revenues. Netflix produced nine Indian local originals in Q4-22 to help it gain a stronger foothold in the market. MPA's report suggests that India along with Indonesia will remain the fastest-growing markets in Asia for Netflix.
According to MPA's estimates, India, Indonesia, Thailand and the Philippines will collectively contribute over 20 per cent of Netflix's APAC revenues in 2023. The firm sees these countries' contributions growing more in the second half of 2023 "through a mix of subscriber and ARPU growth." The other market in which Netflix sees potential in 2023 is Australia.
MPA's executive director Vivek Couto noted that Netflix's ad tier has gotten off to a slow start in APAC, but said that "Australia is expected to see greater momentum through 2023, helping boost subscribers and revenues in a market where churn has been increasing." Another country in APAC that is critical to Netflix's success in the region is Japan which contributes about a quarter of Netflix's total APAC revenues.
Couto noted that "Japan will continue to grow as Netflix strives to grow impact with new scripted non-anime shows" produced in the country. MPA's researchers also noted the power of Korean content and Japanese anime in driving growth across the region. In 2022, Netflix released 29 exclusive Korean dramas, of which six were among the top 10 reaching titles in APAC in 2022, according to estimates from MPA subsidiary AMPD Research.
During the latest earnings call, Netflix forecasted global Q1-23 revenue to increase by 4 percent propelled by a combination of year-over-year growth in average paid memberships and ARM (average revenue per membership). "2022 was a tough year, with a bumpy start but a brighter finish," the company said in a statement accompanying the financial result release. "We believe we have a clear path to reaccelerate our revenue growth: continuing to improve all aspects of Netflix, launching paid sharing and building our ads offering. As always, our north stars remain pleasing our members (subscribers) and building even greater profitability over time." (ANI)
(This story has not been edited by Devdiscourse staff and is auto-generated from a syndicated feed.)