Yoon: Seoul-Tokyo ties key to address N Korea, supply chains
Yoon also said South Korea and Japan while pursuing stronger bilateral ties should also seek to advance their economic relations with China in a stable manner. A government-affiliated foundation in South Korea will likely handle reparations to forced labor victims with money contributed by steel giant POSCO and other local companies that benefited from the 1965 accord.
---
PTI
|
Seoul
|
Updated: 15-03-2023 10:18 IST | Created: 15-03-2023 10:17 IST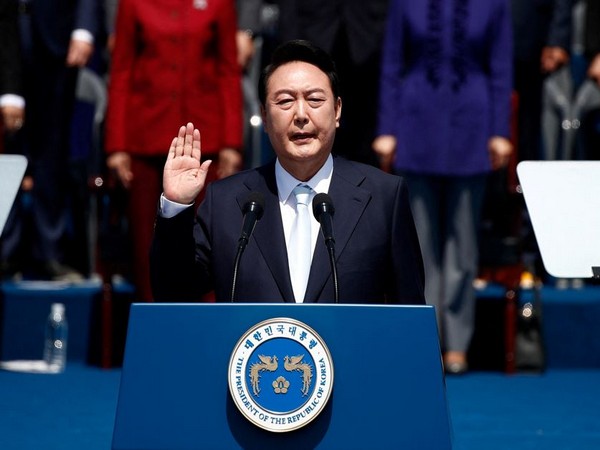 ---
South Korea's president wants to quickly overcome decades of lingering hostility left over from Japan's past colonial rule of the Korean Peninsula and forge a united front to meet regional security and economic challenges facing the neighbors.
"We cannot afford to waste time while leaving strained Korea-Japan relations unattended," President Yoon Suk Yeol said in written response to questions posed by several foreign media outlets including The Associated Press. "I believe we must end the vicious cycle of mutual hostility and work together to seek our two countries' common interests." Yoon's comments were provided Wednesday, a day before he travels to Tokyo for a closely watched summit with Japanese Prime Minister Fumio Kishida. The focus of attention is whether and what corresponding steps Kishida would take in response to Yoon's recent plans to use South Korean funds to compensate some of the colonial-era Korean forced laborers without requiring Japanese contributions. Yoon's push has triggered criticism from some victims and his domestic political rivals, who have called for direct compensation from Japanese companies that employed the forced laborers. But Yoon has defended his decision, saying greater ties with Japan is essential to tackle a slew of foreign policy and economic challenges.
"There is an increasing need for Korea and Japan to cooperate in this time of a poly-crisis with North Korean nuclear and missile threats escalating and global supply chains being disrupted," Yoon said. "I am confident that the Japanese government will join us in opening a new chapter of Korea-Japan relations which will go down to history." Addressing Yoon's comments, Japanese Chief Cabinet Secretary Hirokazu Matsuno said later Wednesday that Tokyo seeks to strengthen "strategic cooperation" with South Korea as well as trilaterally with the United States. He said he hopes that there will be "open-hearted exchanges" between the leaders of the two countries. South Korea and Japan, both key U.S. allies and vibrant democracies, are closely linked to each other economically and culturally. But their ties plunged to one of their lowest points in decades after South Korea's Supreme Court in 2018 ordered two Japanese companies — Nippon Steel and Mitsubishi Heavy Industries — to compensate some of their former Korean employees for forced labor during the 1910-45 colonial rule. Japan has insisted all compensation issues were already settled by a 1965 treaty that normalized bilateral ties and was accompanied by $800 million in economic aid and loan from Tokyo to Seoul. The history disputes spilled over to other issues, with Tokyo placing export controls and South Korea threatening to terminate a military intelligence-sharing pact. The feuding undermined a U.S. push to reinforce its alliances in Asia to better cope with North Korean nuclear threats and a Chinese rise. Since taking office last May, Yoon, a conservative, has been focusing on repairing ties with Japan, boosting the military alliance with the United States and building a stronger trilateral Seoul-Washington-Tokyo security cooperation. Yoon says those steps were needed to deter North Korea, whose nuclear-capable missiles put both South Korea and Japan within striking distance. Tensions with North Korea have further intensified recently, with the North test-firing a spate of missiles in protest of the South Korean-U.S. military drills that it views as an invasion rehearsal. "As North Korea's nuclear development seriously threatens peace and security on the Korean Peninsula and beyond, it is more important than ever that the international community works on a concerted deterrence and responses – this includes the ROK-U.S. alliance and ROK-U.S.-Japan security cooperation," Yoon said, invoking South Korea's formal name. After Yoon's government announced it would use money raised domestically to compensate the former forced laborers who won damages in the 2018 rulings, U.S. President Joe Biden hailed the plan as a major step toward enhancing the partnership between two of Washington's closest allies.
While experts say that North Korea's aggressive weapons testing activities are aimed forcing the United States to accept it as a nuclear power and relaxing international sanctions, Yoon said Kim would fail to achieve this goal.
"Since the complete denuclearization of North Korea is the clear and unchanging goal of the international community, the Republic of Korea will never acknowledge North Korea as a nuclear state under any circumstances," Yoon said.
He said Seoul, Washington and Tokyo are "continuously taking strong diplomatic, economic and military measures to show that the international community's commitment to denuclearizing North Korea is stronger than North Korea's commitment to the development of nuclear weapons." Yoon also called on North Korea to halt its "reckless" nuclear program and take steps to address the suffering of its people. He said South Korea is willing to provide humanitarian assistance to North Korean people, citing an assessment "that food shortages there have grown worse with some regions seeing people dying of hunger recently." Yoon expressed optimism that the thawing of diplomatic relations between South Korea and Japan would also expand economic cooperation between the technology-driven countries, which he said would be crucial to address industrial supply chain vulnerabilities and other global challenges. "If Korea-Japan relations are normalized, I expect to see acceleration of strategic cooperation, such as technological partnerships, joint research & development and the expansion of mutual investments in various fields, such as semiconductors, space and bio-health including materials, parts and equipment,'' he said.
Yoon said expanded cooperation between South Korea and Japan – both semiconductor powerhouses – will contribute "greatly" in improving the resilience in global supply chains, which have been rattled by Russia's invasion of Ukraine and COVID-19 and could be reshaped by an intensifying U.S.-China rivalry. Yoon also said South Korea and Japan while pursuing stronger bilateral ties should also seek to advance their economic relations with China in a "stable manner." A government-affiliated foundation in South Korea will likely handle reparations to forced labor victims with money contributed by steel giant POSCO and other local companies that benefited from the 1965 accord. POSCO said Wednesday that it decided to newly contribute 4 billion won ($3 million) to the foundation in addition to the 6 billion won ($4.6 million) that it has previously contributed to the foundation. South Korean officials say they don't expect Nippon Steel or Mitsubishi to immediately contribute to the South Korean funds for the forced labor victims. They say they expect the Japanese companies to participate in a separate possible fund aimed at facilitating cultural exchanges and other cooperation between the two countries.
(This story has not been edited by Devdiscourse staff and is auto-generated from a syndicated feed.)