Russian parliament chief proposes Polish truck ban, says Warsaw owes Moscow billions
---
Reuters
|
Moscow
|
Updated: 21-05-2023 14:38 IST | Created: 21-05-2023 14:35 IST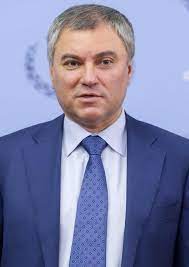 ---
Russia's top lawmaker on Sunday called for a ban on Polish trucks transiting Russian territory and for Poland to compensate Moscow financially for what he said was the Soviet rebuilding of the east European country after World War Two. In a statement, Vyacheslav Volodin, chairman of the State Duma, the lower house of parliament, said that Poland needed to be punished for having "betrayed the historical memory" of the Soviet Union's liberation of the country from Nazi Germany with a series of hostile acts against Moscow.
In comments certain to deepen a feud with Warsaw, Volodin said Poland existed as a state only "thanks to our country", said Warsaw should pay Russia over $750 bn to compensate it for Soviet investment in the country after World War Two. He said Poland should also hand back territory it received after the war.
There was no immediate reaction to his comments from Warsaw. Volodin said a parliamentary committee would begin considering a ban on Polish trucks entering Russian territory as soon as Monday. Such a move, he said, would cause Poland significant financial pain and job losses.
Strained Russian-Polish relations have deteriorated further since the war in Ukraine - something Moscow calls "a special military operation" with Warsaw positioning itself as one of Kyiv's key allies. Russia last month promised it would respond harshly to what it said was Poland's illegal seizure of its embassy school in Warsaw, an act it called a flagrant violation of the Vienna Convention on diplomatic relations.
In March 2022, Poland said it was expelling 45 Russian diplomats suspected of working for Moscow's intelligence services.
(This story has not been edited by Devdiscourse staff and is auto-generated from a syndicated feed.)