The Ultimate Guide to Experiencing India's Diverse Cultures through Tourism
India, with its rich tapestry of cultures, traditions, and history, is a dream destination for every traveler seeking an authentic and immersive experience. From the majestic palaces of Rajasthan to the serene backwaters of Kerala, this guide will take you on a journey through India's diverse cultures, helping you uncover the hidden gems and unique experiences that await you.
---
Devdiscourse News Desk
|
Updated: 05-09-2023 15:14 IST | Created: 05-09-2023 15:14 IST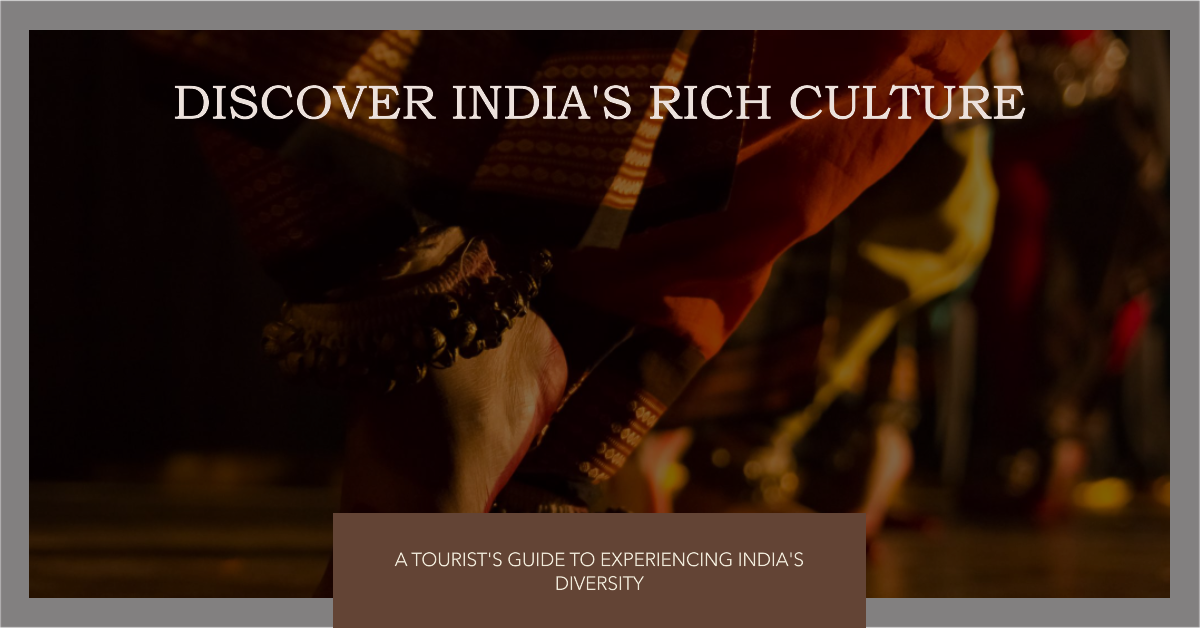 ---
India, often referred to as the land of diversity, is a country that promises a travel experience like no other. With a history that spans millennia and a culture that evolves from one state to another, India is a treasure trove of unique travel experiences. From the snow-capped peaks of the Himalayas to the pristine beaches of Goa, and from the bustling streets of Delhi to the tranquil villages of Tamil Nadu, India offers a kaleidoscope of cultures, traditions, and landscapes that will leave any traveler awestruck. In this ultimate guide, we will explore how to immerse yourself in India's diverse cultures through tourism.
Heritage Sites Exploration
India boasts a multitude of UNESCO World Heritage Sites that offer a glimpse into its rich history and architectural marvels. From the iconic Taj Mahal in Agra to the ancient temples of Khajuraho and the majestic forts of Rajasthan, these sites are a testament to India's glorious past. To truly understand the cultural diversity, make sure to visit:
Taj Mahal, Agra: The epitome of love and a marvel of Mughal architecture, the Taj Mahal is a must-visit. Witness the intricate marble work and listen to the stories of love and sacrifice that surround this monument.

Khajuraho Group of Monuments, Madhya Pradesh: These intricately carved temples are famous for their stunning erotic sculptures. They provide a unique insight into India's ancient art and culture.

Hampi, Karnataka: Explore the ruins of the Vijayanagara Empire and marvel at the impressive stone structures that date back to the 14th century. Hampi is like stepping into a time machine, where history comes to life right before your eyes.
Culinary Adventures
Indian cuisine is as diverse as its culture. Each region offers a unique culinary experience, and trying local dishes is a delicious way to connect with the culture. Don't miss:
Street Food in Delhi: Dive into the chaos of Old Delhi's streets and savor mouthwatering chaat, kebabs, and parathas. The vibrant street food culture here is an adventure in itself.

South Indian Dosa in Chennai: Savor a crispy dosa served with an array of chutneys and sambar in its place of origin. Chennai is a food lover's paradise.

Biryani in Hyderabad: Known for its aromatic and flavorful biryani, Hyderabad is a haven for rice enthusiasts. Try the famous Hyderabadi biryani at local eateries.
Spiritual Exploration
India is the birthplace of several major religions, making it a spiritual hub. Whether you're religious or simply seeking inner peace, India offers a spiritual journey like no other:
Varanasi, Uttar Pradesh: The spiritual heart of India, Varanasi, sits on the banks of the Ganges River. Witness the mesmerizing Ganga Aarti and take a boat ride to experience the city's spirituality.

Golden Temple, Amritsar: The holiest shrine for Sikhs, the Golden Temple is a place of tranquility and service. Partake in the langar (free community meal) for a humbling experience.

Rishikesh and Haridwar, Uttarakhand: These twin cities along the Ganges are known for yoga and meditation. Attend a yoga retreat or simply meditate by the river to rejuvenate your soul.
Festivals and Celebrations
India is a land of festivals, and each one is celebrated with great enthusiasm and grandeur. Plan your visit around these festivals to immerse yourself in the local culture:
Diwali: The Festival of Lights, celebrated across India with dazzling displays of lamps, fireworks, and delicious sweets. Visit Jaipur to witness the city illuminated like a fairy tale.

Holi: The Festival of Colors is celebrated with fervor in Mathura and Vrindavan. Join in the playful chaos of colored powders and sweets.

Durga Puja: Experience the grandeur of Durga Puja in Kolkata, where the city comes alive with artistic idols, cultural performances, and delicious Bengali cuisine.
Rural and Tribal Experiences
To truly understand the diversity of India's culture, venture into its rural and tribal heartlands:
Village Homestays in Himachal Pradesh: Stay with local families in the remote villages of Himachal Pradesh to experience the simplicity and warmth of rural India.

Tribal Villages in Odisha: Explore the unique cultures and traditions of India's tribal communities in the tribal belts of Odisha. Witness their dance forms, art, and way of life.
Art and Craft Appreciation
India is famous for its beautiful traditional arts and crafts. Show some love to the talented local artisans and bring back one-of-a-kind souvenirs that carry the essence of India with you.
Jaipur, Rajasthan: Known as the Pink City, Jaipur is famous for its handcrafted jewelry, textiles, and pottery. Drop by the neighborhood markets and workshops to see skilled artisans in action, creating their beautiful handcrafted pieces.

Puducherry: Explore the French Quarter and pick up exquisite handmade paper products and fragrant incense sticks from Auroville.
Wildlife Encounters
India's diverse landscapes offer opportunities for thrilling wildlife encounters:
Ranthambore National Park, Rajasthan: Go on a safari to spot the majestic Bengal tigers in their natural habitat.

Sundarbans, West Bengal: Explore the mangrove forests and seek out the elusive Royal Bengal tiger in the world's largest delta.
In conclusion, India is a land of endless possibilities when it comes to cultural exploration through tourism. Whether you're a history buff, a foodie, a spiritual seeker, or an adventure enthusiast, India has something to offer. So, pack your bags, immerse yourself in the diverse cultures of this incredible country, and create memories that will last a lifetime. #IncredibleIndia #TravelDiaries #CulturalExploration