Google Doodle celebrates Senegal's 63rd independence
---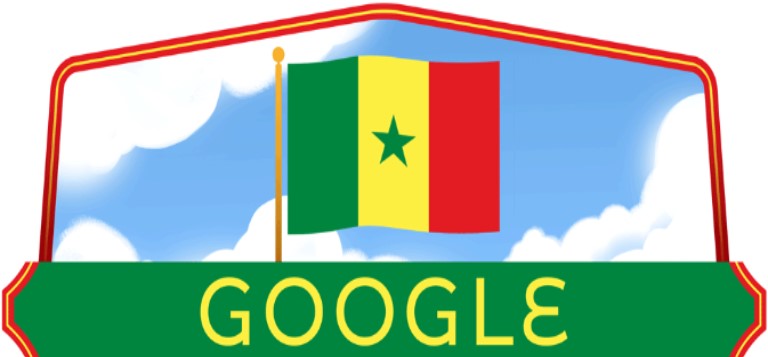 ---
Happy Independence Day Senegal!
On April 4, 1960, Senegal gained its independence from France after over two centuries of colonial rule. Today, the country celebrates its 63rd Independence Day, and Google has commemorated this occasion with a Doodle.
The Senegalese people celebrate their country's progress with fireworks, parades, cultural delicacies, and performances. At the parade in Dakar, attendees proudly sing their national anthem, Le Lion Rouge, and wave the green, yellow, and red Senegalese flag high in the sky. The green symbolizes hope and faith, the yellow represents labor and wealth, and the red stands for independence.
Senegal is located in West Africa, on the Atlantic Ocean coastline. It shares its borders with Mauritania to the north, Mali to the east, Guinea to the southeast, and Guinea-Bissau to the southwest. Senegal nearly surrounds the Gambia, a country occupying a narrow sliver of land along the banks of the Gambia River.
Senegal is a multiethnic and multilingual country with over 30 languages spoken. Wolof is the most widely spoken language, with 80% of the population speaking it as a first or second language, acting as Senegal's lingua franca alongside French. Senegal is predominantly Muslim, and the largest ethnic groups are the Wolof, Fula, and Serer people.
Senegal does not have significant natural resources, but the basis of its development lies in education. Almost half the state's budget is spent on education, and the country is known for its high literacy rate. The major industries in Senegal include agriculture, mining, tourism, and services.
On this Independence Day, the Senegalese people celebrate their progress as a nation and their cultural heritage. The Google Doodle is a reminder of the country's rich history and the resilience of its people.
Also Read: Google doodle honors Brazilian entertainer Jorge Lafond on his 71st birthday