Parliament logjam continues; Rahul Gandhi says he has right to respond to allegations by four ministers
The Lok Sabha and Rajya Sabha were first adjourned till 2 pm and then for the day amid protests. The second part of budget session began on March 13.
---
ANI
|
Updated: 17-03-2023 07:37 IST | Created: 17-03-2023 07:37 IST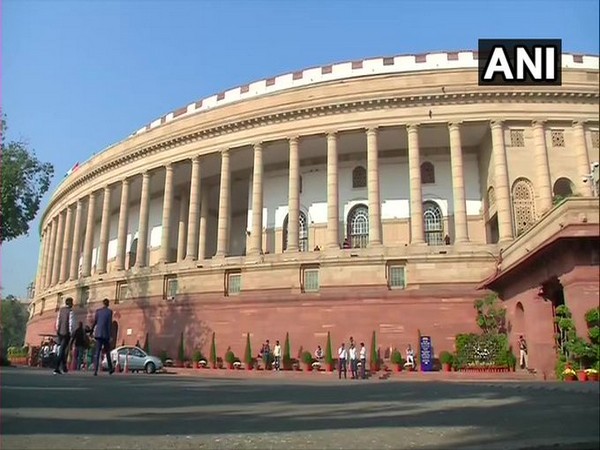 ---
The logjam in Parliament continued for the fourth successive day on Thursday with the ruling BJP and opposition parties sticking to their stands. The BJP is demanding apology from Congress leader Rahul Gandhi over his remarks in United Kingdom and the opposition parties are pressing for a joint parliamentary committee probe into the Hindenburg-Adani row. The Lok Sabha and Rajya Sabha were first adjourned till 2 pm and then for the day amid protests. The second part of budget session began on March 13.
The tussle also played outside the parliament with Rahul Gandhi stating that he wants to respond to the ministers who had made allegations against him in the two Houses. Rahul Gandhi held a press conference at the party headquarters and said he had asked relevant questions from the government on the Adani issue.
BJP leader Ravi Shankar Prasad slammed Rahul Gandhi and said he has "made it a habit to derail Indian democracy, criticise it and demean it". Prasad said Rahul Gandhi "has insulted Indian democracy and must apologise for his remarks".
Rahul Gandhi referred to his speech during the motion of thanks to the President's address and said it had rattled the government. He also referred to ministers taking jibes at him for his remarks during events in the United Kingdom. "I went to Parliament this morning with the idea of putting what I have said, what I feel on the floor of the house. Four Ministers have raised allegations against me in Parliament House. It is my right to be allowed to speak on the floor of the house. I requested to the Speaker today. I went to his chamber and I requested him. I told him that people from the BJP have made allegations against me and as a Member of Parliament, it is my right to speak," Gandhi said.
He said the Speaker was "non-committal". "This story started, the day I gave my speech in Parliament about Adani. I asked some fundamental questions to the Prime Minister about his relationship with the businessman, about how Mr. Adani has been given pretty much the entire India-Israel defence relationship? How he is being given the Bombay Airport, other Airports, how rules have been changed to allow him to be given these things...," he alleged. "These are relevant questions and the whole idea is that these questions must not be under table and that is why, this whole exercise or four or five Ministers, the Prime Minister is giving a speech to distract from this fundamental question which is, what is the relationship between the Prime Minister of India and Mr. Adani and his companies and more importantly, whose money is in the shell companies? Who is this unknown person, whose money is in the shell companies? What is his relationship with Mr. Adani? These are the questions," he added.
Gandhi said he hoped to speak in parliament in detail. "Unfortunately for you, I am a Member of Parliament and as the allegation has been made in Parliament by four ministers, it is my right to have the opportunity. It is my democratic right," he said.
"So, if Indian democracy was functioning, I would be able to say my piece in Parliament. So, actually what you are seeing, is a test of Indian democracy. After four leaders of the BJP have made an allegation about a Member of Parliament, is that Member of Parliament going to be given the same space that those four Ministers have been given or is he going to be told to shut-up? That's what the real question in front of this country is right now," he added. Prasad, who also held a press conference, accused Rahul Gandhi of misleading people.
"How long will Rahul Gandhi continue to mislead the country and 140 crore people?" the BJP leader asked. "Rahul Gandhi has not expressed any regret about what he had said. BJP keeps its sound stand that he must apologise. If Congress doesn't get votes, it's because of its inability and misdeeds. It doesn't give their party leaders the right to shout against India and disrespect India," Prasad said.
In his remarks at Cambridge university in the UK, Gandhi had said that everybody knows and it's been in the news a lot that Indian democracy "is under pressure and under attack". "I am an Opposition leader in India, we are navigating that (Opposition) space," Rahul Gandhi had said at Cambridge university in the UK. The institutional framework which is required for a democratic Parliament, free press, the judiciary, just the idea of mobilisation, moving around all are getting constrained. So, we are facing an attack on the basic structure of Indian democracy," he had said.
Congress leader Adhir Ranjan Chowdhury said that BJP members disrupt the parliament proceedings and blame the opposition. "Every day, leaders of the ruling party disrupt the Parliament proceedings and put the blame for it on the opposition. They are trying to spoil Rahul Gandhi's image as a part of a conspiracy ahead of Karnataka polls," he said.
"If the Modi government has the courage, then it should give permission to hold a debate in Parliament on Rahul Gandhi's speech. We will prove who is against the country," he added. Earlier, Law Minister Kiren Rijiju attacked Rahul Gandhi.
"If Rahul Gandhi says something and Congress gets into trouble because of that, we have nothing to do with it. But if he defames our country, then as the citizens of this country, we can't be quiet," he said. "Abuse us as much as you want but we can't let you insult the nation. Rahul has insulted the judiciary, our judicial system is a robust one. The only demand is that Rahul will have to apologize to the country for insulting it. India is not their fiefdom anymore, they can't digest this fact," he added. (ANI)
(This story has not been edited by Devdiscourse staff and is auto-generated from a syndicated feed.)