Celebs shouldn't spread misinformation on veg food: Varda Mehrotra, ED, FIAPO
"Celebrities are the modern gods of today and this sort of misinformation that meat eating is important or necessary to boost stamina does have a detrimental impact on children or the generations to come," Ms. Varda Mehrotra, Executive Director, FIAPO said while sharing her thoughts on the depiction of superiority of non-vegetarianism over pure vegetarianism in films like Dangal on the children and viewers.
Subhro Prakash Ghosh
|
Updated: 30-07-2019 17:36 IST | Created: 27-07-2019 18:52 IST
---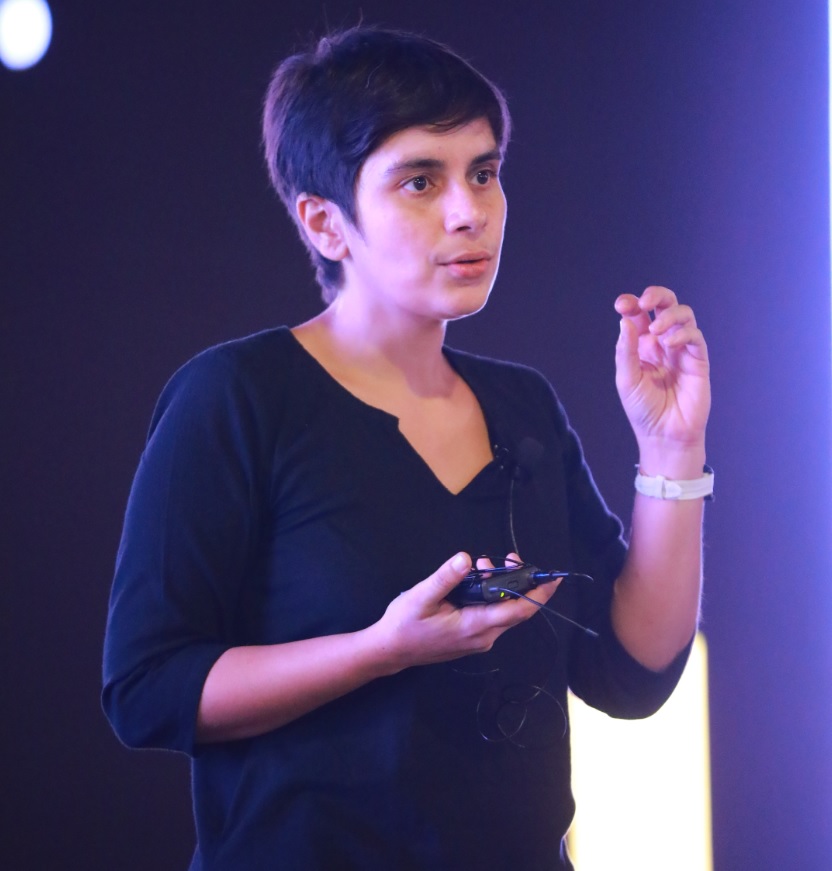 The animal protection movement is growing fast in India but still, the awareness is quite less and it needs constant leadership to disseminate the ideas among the masses. Federation of Indian Animal Protection Organisations (FIAPO) is giving all its endeavors to work in the direction of incorporating 'rights of animals' to live and survive. FIAPO was able to stop the establishment of India's first foreign MNC's mega dairy that was proposed to set up with 40,000 cows from New Zealand in Andhra Pradesh. The team recently successfully organised a '21 Day Compassion Challenge' campaign to encourage people to try a vegan diet for 21 days. In an exclusive conversation with Subhro Prakash Ghosh, Sr. Sub Editor, Devdiscourse, FIAPO's Executive Director, Ms. Varda Mehrotra, who has extensive experience of working with activists and organisations in both India and Scotland, discusses the organisation's viewpoints, necessity of generating more awareness for animal protection, vegan diet, celebrities and government's roles et al. Read the full interview.
Subhro Prakash Ghosh: What were the inspirations behind the formation of FIAPO?
Varda Mehrotra: FIAPO was formed in 2007 when several grassroots animal NGOs in India came together to form an Indian Organisation that was created to work at a more macro level for animals. Until then, most organisations were busy dealing with rehab, rescue, spay-neuter work for animals on a local level. FIAPO was formed for the movement by the movement and the animal welfare NGOs back in 2007.
Ghosh: As an organisation for animal protection, what challenges do you face in your operational activities?
Mehrotra: The sort of challenges that we face in our operational activities are the lack of resources available for our work, lack of volunteers, lack of awareness, lack of sensitization generally to stakeholders and the target group we are reaching out to. Animal rights and animal welfare protection is often the lowest priority in all social justice issues and causes.
Ghosh: What strategies do you adopt to wade through those challenges?
Mehrotra: One of the biggest strategies that we have adopted is to work as a federation, work through a network. We have realised that the issue is too large for any one organisation to work on alone. That's the reason we choose to work and run all our campaigns by networking, involving local NGOs, activists and individuals in the work we do or campaigns that we are running for animals.
Ghosh: Recently, you launched a '21 Day Compassion Challenge'. What was the inspiration behind this campaign?
Mehrotra: Several times one wishes to make changes to be kind to oneself, animals and the environment, to adopt lifestyle changes that are more in alignment with protecting animals and the environment, but habits are hard to change, and we fully recognise that. The 21-day challenge was conceptualised and launched to support people in making this transition. It a well-known fact that it takes 21 days to change any habit and we try and create a support system for people who are starting and embarking on that change for animals.
Ghosh: How was the response?
Mehrotra: The response has been absolutely fantastic, and we have got many sign-ups for the challenge and many people have let us know that they have switched to a vegan diet because of the 21-day challenge, which really helped them in the transition. We also have mainstream influencers and celebrities taking the challenge and becoming ambassadors for the campaign in India which has also boosted the popularity of the 21-day vegan challenge.
Ghosh: There exist some religious practices of animal sacrifice in India and also throughout the world in different religious groups. What impact the campaigns like 'Vegan Challenge' have on them?
Mehrotra: Whether slaughter or meat consumption is for religious or non-religious purposes, FIAPO believes in a world where no animals are killed or slaughtered for the consumption of meat or daily products. So, the impact of the 21-day vegan challenge remains the same across whatever belief system or religion or tradition a person follows.
Ghosh: Do you think some religious practices of animal sacrifice are considered a no go zone by CSOs (civil service organisations)?
Mehrotra: At a deeper level most people would agree that the protection and welfare of animals are important, and one needs to support it and think about it in a meaningful manner. For tactical reasons, some CSOs don't oppose animal sacrifice and religious practices as it depends on the individual missions and visions of the CSOs. As a whole, FIAPO believes in advocating with and supporting other CSOs and we have found great reciprocation in the solidarity which has culminated in great work that's been done to address animal issues.
Ghosh: There is a general perception that India is increasingly moving from vegetarian society to non-vegetarian as the number of pure vegetarians is apparently decreasing as vegetarianism is considered a symbol of backwardness in so-called modern society. What is your view on this debate?
Mehrotra: It is certainly true that in urban areas, cities and metros in India, meat-eating has an aspirational value. As we are seeing modernisation, the influx of fast-food chains, McDonald's, KFCs and so on, there is also general growth of meat consumption among youth and urban-class today. There is certainly a shift in the consumption of animals in India. We can see it from many perspectives, the need to adopt western diets, our economic growth opening doors to these fast-food chains, which have taken over our malls and streets or how addictive they can be as well.
Ghosh: There was a controversy regarding film like Dangal in which the wrestlers – Phogat Family girls – claimed they were pure vegetarian. What is your stand on this debate?
Mehrotra: Films can play a huge role in supporting what research and science have to say about nutrition. Any film can help stop the spread of misinformation that says animal protein is necessary for being healthy and fit. Not only are the real-life stars, pure vegetarian but also there are so many vegan athletes and fitness experts today who thrive on a vegan diet. There is no reason for films or any influencer to have to go back to eating meat or dairy products for boosting their stamina or their ability to gain muscles.
Ghosh: What effect the depiction of the superiority of non-vegetarianism over pure vegetarianism in films like Dangal, have on children and vegetarian movements?
Mehrotra: Celebrities are the modern gods of today and this sort of misinformation that meat-eating is important or necessary to boost stamina does have a detrimental impact on children or the generations to come.
Ghosh: There are statements from time to time from sportspersons supporting compulsory eating of animal food for increasing efficiency. What do you say about this?
Mehrotra: There are several spokespeople who are for and against animal food. Virat Kohli is one of the recent sportspeople who have thrived on a vegan diet. As vegan food is getting popularity, more and more celebrities, sportspeople are converting to a vegan diet for fitness.
Ghosh: Do you think campaigns on social media will have any impact on religious rituals of animal sacrifices continuing for centuries?
Mehrotra: Social media is one of the most important tools today to communicate. We and many other organisations and individuals working on animal protection put out information and sensitise people about animal food and its impact on health and environment. The results of our campaigns through social media have been extremely encouraging as more and more people are receiving this information and choosing to adopt a different lifestyle.
Ghosh: India ranks among top beef exporting countries in the world and beef export significantly rose since 2014 despite tougher laws on cow protection. What are your views on it?
Mehrotra: Our relationship with cows is a deeply complex and complicated issue. When we talk about beef, most of it is actually buffalo meat and buffaloes are not protected under most cow protection acts. It's mainly the buffaloes, who are often slaughtered and exported. There is also a lot of illegal slaughter of cows that takes place but the cow protection that we are advocating for either through personal choices or through our legislation needs to be far stronger and inclusive to just not talk about Indian Female Desi Cow in the rhetoric of protection but also include bulls, male calves, buffaloes so that the export of beef and animal slaughtering is significantly reduced.
Ghosh: Do you believe the government needs to interfere to bring in stricter laws to prohibit religious animal sacrifices?
Mehrotra: The government needs to interfere and bring in stricter laws to prohibit sacrifice in general and slaughter. There is a big need to regulate this industry whether it is religious slaughter or not, sacrifice takes place across all religions. So, it is very important that the government takes some significant steps to regulate laws on illegal slaughter and animal killing.
Ghosh: Do you have any plan to expand your activities internationally?
Mehrotra: FIAPO is an Indian organisation and we were set up to serve animals within India. We receive requests for support from other parts of the world and we do our very best to be able to respond to them, as animals do not have geographical boundaries. We are members of Asia for Animals coalition and members of the other coalition of other parts of the world. Recently, we were requested by activists in Sri Lanka to set up similar (vegan) advocacy campaign there as we run in India.
Currently, we don't have plans to expand as we have lots to do in India but at the same time, if someone needs assistance, we are always there to help.
---
FIRST PUBLISHED IN:

Devdiscourse