ARRC 2023: Honda Racing India's riders gain more points in second race
The Indian duo of Kavin Quintal and Mohsin P continue to climb ranks in the second race of AP250 of ARRC with 11th and 13th place finishes respectively.
---
ANI
|
Updated: 26-03-2023 23:49 IST | Created: 26-03-2023 23:49 IST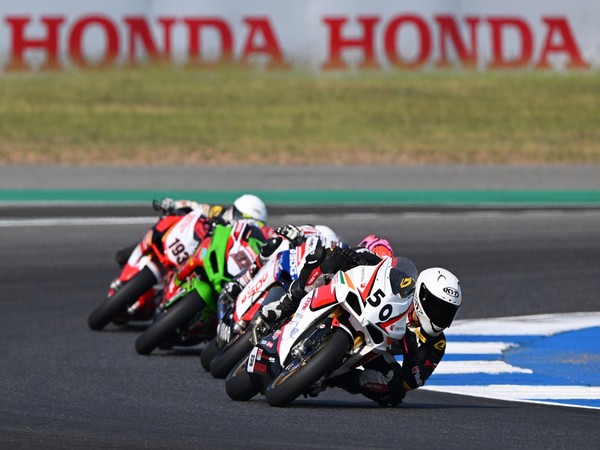 ---
It turned out to be another day of gaining valuable points for the Honda India Racing team. The duo of Honda's solo Indian team - Kavin Quintal and Mohsin Paramban flaunted their riding techniques in the second race of the FIM Asia Road Racing Championship (ARRC) AP 250 class at Buriram as they gained a spot in the Top 13. Riding fiercely from the 17th position start on the grid, Kavin climbed up by one position in the first lap itself. Slowly increasing the speed lap-by-lap, the 17-year-old rider from Chennai reached P12 by the end of the seventh lap. However, he dropped back to P13 in laps 8 and 9. But he upped his pace in the last lap and switched places with the nearest Japanese rider Chihiro Ishi to finally finish the race at P12. Due to the disqualification of one rider, Kavin has earned 11th place in today's race, thus adding 5 points. His total points tally at the end of Round 1 has reached 6 points.
Supporting Kavin in today's race was his teammate Mohsin. Starting from the 21st position on the grid of 22 riders, Mohsin made a good start overtaking four riders by end of the first lap. For the next 3, Mohsin was riding in P16. In lap 5, Indonesian rider Veda Ega Pra Tama pushed him back to 17th place. But challenging himself, the 20-year-old rider maintained his cool and ultimately was the 14th to cross the chequered line. As one of the riders got disqualified, Mohsin moved up to 13th place as a leader and earned 3 points. With the end of the inaugural Thai round today, Honda's solo Indian team has earned a total of 9 points in the AP250cc class.
Satisfied with the results in the first round, Prabhu Nagaraj, Operating Officer - Brand and Communication, Honda Motorcycle & Scooter India said, "As a new squad both in ARRC and TTC, the Indian team is emerging as a serious challenger. Kavin, the face of new, confident and aggressive young Indian riders, has created a strong base in ARRC and added 6 points for the team. His rookie teammate Mohsin also pushed hard and added another 3 points in the kitty of the Indian team. On the other hand, India's youngest rider Raheesh has created a new record in by grabbing 10 points in the inaugural round itself. Sadly, Shyam Sundar could not race in this round due to his injury but I'm confident that he will come back stronger and wiser. Thailand is just the start of a long season. We have to keep our focus high and aim higher for the next round in Malaysia." Sharing thoughts on today's performance, Honda India Racing's Kavin Quintal said: "Today my focus was to go beyond and achieve better than yesterday to bring additional points for the team. My strategy was to remain consistent and push hard on the track at the right time. In each lap, I tried to enhance my performance and achieved desirable results. Learning from round 1, I shall prepare harder for upcoming rounds to stay strong in the race."Delighted with his performance today, Honda India Racing's Mohsin Paramban said: "I am thrilled with my 13th place to finish in the race today. Though I was moved back to P17 in the second half of the race but I kept my calm till the last lap and was able to make some good passes. I have marked my strong as well as weak areas to work on. For the upcoming rounds, my target is to achieve better results."
Next-gen riders' performance in Honda Thailand Talent Cup (TTC) 2023: Showing splendid performance in Thailand Talent Cup (Honda's development program for Asian riders run on NSF250R), the 15-year-old Raheesh Khatri remained consistent throughout his maiden round. Starting 14th on the grid, Raheesh gave tough competition to the other 15 international riders and quickly moved to 12th place in first few laps. Thereon, making no mistake on the track, he finished the race in 11th position with a total lap time of 28:43.649, bringing another 5 points. In round 1 of the Honda Thailand Talent Cup, Raheesh scored 10 points for himself and the team. Unfortunately, his teammate Shyam Sundar did not start the race due to an injury on his shoulder. (ANI)
(This story has not been edited by Devdiscourse staff and is auto-generated from a syndicated feed.)