Best of CES 2020: From the world's first DQHD gaming monitor to foldable PC
Touted as the world's most sustainable vehicle, the Fisker Ocean SUV uses luxurious vegan interior and recycled materials throughout.
Renu Mehta
|
Devdiscourse
|
Updated: 13-01-2020 17:15 IST | Created: 13-01-2020 17:08 IST
---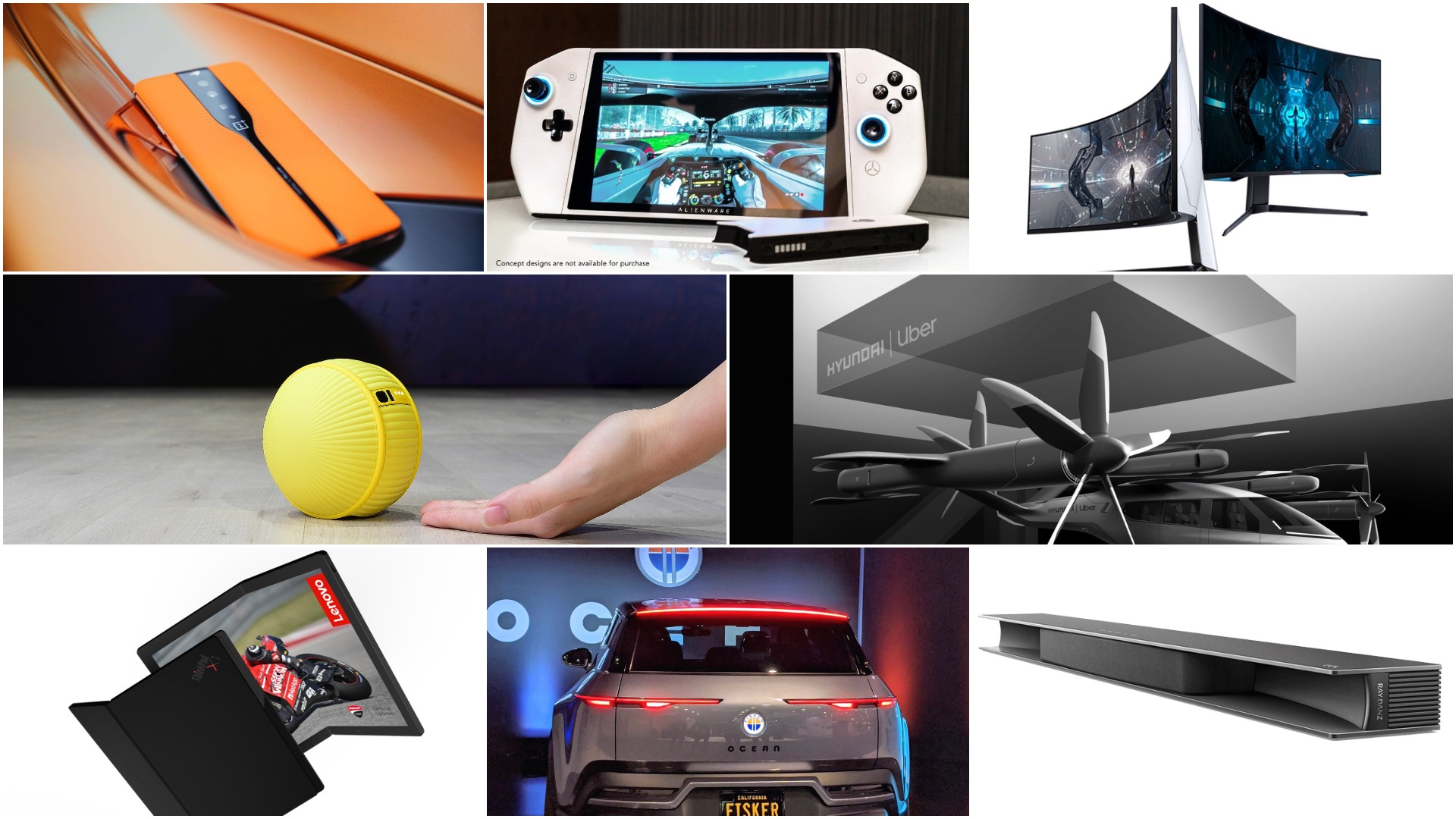 Over 4,500 exhibitors convened this week in Las Vegas, Nevada for Consumer Electronics Show (CES), one of the world's biggest show for consumer technologies to showcase transformative tech products encompassing transformative and emerging technologies such as 5G, artificial intelligence, AR/VR, robotics and more.
From the world's first foldable PC to the world's most sustainable vehicle to Hyundai's first concept Personal Air Vehicle (PAV), here are some of the best products and technologies unveiled at CES 2020.
Fisker Ocean
Fisker Ocean is an all-electric, zero-emission SUV introduced by electric vehicle maker Fisker. Touted as the world's most sustainable vehicle, the Ocean SUV uses luxurious vegan interior and recycled materials throughout.
The SUV will come standard with an extended range (target of approximately 250 to 300 miles, depending on driving conditions), enabled by an approx. 80 kWh lithium-ion battery pack. The Fisker Ocean all-electric luxury SUV is expected to be available by 2022 with base purchase price starting from USD 37,499. The company is projected to produce more than 1 million vehicles between 2022 and 2027.
Hyundai S-A1 air vehicle
South Korean automotive manufacturer Hyundai showcased its first concept Personal Air Vehicle (PAV), named S-A1, an electrically powered "personal air vehicle" capable of carrying up to five people, including a pilot.
Developed jointly with Uber, the world's largest mobility company the concept PAV is equipped with electric vertical takeoff and landing (eVTOL).
A revolution in city travel now begins. Urban Air Mobility will move future mobility forward. UAM liberates us from grid-lock. We can now fly and utilize the air space to connect communities. Check it out at CES 2020.#Hyundai #CES2020 #UAM #PBV #HUB #FutureMobility #Technology pic.twitter.com/lambeUpKbg

— Hyundai Worldwide (@Hyundai_Global) January 9, 2020
Ballie
At CES, Samsung showcased its latest advances in intelligent robotics, AI, 5G and edge computing. One among them was Ballie, a small, rolling robot designed to be an all-around life companion of the users. The ball-shaped smart fitness assistant understands users, responds to your unique needs and also acts as a remote control for their smart home devices.
Lenovo ThinkPad X1 Fold
Lenovo's ThinkPad X1 Fold that offers ground-breaking new form factor combines laptop productivity with smartphone portability and has been developed specifically for tech-savvy professionals who seek unprecedented productivity. The full-fledged foldable laptop was first previewed at Lenovo Accelerate 2019 event in March.
The ThinkPad X1 Fold weighs less than 2.2 pounds or 1kg and utilizes a unique multi-link torque hinge mechanism combined with lightweight alloys including a carbon fiber reinforced frame plate to manage stresses during fold actions. The device can seamlessly morph through multiple orientations from a compact footprint into a fully flat display.
When unfolded flat, the device features a 13.3-inch 2K OLED display which can be used in combination with the Bluetooth Mini Fold Keyboard. When folded closed, the keyboard is stored and wirelessly charged inside the system and secured with magnets.
The Always Connected PC is powered by Intel Core Processors with Intel Hybrid Technology and will initially ship with Windows 10. Later, the ThinkPad X1 Fold will be available with Windows 10X for enhanced foldable user experience.
Other features on the device include- 5G WWAN, Dolby Audio, and up to 11 hours of battery life, advanced security, rechargeable pen, mini-keyboard, Rapid Charge support, and premium leather folio.
The ThinkPad X1 Fold is expected to be available mid-2020 in select markets with prices expected to start at USD 2,499.
Samsung Galaxy Chromebook
Galaxy Chromebook, a premium 2-in-1 convertible laptop with an eye-catching design, 4K AMOLED display, built-in-pen support, fingerprint recognition, and Chrome OS.
The premium Chromebook also packs Google Drive functionality that automatically syncs files across Android devices which can later be accessed at any time, anywhere.
The device is equipped with a backlit keyboard, fingerprint reader, a pair of 2W Stereo Speakers, two cameras that include a 1-megapixel camera on the upper front panel, and another 8-megapixel camera on the keyboard deck.
Built from durable aluminum, the device is the thinnest Chromebook ever released by the company. Starting from the first quarter of this year, the Samsung Galaxy Chromebook will be available for purchase in the United States in two stunning color options- Fiesta Red and Mercury Gray, carrying a price tag of USD 999.99 (approx. INR 70,800).
Acer ConceptD 7 Ezel
The ConceptD 7 Ezel series features displays made of Gorilla Glass 6 and Acer's Ezel hinge that allows for five usage modes, namely, sharing mode, floating mode, stand mode, pad mode or display mode, making it easier than ever for designers to collaborate, share and bring ideas to life.
The ConceptD 7 Ezel leverages up to a 10th Gen Intel Core H-series processor, NVIDIA GeForce RTX GPUs, up to 32 GB of DDR4 memory and up to 2 TB NVMe PCIe SSDs and is ideal for creators who want to sketch, finalize and present on one device.
The ConceptD 7 Ezel will be priced starting at USD 2,699 in North America; EUR 2,499 in the EMEA region, and RMB 19,999 in China. On the other hand, it's Pro version will carry a price tag of USD 3,099; EUR 2,999 and RMB 21,999 in North America, EMEA, and China respectively.
Lenovo ThinkBook Plus
At CES 2020, Lenovo unveiled a new category of innovative laptop that features an e-Ink cover display designed to help users maximize their multitasking efficiency. The ThinkBook Plus boasts a narrow bezel 13.3-inch FHD main display and a 10.8-inch e-ink display on the cover.
The device adopts 10th Gen Intel Core processors, Windows 10 OS, standard solid-state storage (SSD), Intel Optane memory and dTPM 2.0 for enhanced hardware security.
With an integrated Lenovo Precision Pen, users can create illustrations and diagrams on the cover screen. The Modern Standby feature on the device ensures that essential notifications including emails and updates are received, even when the lid is closed.
Starting at USD 1,199, ThinkBook Plus is expected to be available from March 2020.
TCL Alto 9+ Soundbar
Chinese electronics company TCL unveiled the Alto 9+ 3.1 channel soundbar featuring Dolby Atmos and TCL's RAY DANZ technology to deliver an immersive cinematic experience. Apart from wireless music streaming, the Alto 9+ is also equipped with specialized sound modes that are fine-tuned to deliver optimal performance for Movies, Music, and News.
The new soundbar from TCL is certified as Roku TV Ready. It automatically configures itself for use with the TCL Alto 9+. Integrated sound settings, modes from both the TV and soundbar can be accessed in one place by pressing the button on the Roku TV remote. No separate remote-control juggling is needed for audio settings.
Samsung QLED 8K TV
Samsung's Q950TS QLED 8K TV that features an Infinity Screen with a screen-to-body ratio of 99 percent is the industry's first 8K TV to combine a striking, ultra-thin form factor, premium 8K picture quality, and immersive sound experience.
The flagship TV adopts next-generation AI Quantum Processor with built-in 8K AI upscaling and deep-learning capabilities that can automatically upscale non-8K content to pristine and true-to-life 8K resolution.
Samsung Sero TV
The Sero, Samsung's versatile lifestyle TV which was initially rolled out in South Korea, last year, has the capability to flip 90 degrees, allowing users to switch between landscape and portrait mode, just like smartphones. Combining cutting-edge functions of Samsung's top-level displays and modern design, the Sero TV provides a new approach to home entertainment technology.
Apart from South Korea where it's already available, Sero TV will be rolled out in several global markets this year.
OnePlus Concept One
Chinese smartphone maker OnePlus unveiled its first-ever concept phone, the OnePlus Concept One with radically new designs and capabilities. Concept One is the first phone ever to use color-shifting glass, aka electrochromic glass technology, to create a unique invisible camera and built-in ND filter aimed at tackling the challenges surrounding the camera design in smartphones today.
According to OnePlus, the Concept One takes a mere 0.7s for the exceptionally thin and light glass to transition from solid black to fully clear, faster even than the camera itself takes to fully activate, and it uses almost no power.
Alienware Concept UFO game console
In line with its mission to deliver the most immersive PC gaming experiences possible, Alienware introduced Concept UFO, a portable handheld PC for gamers. The innovative gaming PC features an 8-inch display with 1900×1200-pixels resolution, detachable controllers and a kickstand.
Under the hood, the Concept UFO brings 10th Generation Intel Core processors along with WiFi, Bluetooth, and Thunderbolt for high-performance gaming, networking, and connectivity.
The Odyssey G9 is the world's first Dual Quad High-Definition gaming monitor with a 1000R curved screen, 32:9 aspect ratio and QLED technology for a more realistic gaming experience.
The G9 features a striking new design and an industry-leading 49-inch display with 5120×1440-pixels resolution, 240Hz refresh rate, 1ms response time, 32:9 aspect ratio, a deep and immersive 1000R curvature, and a peak brightness of 1000 cd/m2. The monitor features Quantum dot technology combined with an HDR1000 VA panel to produce lifelike colors in vivid detail.
The newest gaming monitor from Samsung will be available globally beginning Q2 2020.
(Disclaimer: The opinions expressed are the personal views of the author. The facts and opinions appearing in the article do not reflect the views of Devdiscourse and Devdiscourse does not claim any responsibility for the same.)
Download The Devdiscourse News App for Latest News.
---
FIRST PUBLISHED IN:

Devdiscourse