Abdul Rahman Munif: Google Doodle celebrates contributions of iconic Arab novelist
---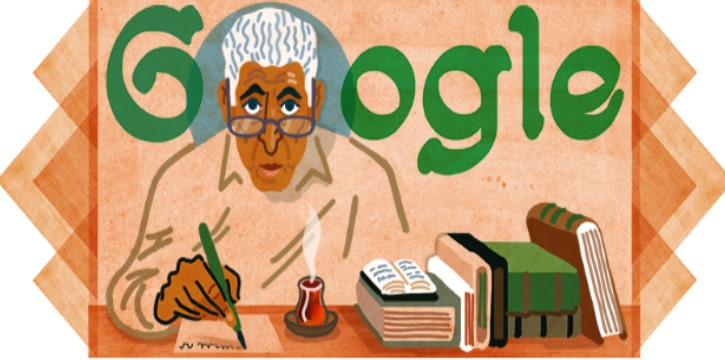 ---
Happy birthday Abdul Rahman Munif,
Today's Google Doodle honors the life and accomplishments of Abdul Rahman Munif, a renowned novelist, journalist, short story writer, memoirist, thinker, and cultural critic. Munif, born on this day in 1933 in Amman, Jordan, made significant contributions to Arab literature through his thought-provoking works and insightful analysis of sociopolitical issues.
Abdul Rahman Munif embarked on his academic journey in 1952 when he moved to Iraq to study law at the University of Baghdad. After completing his studies in Iraq, he continued his education at Cairo University in Egypt, where he graduated. Determined to expand his knowledge, Munif pursued a Ph.D. in petroleum economics at the University of Belgrade, which he successfully obtained in 1961.
Abdul Rahman Munif's professional career led him to the oil industry, where he worked as an economist in Baghdad. Munif's expertise in the field of petroleum economics also caught the attention of the Oil Ministry in Syria and the Organization of the Petroleum Exporting Countries (OPEC). Throughout his career, he lived in Iraq and served as an editor at the monthly periodical al-Naft wa al-Tanmiyya (Oil and Development). However, Munif's passion for writing had taken root during his childhood, and he firmly believed that literature had a vital role to play in raising awareness among individuals.
Munif began his literary journey by publishing several short stories. However, it was his first novel, "Al Ashjar wa-ightiyal Marzuq" (Trees and the Assassination of Marzooq), published in 1973, that garnered significant attention. This groundbreaking work encouraged readers to contemplate the prospects of a more equitable and just society. Nevertheless, Munif's most renowned and influential masterpiece remains the quintet "Mudun al-Milh" (Cities of Salt, 1984-1989). Through this captivating series, he skillfully depicted the transformation of the Arab world during the oil era. Munif's other notable works include "Al-Nihayat" (Endings, 1978), "Sharq al-Mutawassit" (East Of The Mediterranean), and the monumental three-volume historical novel "Ard Al-Sawad" (Land of Darkness Trilogy, 1999).
Recognized for his literary prowess, Munif's works have been translated into over 10 languages, reaching audiences around the world. His contributions to literature were acknowledged with various accolades, including the prestigious Al-Owais Cultural Award in 1989 and the Award of Cairo Gathering for Arab Creativity in Novel Writing in 1998.
Today, on Abdul Rahman Munif's birthday, we express our gratitude for his invaluable contributions to Arab literature and his keen analysis of sociopolitical issues. Munif's writings continue to resonate with readers, inspiring them to critically examine the world around them. His legacy serves as a reminder of the power of literature to provoke thought, drive social change, and foster a deeper understanding of the human experience.
Also Read: Google Doodles Celebrates Georgia Independence Day 2023