Google Doodles Celebrates Georgia Independence Day 2023
---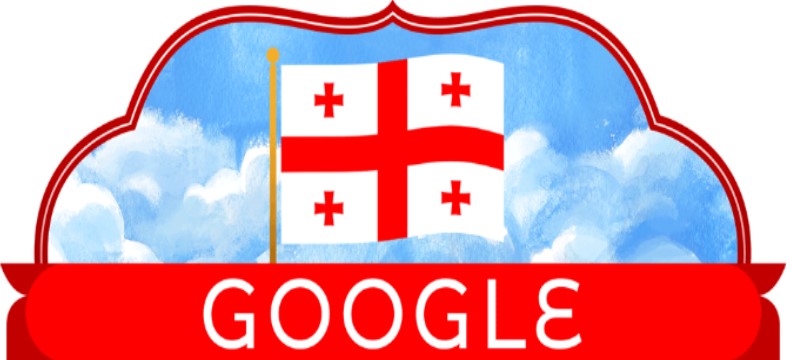 ---
Happy Independence Day, Georgia!
Today, Google celebrates Georgia Independence Day with a special doodle. This significant day commemorates the establishment of the Democratic Republic of Georgia and the country's declaration of independence from the Russian empire in 1918.
The capital city of Tbilisi is abuzz with excitement as it hosts various events to mark this historical occasion. The day begins with an early-morning oath-taking ceremony held at Freedom Square, followed by afternoon concerts and military parades. Throughout the city, buildings and soldiers' poles proudly display the national flag, mirroring the flag depicted in today's Google Doodle. The streets come alive as marching soldiers fill the air with patriotic fervor.
One of the highlights of the celebrations is the traditional Georgian feast known as supra. Led by a toastmaster, or tamada, these events can last up to 12 hours. Attendees indulge in delectable Georgian cuisine, drink traditional wine, and dance late into the night. Ram horns or porcelain replicas are often used as cups during these festive gatherings. One cannot miss the mouthwatering khachapuri, Georgia's national dish, a cheese-stuffed bread that is a staple at supras.
The road to independence for Georgia was not without challenges. Following the tumultuous Russian Revolution of 1917, Georgia, which had been annexed by the Russian Empire in the 19th century, declared itself an independent Democratic Republic on May 26, 1918. This declaration came after a brief period of loose federative union with the neighboring South Caucasian countries of Armenia and Azerbaijan.
Georgia Independence Day is a joyous occasion marked by vibrant festivities, symbolizing the country's proud history and cultural traditions. It serves as a reminder of the enduring spirit of independence and the rich heritage that unites the Georgian people.