Karima Mokhtar, the Egyptian actress is on today's Google Doodle
---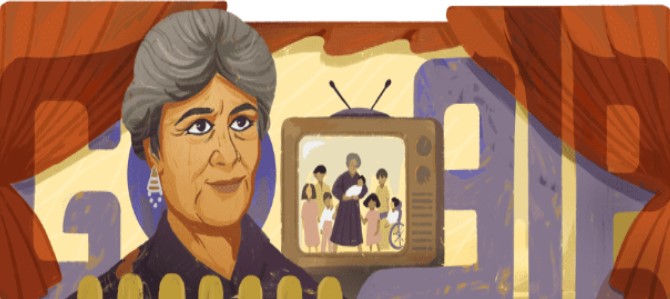 ---
Happy Birthday, Karima Mokhtar!
Google celebrates the 89th birthday of Karima Mokhtar, the "Mother of Egyptian Cinema" on January 16, 2023. The doodle artwork is visible across the Mena region throughout Monday.
Karima Mokhtar is famous for depicting maternal characters with depth and humbleness. She was a prolific entertainer who starred in many films, TV shows, and theatrical plays throughout her career. She first played a role in the film Thaman El Horeya (The Price of Freedom), but it was in Al Hafeed (The Grandson), in which she played the role of a mother of seven children and Karima established her ability to depict maternal characters, which she'd soon become famous for.
Karima Mokhtar was born on this day in 1934, in Sahel Selim, Egypt. Although her parents initially disapproved of a career in acting, she decided to pursue her silver-screen dreams. Karima graduated with a bachelor's degree in theater from the Higher Institute of Dramatic Arts before searching for work in the entertainment industry. A natural and charismatic performer, Karima successfully auditioned to present on "Baba Sharou," a children's radio program.
Karima Mokhtar is known for her films like Amira Hobi Ana (Amira My Love) and Al-Shaytan Ya'ez (The Devil Preaches). She then explored other mediums like television and theater. Karima received acclaim for starring as a wife and mother dealing with familial turmoil in the play El-Eyal Kebret (The Kids Have Grown Up). Later in her career, she took on one of her most famous roles in the popular Egyptian soap opera Yetraba Fi Ezo (May He Grow Up Prosperous). Karima won Best Actress at the Cairo Arab Media Festival in 2007.
Leaving behind a legacy of strong and sympathetic performances, Karima helped revolutionize the Egyptian film industry and paved the way for future generations of actresses.
Source: Google doodles
Also Read: Ihsan Abdel Kouddous: Google doodle celebrates Egyptian journalist and author