One Piece Chapter 1074 spoilers confirm Vivi is alive! Know more
---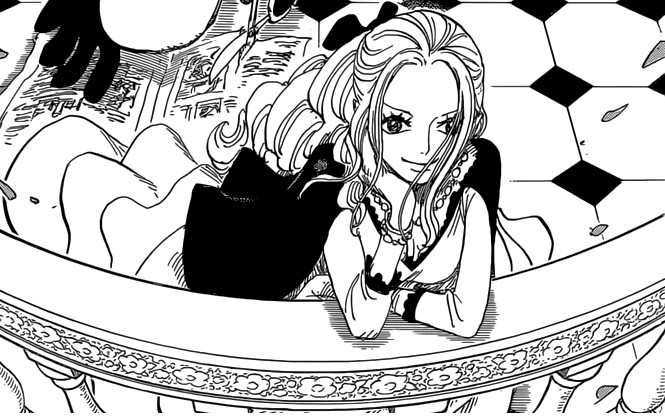 ---
The initial spoilers for One Piece Chapter 1074 are out that hint at several plotlines that can be expected in the new chapter. Follow the article to get the full breaks down of One Piece Chapter 1074 spoilers, and more.
One Piece Chapter 1074 of One Piece starts with a bang, revealing the issue title - Mark 3. The spoilers hint that 50 new Pacifista units have been released by Sentomaru to help our heroes escape from their desperate situation. It looks like he's safe and sound despite his last encounter with Lucci.
Luffy and Zoro decided to remain behind while their companions set out in search of the reclusive genius Vegapunk. Sentomaru sent extra reinforcements to help Luffy and Zoro, suggesting Kizaru and the Marines will soon reach Egghead. Who will arrive first? We'll have to wait for One Piece Chapter 1074.
Bonney found herself in an eerie realm of forgotten memories, where she witnessed a young Kuma enduring terrible mistreatment. Kuma's Devil Fruit has the incredible power to create a visitable memory world, giving people the opportunity to explore and relive special moments. This amazing ability takes either Awakened or experimented forms- confirm fans' theory.
One Piece Chapter 1074 spoilers also suggest, Princess Vivi Nefertari is with Morgan and Wapol, where she's come face to face with a controversial story idea—Morgan seeks to write an article about how the Strawhats have supposedly 'abducted' Vegapunk.
One Piece Chapter 1074 will release on February 12, 2023. You can follow the official pages of Viz Media, Shonen, and MangaPlus to read the chapters which are free of cost.
As soon as there are any new One Piece Chapter 1074 spoilers, we will update this page. For more information about Japanese manga, follow Devdiscourse.
Also Read: Boruto Episode 287 to begin covering 'Code Arc'! Here's what to expect