"Moral obligation for PM to speak.." K Kavitha demands Joint Parliament Committee on Hindenberg-Adani row
K kavitha expressed concern that the country is "facing a huge crisis in the country like the way shares of Adani is crashing.
---
ANI
|
Updated: 07-02-2023 19:19 IST | Created: 07-02-2023 19:19 IST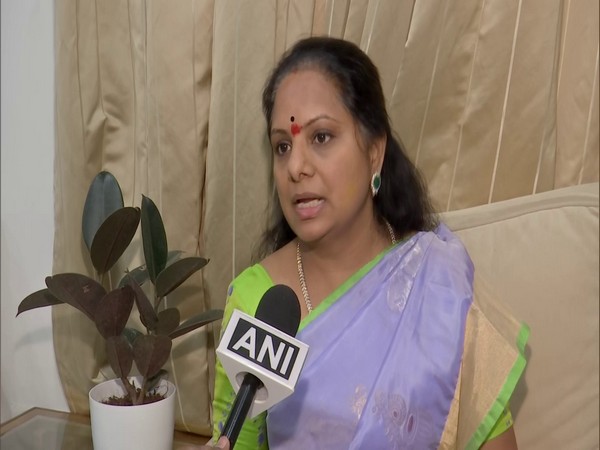 ---
Demanding Joint Parliament Committee on the Hindenberg-Adani row, Bharat Rashtra Samithi (BRS) MLC Kalvakuntla Kavitha on Tuesday hit out at the central government saying it is a moral obligation for Prime Minister Narendra Modi to speak on the issue. K Kavitha expressed concern saying that the facing a huge crisis in the country like the way shares of Adani are crashing.
"Finance Minister Nirmala Sitharaman is saying that it has no impact on the country but other companies are going to be hit by Adani issue," Kavitha claimed. "We demand a Joint Parliament Committee and an impartial probe in Adani issue," Kavitha added.
Amid the logjam over the Adani-Hindenburg issue, ppposition parties, except Aam Aadmi Party (AAP), have decided to participate in the parliamentary debates on Tuesday, said sources. A meeting of like-minded opposition party's Floor leaders was held at the Leader of Opposition in Rajya Sabha Mallikarjun Kharge's office on Tuesday to "decide the day's strategy" regarding their demand for a Joint Parliamentary Committee (JPC) into the Adani Issue.
"Most Opposition parties have decided to participate in Parliamentary proceedings from today and continue to raise their demand for a JPC into the PM-linked Adani Maha Mega Scam," tweeted Jairam Ramesh, Congress general secretary in-charge, Communications. Opposition parties are demanding a joint parliamentary committee probe into the allegations of stock manipulation against the Adani Group.
The budget session of Parliament started on January 31 this year with the joint Address by President Droupadi Murmu. Union Finance Minister Nirmala Sitharaman presented the Budget 2023-24 on February 1. Since then there has been no business in Parliament because of the continued logjam over the Adani issue. The Opposition has demanded that the government should come up and respond in Parliament about the Adani stock issue following which disruption has been witnessed in both Houses.
Congress senior leader Digvijay Singh on Monday said that the party would not "back down" till Prime Minister Narendra Modi agrees to have a discussion on Hindenburg Research's report against Adani Group in Parliament. Congress is continuously cornering the government over the issue in Parliament forcing the adjournments of both Houses during the Budget Session.
On Monday, both Lok Sabha and Rajya Sabha were adjourned till 2 pm and then for the day. A report by a US-based Hindenburg Research surfaced on January 24, claiming that the Adani Group had weak business fundamentals, and was involved in stock manipulation and accounting fraud, among others.
According to the statement, the Adani portfolio and the Adani verticals are focused on bringing India into the global economy and nation-building. In the summary of the long response by Adani Group, it said the report was "nothing but a lie". The report triggered a sell-off of shares of all Adani Group companies. (ANI)
(This story has not been edited by Devdiscourse staff and is auto-generated from a syndicated feed.)