Uttar Pradesh CM Adityanath performs 'annaprashan' for daughter of divyang sweeper in Gorakhpur
CM Yogi got Vivek's seven-month-old daughter annaprashan done in the temple premises in Gorakhpur on Monday morning and blessed her.
---
ANI
|
Updated: 15-05-2023 15:36 IST | Created: 15-05-2023 15:36 IST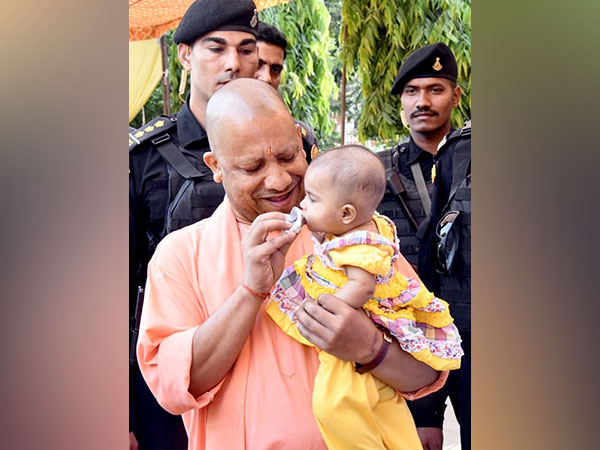 ---
Uttar Pradesh Chief Minister Yogi Adityanath on Monday performed the 'annaprashan' (rice ceremony) for the daughter of a physically challenged sweeper. The chief minister conducted a janta durbar in Gorakhpur earlier today when the sweeper Vivek Sharma who came with his infant expressed his desire.
The sweeper Vivek Sharma and his wife Sandhya had previously too expressed their desire for their daughter's 'annaprashan' ritual to be conducted by the Chief Minister who is also the Gorakshpeethadhishwar or the chief priest of the Gorakhnath Temple. After this, the chief minister conducted the ceremony that marks an infant's first intake of food other than milk. He also blessed her.
"It is a great fortune for us to have our daughter's Annaprashan done by the Chief Minister himself," Vivek said. Disabled in his foot, Vivek an outsourcing sweeper in the Municipal Corporation lives with his family in the employee accommodation built on the temple premises.
Vivek has a three-year-old son too. According to Vivek, on the very day of his daughter's birth, he had sought a vow from Guru Gorakhnath that the Annaprashan of the girl should be at the hands of Gorakshpeethadhishwar.
According to a government release, the Chief Minister agreed and fed the child 'kheer' with his own hands and blessed her. (ANI)
(This story has not been edited by Devdiscourse staff and is auto-generated from a syndicated feed.)