Watch: Tangkuban Perahu erupts in Indonesia, thick smoke covers whole area
---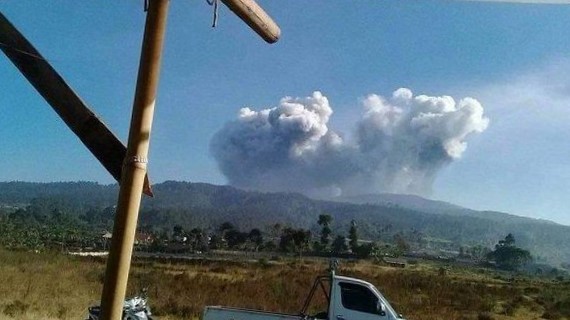 ---
Tangkuban Perahu has erupted in Indonesia with thick smoke continued to be seen, according to local media reports. There are no reports of casualties yet but two individuals have reportedly been taken to a hospital. The people have been asked to maintain a distance of about 1.5 kilometers from the crater and be aware of "sudden eruptions."
The domestic flight routes in West Java and the surrounding area are reported to be still safe. The head of Regional Airport Authority has been reported to explain that the domestic flight path does not go through the area around Tangkuban Perahu while the international flights' paths are at a high enough height so that it does not have an impact and if there is an impact of volcanic ash the flight path will be diverted immediately.
The National Disaster Management Agency of Indonesia, BNPB warned the visitors, tourists, and climbers to not go down near the base of the Queen's crater and Upas Crater.
Saat ini G. Tangkuban Parahu berada pada Status Level I (Normal) dengan rekomendasi Masyarakat di sekitar G. Tangkuban Parahu dan pengunjung, wisatawan, pendaki tidak diperbolehkan turun mendekati dasar kawah Ratu dan Kawah Upas. @vulkanologi_mbg #ErupsiTangkubanParahu

— BNPB Indonesia (@BNPB_Indonesia) July 26, 2019
The videos of the phenomenon are being shared by the local people and media organizations where thick smoke can be seen covering the whole area.
Semoga dilindungi Allah teman teman sekitar Gunung Tangkuban Parahu 😢 pic.twitter.com/SUTLxoJbw6

— I.can (@Icanisanh_) July 26, 2019
Gunung Tangkuban Parahu atau Tangkuban Perahu erupsi sore ini sekitar pukul 15.48 WIB. PVMBG Badan Geologi @KementerianESDM menyebut gunung masih berstatus Level I (Normal).Saksikan laporan terkininya dalam LIVE streaming di https://t.co/TR7O0GZjNE#iNews #TangkubanParahu pic.twitter.com/bDMcyCL660

— iNews (@OfficialiNewsTV) July 26, 2019
erupsi gunung tangkuban parahu😭semoga selalu dalam lindungan Allah SWT pic.twitter.com/Cu4iMZo0uo

— happy kid (@indriollivia) July 26, 2019
Tangkuban perahu is a stratovolcano, situated 30 km north of the city of Bandung, the provincial capital of West Java. The mountain is a popular tourist destination and has a distinctive shape, and looks like an "overturned boat".