Earthquake of magnitude 5.8 jolts Nepal, three houses collapse
An earthquake of magnitude 5.8 struck Nepal on Tuesday leading to the collapse of three houses.
---
ANI
|
Updated: 24-01-2023 16:47 IST | Created: 24-01-2023 16:47 IST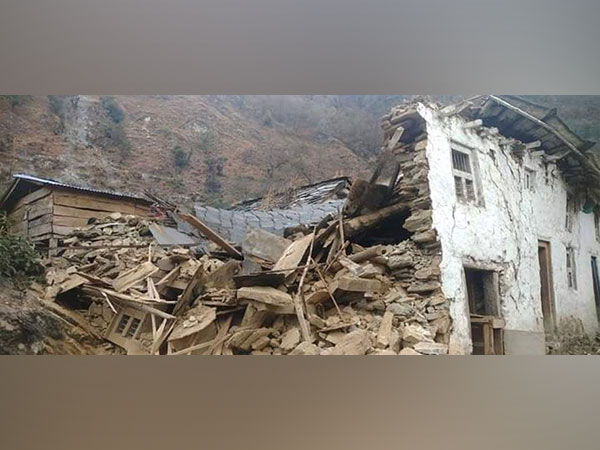 ---
At least three houses collapsed after the magnitude of 5.8 hits Nepal on Tuesday. The epicenter of the earthquake is the Border of the Himali Village Council of Bajura and Humla's Tajakot Village Council.
Rescuers and local officials are finding it hard to get information on the ground due to the inclement weather condition and lack of communication means, as per information. "A few more houses collapsed in the area after the earthquake. We have got the information that 3 more houses have collapsed in the district," said DSP Surya Thapa.
"Due to the inclement weather condition and snowfall in the area, we are not able to establish contact with other localities. The telephone is not working," Chief of Himali Village Council Govinda Bahadur Malla told ANI over the phone. Earlier, the National Center of Seismology tweeted, "Earthquake of Magnitude:5.8, Occurred on 24-01-2023, 14:28:31 IST, Lat: 29.41 & Long: 81.68, Depth: 10 Km, Location: Nepal."
In the past few months, Nepal has felt tremors. On December 28, two earthquakes of magnitude 4.7 and 5.3 hit Nepal's Baglung district in the early hours, according to the National Earthquake Monitoring & Research Center (NEMRC), Nepal. As per the readings from the centre, an earthquake measuring 4.7 occurred around Adhikari Chaur of Baglung District at 01:23 (local time).
The second earthquake of magnitude 5.3 on the Richter scale reportedly struck around Khunga of Baglung District at 02:07 (local time), NEMRC, Nepal tweeted. "An Earthquake of ml 5.3 occurred around Khunga of Baglung District at 02:07 on 2079/09/13 NEMRC/DMG," the tweet read. (ANI)
(This story has not been edited by Devdiscourse staff and is auto-generated from a syndicated feed.)