Distinguished Indian women who found greatness through grit, courage
India's transformation and modernisation have been made possible no less by women than men. These women contributed immensely to the promotion of democracy and freedom, dignity and upliftment of women and weaker sections and human values.
---
ANI
|
Updated: 14-03-2023 07:52 IST | Created: 14-03-2023 07:52 IST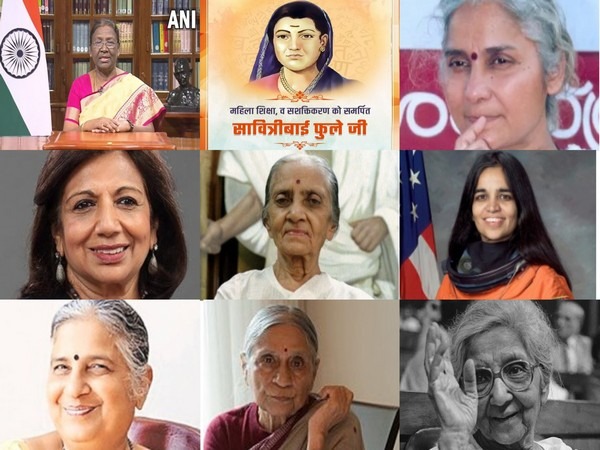 ---
International Women's Day on March 8 was a day to commemorate and honour some distinguished Indian women, who, through sheer courage and endurance, fought to realise liberty and dignity of life not just for themselves but for fellow women across the country. They also inspired women in other South Asian nations to find their own deserved space in society, business, governance and entrepreneurship at a time when all is not well with the women in the sub-continent.
India's transformation and modernisation have been made possible no less by women than men. These women contributed immensely to the promotion of democracy and freedom, dignity and upliftment of women and weaker sections and human values. Savitribai Phule, considered to be the pioneer of India's feminist movement, was an Indian social reformer, educationalist, and poet from the state of Maharashtra in India. Along with her husband, Mahatma Jyotiba Phule in Maharashtra, she played an important and vital role in improving women's rights in India.
Savitribai and her husband founded one of the early modern Indian girls' schools in Pune, at Bhide Wada in 1848. Aruna Asaf Ali became a role model of courage and patriotism among women while India was carrying on its freedom struggle against the imperial regime. An active participant in the Indian independence movement, she is widely remembered for hoisting the Indian National flag at the Gowalia Tank Maidan, Bombay during the Quit India Movement in 1942.
Post-independence, she remained active in politics, becoming Delhi's first Mayor. Women in independent India find one of the earliest role models in Sucheta Kripalani as well who was an Indian freedom fighter and politician. Like her contemporaries Aruna Asaf Ali and Usha Mehta, she came to the forefront during the Quit India Movement and was arrested by the British. She later worked closely with Mahatma Gandhi during the Partition riots. She accompanied him to Noakhali in 1946. She was India's first female chief minister, serving as the head of the Uttar Pradesh government from 1963 to 1967.
Medha Patkar, a social reformer from Maharashtra, has worked for the tribal communities in her home state, Madhya Pradesh, and Gujarat. She is synonymous with the 'Narmada Bachao Andolan'. In recognition of her work for the marginalised and displaced and the destitute due to development projects, she was conferred with the prestigious Magsaysay award.
Ela Bhatt, an Indian cooperative organiser, activist and Gandhian is an example of sheer courage and grit and passion for the upliftment of women. She founded the Self-Employed Women's Association of India (SEWA) in 1972 and served as its General Secretary from 1972 to 1996. She won several national and international awards, including the Ramon Magsaysay Award (1977), Right Livelihood Award (1984) for "helping home-based producers to organise for their welfare and self-respect" and the Padma Bhushan (1986). Aruna Roy is an outstanding social leader with a passion to fight for the cause of workers, farmers and women. She is the President of the National Federation of Indian Women and founder of the Mazdoor Kisan Shakti Sangathan. She has been at the forefront of a number of campaigns for the rights of the poor and the marginalised. The most prominent among such movements include the Right to Information, the Right to Work (the NREGA), and the Right to Food.
Activism for educating the poor has also seen many women contributing in a great way. Shaheen Mistri is one of them. She is the CEO of Teach for India and also founded the Akanksha Founder. She has earned global recognition for her dedication and commitment to the fight for educational equity. Shaheen is an Ashoka Fellow (2001), a Global Leader for Tomorrow at the World Economic Forum (2002), and an Asia Society 21 Leader (2006).
In line with the great tradition in India for women's participation in higher education in sciences as done by Dr Anandibai Gopalrao Joshi, the first Indian female doctor of western medicine, Kamala Sohonie, the first Indian woman to have bagged a PhD degree in the scientific discipline, Rajeshwari Chatterjee the first woman engineer of India and Kalpana Chawla, the first astronaut of Indian origin to have forayed into the space, even today the women in India are excelling in science education and entrepreneurship. Two women scientists from the Indian Space Research Organisation (ISRO) have also been the cheerleaders of women's empowerment in the country. Vanitha Muthayya is heading the country's second lunar mission 'Chandrayaan-2' as project director while Ritu Karidhal is the mission director.
Vanitha is an expert in data handling and Ritu has been involved in various mission operations. India has produced many entrepreneurs of substance and one such inspiring figure is Sudha Murty. A distinguished educator, author and philanthropist, Murty is also chairperson of the Infosys Foundation. She is married to the co-founder of Infosys, NR Narayana Murthy. Murty was awarded the Padma Shri, the fourth-highest civilian award in India, in 2006 for her social work.
Earlier this year, she was chosen for the Padma Bhushan, the third-highest civilian honour in India. Another role model for aspiring women is Kiran Mazumdar-Shaw, an Indian billionaire entrepreneur. She is the executive chairperson and founder of Biocon Limited and Biocon Biologics Limited, a biotechnology company based in Bangalore, and the former chairperson of the Indian Institute of Management, Bangalore.
She was on the Financial Times 2011 top 50 women in business list. She rose rungs through sheer grit and desire to be an independent woman and a contributor to the promotion of biotechnology for producing environment-friendly dyes as well as medicines for curing terminal diseases like cancer and Aides. Shehnaz Hussain is yet another woman rising from a modest and conservative family to unimaginable heights in the world of beauty care. She has received international acclaim for pioneering the herbal beauty care movement and taking the Indian herbal heritage of Ayurveda worldwide.
One of the biggest contemporary icons of courage, grit, endurance and social commitment is the present Indian President, Droupadi Murmu. Born in a Santali family at Uparbeda village in the Baidaposi area of Rairangpur, Odisha, she traversed a rocky road from education, and job to marriage and later endured the pain of losing her loved ones. On July 26, 2022, she took oath as the 15th President of India, becoming the first tribal woman to reach the highest executive position in India. She is the youngest and first individual born after India's independence in 1947 to have been elected President.
These women are icons for all women, and especially those in the Indian subcontinent. They have not only laid a pathway for fellow women to chase their dreams but have also done lots of good work for the nation and its marginalised people. (ANI)
(This story has not been edited by Devdiscourse staff and is auto-generated from a syndicated feed.)