Venezuela crisis: Juan Guaido says authorities want to 'close down' National Assembly
ANI
|
Caracas
|
Updated: 15-05-2019 21:05 IST | Created: 15-05-2019 18:44 IST
---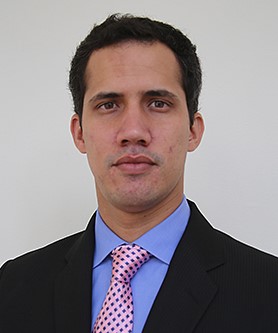 Venezuelan opposition leader Juan Guaido has accused the country's authorities of trying to close down the National Assembly after the security forces prevented him from entering the parliament building. Speaking to his supporters here, Guaido said: "There is no doubt that (the authorities) have only one aim -- to close the Assembly. State terrorism is the only thing that (President) Nicolas Maduro can offer," reported TASS news agency.
"We will continue working and will not abandon the parliament. If we have to hold a session on the street outside, we will do it," he added. Security forces had prevented the Venezuelan lawmaker from entering the Parliament, saying that they were searching for a possible explosive device inside the building.
Venezuela's Supreme Court on Tuesday accused four opposition members of parliament -- Carlos Paparoni, Miguel Pizarro, Franco Casella, and Winston Flores -- of treason and conspiracy. The top court had earlier a made a similar accusation against a few other lawmakers for their support and participation in a failed coup d'etat against Maduro in late April, reported Xinhua.
Venezuela is currently in the throes of a political crisis, which is worsened by hyperinflation, blackouts, and an acute shortage of water and medicines. Guaido had declared himself as the President of Venezuela during mass protests in January -- a move which was immediately backed by the US.
He currently enjoys recognition as the official interim President of Venezuela by over 50 countries, including France, Japan, UK, the US amongst others. Even though there have been recurring calls for Maduro to resign -- after calls to hold fresh elections failed -- the leftist leader continues to hold on to his post with the support of Venezuelan armed forces.
---