NYC Mayor Bill de Balsio enter presidential race
Devdiscourse News Desk
|
Washington DC
|
Updated: 16-05-2019 23:59 IST | Created: 16-05-2019 23:21 IST
---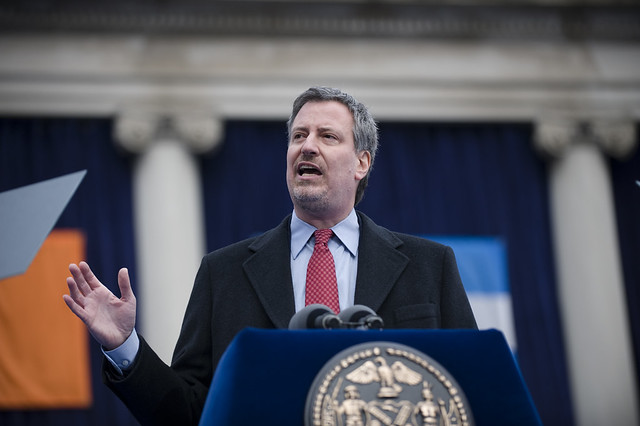 New York City Mayor Bill de Blasio on Thursday became the latest Democrat to announce his run for the 2020 Presidential elections. In a video cited by CNN, Blasio took a jibe at President Donald Trump, calling him a "bully." He later said in an interview to ABC that the President is "playing a big con on America."
"Every New Yorker knows, he's a con artist," de Blasio said. "We know his tricks, we know his playbook," he added.
Blasio, who became the 24th Democrat to enter the presidential race, touted a slate of policy wins, including universal Pre-K and his successful push for a USD 15 minimum wage. He said, "I know we can do it," adding "because I've done it here in the largest, toughest city in this country."
Blasio is expected to visit Iowa later in the day before heading to South Carolina to initiate his campaign. The two-term mayor, who, in 2017, became the first Democrat to be re-elected to his office in more than three decades, joined the race after months of deliberations and a handful of visits to early-voting states.
However, Blasio's decision to run for the Presidency has been greeted with similar scepticism and doubt by the New York voters. A recent poll of New Yorkers found 76 per cent of them did not think he should run for president.
"I think Bill de Blasio has a toxic relationship with the press corps that covers him. It goes both ways," former aide Rebecca Katz, who is not involved in his new campaign, told CNN. "And that's going to make it very hard for this run because wherever he will be, whatever small town in Iowa or New Hampshire, he will have NY1 and the New York Post front and centre. Whether he likes it or not," Katz added.
Blasio has regularly criticised Trump on immigration, policing and climate change. He also held an event at the base of Trump Tower in May calling on all the president's businesses to cut their emissions in line with New York's Green New Deal legislation, a package of environmental laws.
This prompted a Twitter battle with Trump's son, Eric, who called the rally "simply childish".
---