Biden to welcome Japan's Kishida and historic military reforms at White House
---
Reuters
|
Washington DC
|
Updated: 13-01-2023 11:36 IST | Created: 13-01-2023 11:30 IST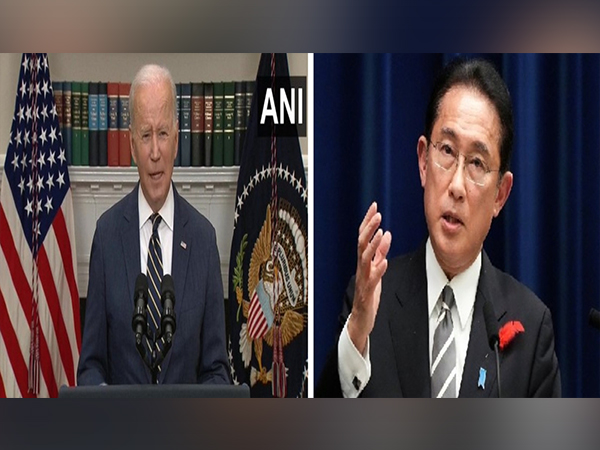 ---
U.S. President Joe Biden will welcome Japanese Prime Minister Fumio Kishida at the White House on Friday and is expected to hail what Washington sees as historic plans by Tokyo for a major military buildup in the face of shared concerns about China.
Kishida is in Washington as the last stop in a tour of countries of the G7 industrial powers. His visit follows one by Biden to Tokyo last May and a meeting between the two leaders on the sidelines of a regional summit in Cambodia in November. U.S. and Japanese foreign and defense ministers met on Wednesday and announced stepped-up security cooperation and the U.S. officials Tokyo's praised military buildup plans.
A joint statement from the sides said they had mapped out "a vision of a modernized alliance postured to prevail in a new era of strategic competition" and White House Indo-Pacific coordinator Kurt Campbell called it "one of the most consequential engagements between our two countries in decades." The statement said that given "a severely contested environment," the forward posture of U.S. forces in Japan should be upgraded "by positioning more versatile, resilient, and mobile forces with increased intelligence, surveillance, and reconnaissance, anti-ship, and transportation capabilities."
U.S. Defense Secretary Lloyd Austin announced plans to introduce a Marine Littoral Regiment in Japan, which would bring significant capabilities including anti-ship missiles, and the two sides also agreed to extend their common defense treaty to cover space. DOUBLE DEFENSE SPENDING
The agreement follows nearly a year of talks. Japan last month announced its biggest military build-up since World War Two - a dramatic departure from seven decades of pacifism, fueled by concerns about Chinese actions in the region. That five-year plan will double Japan's defense spending to 2% of gross domestic product and see it procure missiles that can strike ships or land-based targets 1,000 km (600 miles) away.
Christopher Johnstone, head of the Japan program at Washington's Center for Strategic and International Studies and until recently East Asia director at the U.S. National Security Council, said Kishida's White House visit was a "capstone" for his security reforms and could offer him a domestic political boost. He said it would be "an opportunity to highlight the significant, really unprecedented decisions Japan announced" and strong U.S. support for them, "and to also call attention to the role that Prime Minister Kishida himself played in getting them done."
SECURITY AND ECONOMY A senior administration official told Reuters Biden and Kishida are expected to discuss security issues and the global economy and that their talks are likely to include control of semiconductor-related exports to China after Washington announced strict curbs last year.
Japan is the current G7 chair and it also took up a two-year term on the U.N. Security Council on Jan. 1 and holds the rotating monthly presidency of the 15-member body for January. Daniel Russel, who served as the top U.S. diplomat for Asia under former President Barack Obama, said North Korea would likely be high on Kishida's agenda, "reflecting some anxiety that the war in Ukraine as well as competition with China may be causing Washington to discount Pyongyang's increasing tempo of missile launches — which directly threaten Japan."
Kishida has said he backs Biden's attempt to limit China's access to advanced semiconductors with export restrictions. Still, he has not agreed to match sweeping curbs on exports of chip-manufacturing equipment that the United States imposed in October. The U.S. official said Washington was working closely with Japan on the issue and believes they share a similar vision even if their legal structures are different. He said the more countries and significant players that backed the controls, the more effective they would be.
He called the Japanese defense reforms "really, really significant." They were significant in domestic political terms, in regional and strategic terms and in terms of the U.S.-Japan alliance, he said. "What we want to do is really highlight the breadth and depth of how much the relationship has changed, and how extraordinarily valuable this is for the United States, and how much more effectively we are working together than we ever have before."
(This story has not been edited by Devdiscourse staff and is auto-generated from a syndicated feed.)