NASA scientists reveal heavy rainfall in Tropical Cyclone Fani
Devdiscourse News Desk
|
Kolkata
|
Updated: 04-05-2019 02:30 IST | Created: 04-05-2019 02:30 IST
---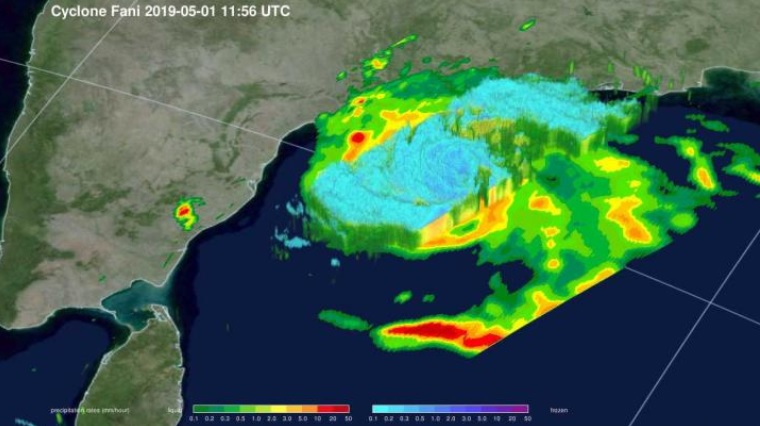 Satellite data revealed heavy rainfall in powerful Tropical Cyclone Fani before it made landfall in northeastern India. Fani brought that soaking rain to the region and continues to drop heavy rainfall on May 3, as it moves toward Bangladesh.
NASA's GPM or Global Precipitation Measurement mission satellite provides information on precipitation from its orbit in space. On May 1 at 7:56 a.m. EDT (1156 UTC), the GPM Core Observatory captured an overpass of the powerful storm as it continued strengthening and moving toward landfall.
A 3D image and a colour-enhanced rainfall image were created at NASA's Goddard Space Flight Center in Greenbelt, Maryland. The images showed how high thunderstorms stretched into the troposphere and measured rainfall rates. GPM found that some of the heaviest rainfall rates were up to 50 millimetres (2 inches) per hour and were in the western quadrant of the storm.
On May 2 at 3:29 a.m. EDT (0729 UTC), the Atmospheric Infrared Sounder or AIRS instrument aboard NASA's Aqua satellite analyzed cloud top temperatures of Tropical Cyclone Fani in infrared light. AIRS found cloud top temperatures of strongest thunderstorms as cold as or colder than minus 80 degrees Fahrenheit (minus 62 degrees Celsius) circling the eye and in a fragmented band of thunderstorms east of the centre.
Satellite data showed there is now a 16 nautical mile-wide round, symmetrical eye surrounded by a thick band of powerful thunderstorms. Cloud top temperatures that cold indicate strong storms that have the capability to create heavy rain.
Also Read: Arizona State University claims presence of water in samples taken from asteroid Itokawa
---