Time for a change! Innovations to stop the growing plastic pollution
As the planet is drowning in plastic pollution, many new innovative approaches and solutions have emerged to effectively deal with the menace.
---
Renu Mehta
|
Devdiscourse
|
Updated: 13-12-2019 12:57 IST | Created: 29-11-2019 16:45 IST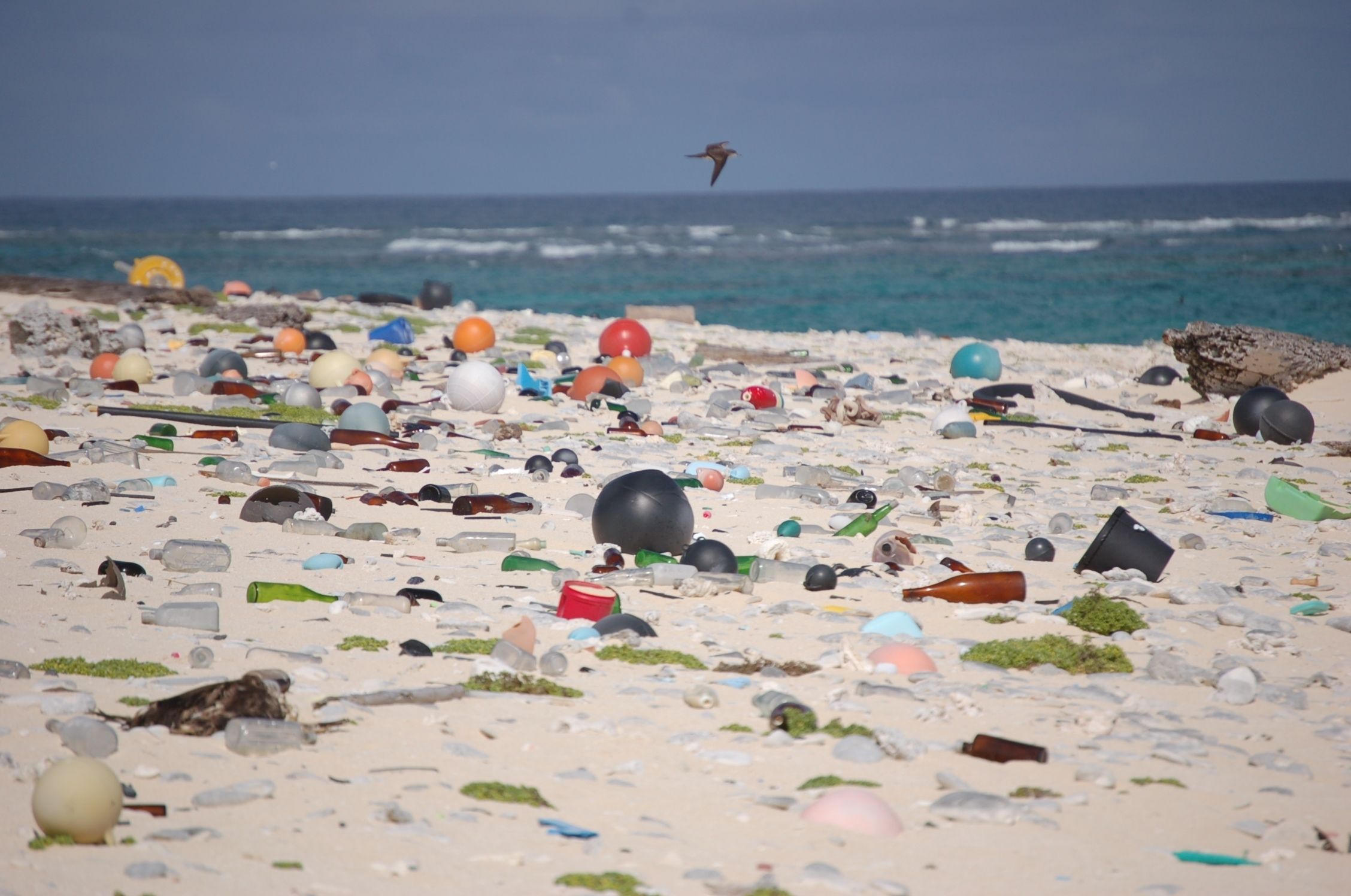 ---
The world produces about 300 million tonnes of plastic waste annually. A large proportion of the waste is accumulated in landfills, dumps and 8 million tonnes of plastic waste ends up in the oceans, leading to deaths of one million seabirds, 100,000 marine mammals and costing USD 8 billion in damage to marine ecosystems. The growing crisis is posing a serious threat to human health and oceans and if the trend persists, by 2050, the oceans will carry more plastic than fish.
Southeast Asian countries including China, Thailand, Indonesia are major contributors to global plastic pollution, more particularly, to marine pollution. The situation is equally worrisome in other regions of the world including South Asia which generates a staggering 334 million metric tons of solid waste every year. India, the 15th largest plastic waste producer of the world, generates more than 25,000 tonnes of plastic waste every day, 40 percent of which remains uncollected and littered in the environment, 43 percent is used for packaging, most of which are single-use, according to Un-Plastic Collective (UPC).
Single-use or disposable plastic products have become an integral part of our lives, owing to their wide application and low-cost. Every minute, one million plastic drinking bottles are purchased around the world while up to 5 trillion single-use plastic bags are used every year globally, according to the UN Environment data. Even though most countries have banned the production and use of single-use plastic, lack of an affordable alternative has reduced its effectiveness worldwide.
As the planet is drowning in plastic pollution, many innovative approaches and solutions have emerged to effectively deal with the menace. A few among them are:
Innovative construction methods
The United Nations Children's Fund (UNICEF), a United Nations agency responsible for providing humanitarian and developmental aid, in partnership with a Colombian company Conceptos Plásticos and the Côte d'Ivoire government has come up with an innovative approach that converts plastic waste into low-cost, durable and easy to assemble plastic bricks which is used in the construction of classrooms in the West African country.
Video Credit: UNICEF Côte d'Ivoire
The classroom construction takes only a few weeks and costs about 30-40 percent less than that built with conventional materials. With this project, the UNICEF is simultaneously serving three purposes
providing access to education
beating plastic pollution
providing employment to local communities
Over the next two years, UNICEF intends to build 528 classrooms for more than 25,000 disadvantaged children who are in urgent need of clean and sustainable classrooms.
Another example is the Recycled Plastic Housing project by EcoDom, a Mexican startup that collects plastic waste and converts them into large panels that are used to construct affordable houses for poverty-stricken families.
The company produces 120 panels per day, thereby converting 5.5 tons of plastic waste into housing materials. It approximately takes one week to construct a 430-460 square feet house that costs around 5000 pesos (roughly USD 260).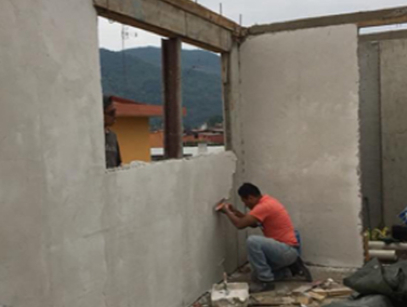 Image Credit: EcoDom
Mexico is the 11th largest economy in the world and about 48.8 percent of the country's population lives below the monetary poverty line. The affordable and sustainable housing option introduced by EcoDom is helping address two of the most pressing issues of the Latin American country, beating plastic pollution and affordable housing.
Edible Packaging
Notpla, a sustainable packaging start-up that uses edible and biodegradable packaging for beverages and sauces is a cheaper alternative for wasteful single-use plastics. The packaging made from seaweed and plants biodegrades in 4-6 weeks or can be consumed.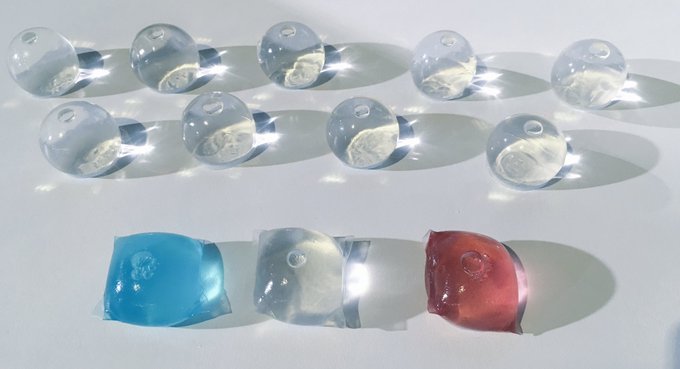 Image Credit: Notpla
The packaging solutions made by the company include Ooho, an edible water bubble that can replace sachets and plastic bottles for drinks and condiments and Notpla Liner, a natural, biodegradable and even repulpable waterproofing and grease proofing cardboard takeaway boxes for the food industry. The Notpla sachet is a game-changing innovation to fight against plastic waste.
Another such example is Trishula, an Indian startup that develops edible cutlery, a biodegradable and eco-friendly product with no added preservatives as opposed to single-use plastic cutlery that ends up polluting the environment. A single spoon costs between Rs 3-6, depending upon the flavor such as dessert choco delight, mint wave, masala magic, peppercorn and Simply Salted.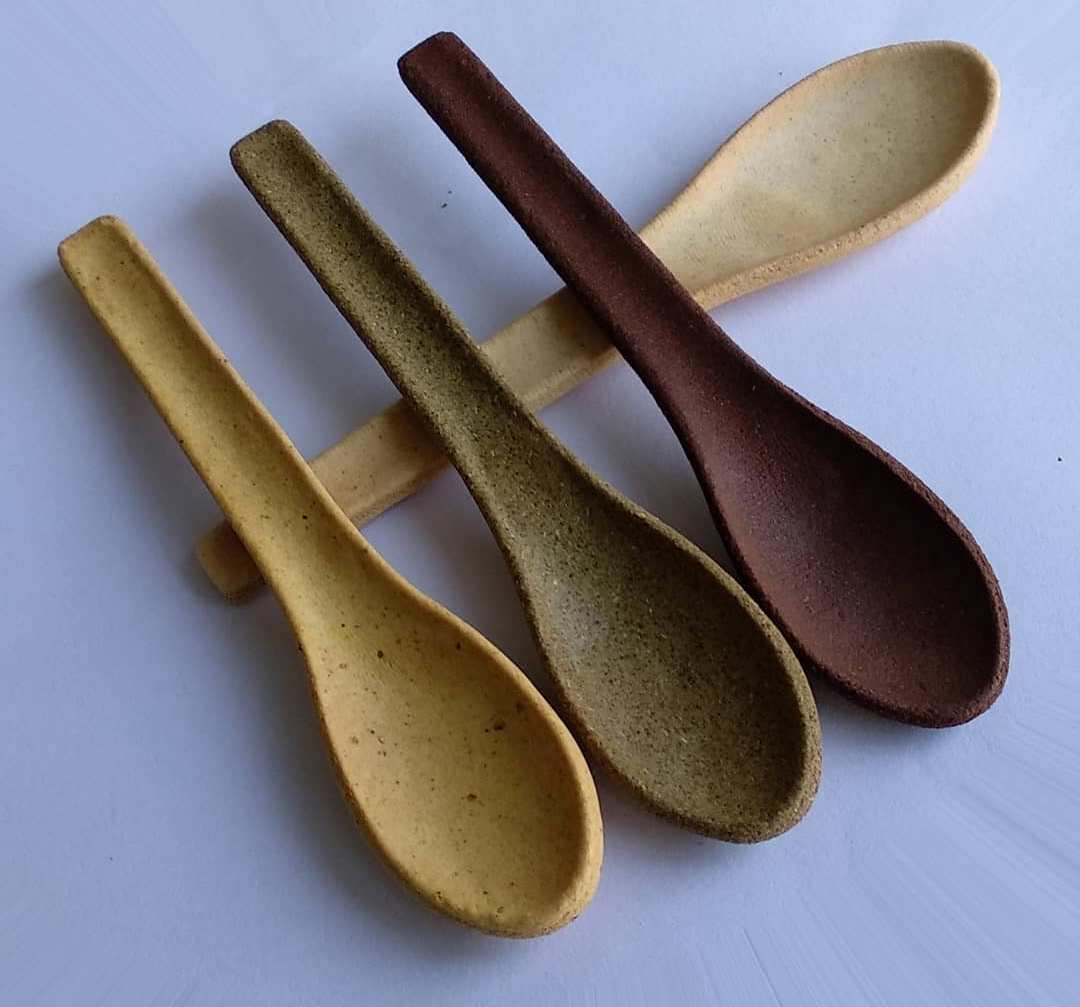 Image Credit: Facebook / Trishula India
Ingredients used in the edible cutlery include multigrain flour, natural flavors, salt, and water. These nutritious edible spoons and forks are definitely a cheap and healthy alternative to the non-biodegradable plastic spoons and forks that end up in landfills or the natural environment and take 450 years or more to degrade.
Ocean cleanup system
Marine plastic pollution, one of the most pressing environmental issues of our time costs USD 6-19 billion in economic loss, annually. To clean the floating ocean plastic before it breaks down into more and more small pieces (microplastics), a Dutch-based non-profit organization launched the ocean cleanup system that utilizes natural oceanic forces to navigate and move in the same pattern that the plastic follows in the accumulation zone.
The Ocean Cleanup, the organization behind the innovative system is dedicated to developing advanced technologies to free the world's oceans of plastic waste and aims to reach a 90 percent reduction of floating ocean plastic by 2040.
Image Credit: Ocean Cleanup
Last month, the organization announced that its ocean cleanup System 001/B which was launched back in June 2019 is successfully capturing and collecting plastic debris in the Great Pacific Garbage Patch, the world's largest accumulation zone of ocean plastics. The Dutch-based NPO will now begin to design its next ocean cleanup system, System 002; a full-scale cleanup system that is able to both endure and retain the collected plastic for long periods of time.
Biodegradable single-use water bottle
Plastic water bottles are the biggest menace for waterways around the world. Choose Water, a UK-based environmental startup developed a plastic-free biodegradable paper bottle made with completely non-toxic materials that break down in months and not years like plastic bottles. The outer case of the bottle is made from recycled newspapers while the lining is made from completely biodegradable plant-based materials. A metal cap that rusts down in the environment into naturally occurring minerals makes the bottle a better alternative than single-use plastic bottles.
Image Credit: Facebook / Choose Water
The paper bottle contains pure Scottish drinking water sourced from The Cairngorms. By introducing a low-cost single-use paper bottle, the social enterprise seeks to show the industry that it is possible to use bottled water as a force for good rather than destroying the planet and her resources. The company donates 100 percent of its profits to Water For Africa, a charity that provides water to the needy African communities.
(Disclaimer: The opinions expressed are the personal views of the author. The facts and opinions appearing in the article do not reflect the views of Devdiscourse and Devdiscourse does not claim any responsibility for the same.)
FIRST PUBLISHED IN:

Devdiscourse