UEL: Arsenal salvage 2-2 draw against Sporting Lisbon
Sporting Lisbon and Arsenal played out a 2-2 draw in the first leg of the UEFA Europa League. William Saliba got the first goal but within 12 minutes Lisbon got the equalizer through Goncalo Inacio. Lisbon got their second goal in the 55th minute of the game. But Arsenal levelled the game after an own goal.
---
ANI
|
Updated: 10-03-2023 16:46 IST | Created: 10-03-2023 16:46 IST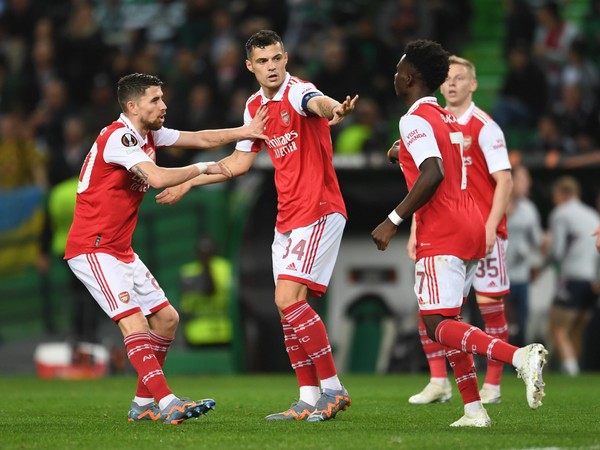 ---
The Portuguese League Giants Sporting Lisbon and Premier League leaders Arsenal produced a spectacle for the fans with a 2-2 draw. Arsenal broke the deadlock by scoring the first goal of the game following a corner. William Saliba rose high to meet his head with Fabio Viera's delicious cross. Antonio Adan Lisbons's goalkeeper could only stand at his goal line and watch everything.
Twelve minutes later the Portuguese side re-created the exact same copy of the first goal of the game. Goncalo Inacio scored the goal from a header as the entire Arsenal playing eleven stood on the ground and watched him score the goal. The hosts grabbed the lead for the first time in the game as Paulinho scored in the 55th minute of the game. A quick interplay inside the box caught the entire Arsenal defence off guard.
The visitors returned to the game with one of the luckiest goals. Granit Xahak tried to find Gabriel Martinelli. But on its way, Hidemasa Morita changed the ball's course to level the game. While talking in the post-match conference Arsenal's manager Mikel Arteta reflected on the goals that his team conceded.
"When you concede two poor goals like we did tonight away from home in Europe it's very difficult to get a positive result. We gave too many simple balls away and gave them hope and capacity to have those transition moments. We lost a bit of threat today with the four players we're missing in our front line. We need to defend our box much better," Mikel Arteta said. "In this competition, if you want to go through you have to go through difficult moments. We're still alive and hopefully, we'll play better at the Emirates," Mikel Arteta continued.
Arsenal will now host Sporting Lisbon in the second leg of the UEFA Europa League on 17th March at the Emirates Stadium. With the tie wide open this fixture is up for grabs for both teams. (ANI)
(This story has not been edited by Devdiscourse staff and is auto-generated from a syndicated feed.)