HostGator reviews 2021: 7 Shocking Hidden Facts of HostGator 
HostGator has been in the business since 2002. The web host is a smart choice for all website owners as it offers unmetered bandwidth, free domain for one year, a free SSL certificate and free site and cPanel migrations even with its basic shared hosting plan that starts at USD 2.75 per month. On top of that, the company provides 24/7/365 support and a 45-day money-back guarantee. In this article,you will get a HostGator complete review.
---
---
Disclosure: This content is reader-supported, which means if you click on some of our links that we may earn a commission.
HostGator is a leading provider of web hosting services to individuals, small and medium-sized businesses, and large enterprises as well. Founded in 2002, it is a part of the Endurance International Group (EIG), which owns major players like Bluehost, HostMonster, BigRock, and many others.
HostGator provides various web hosting plans for newbies as well as pros. These include shared, Virtual Private Server (VPS), dedicated server, reseller, cloud, and WordPress hosting, each unparalleled offering speed, reliability, and support.
The Houston-based web hosting company currently hosts more than 2 million websites globally, and 30 percent of its customers are web pros. The web host offers the best hardware - from Intel and AMD - and software to ensure the most functionality and security. For new customers, it offers special coupons, allowing you to try its most basic shared hosting plan for just one penny.
In this article, we will be reviewing. HostGator's web hosting services, along with some hidden facts about the company.
7 Shocking Hidden Facts of HostGator
EIG subsidiary: In 2012, HostGator was acquired by Endurance International Group (EIG), the same company which owned Bluehost, Domain.com, BigRock, SiteBuilder, and many other brands.
1% of Internet Traffic: HostGator hosts over eight million domains that make up approximately 1% of the world's Internet traffic.
Windows hosting: HostGator is one of the few web hosts that offer both Linux and Windows hosting. Websites that need specific Windows applications such as ASP Classic, ASP.NET MSSQL, and MS Access, to name a few, require you to have a Windows server
Scalable plans: HostGator provides the flexibility to easily upgrade to higher plans as your business and website grow.
Automated failover: Hostgator's automatic failover process seamlessly switches your cloud-hosted site to another server if one server becomes compromised.
Resource management: If your website needs additional resources, you can easily do this with cloud hosting, that too without any downtime.
Instant data mirroring: HostGator automatically distributes three mirrored copies of your cloud-hosted website across multiple devices to ensure the safety of your site and its redundancy as well.
HostGator Shared web hosting reviews
Shared web hosting is the most economical option for those just getting started online or those with a small budget. At HostGator, customers get to choose from three shared hosting plans, each of which offers unmetered bandwidth, one-click installs, and a free SSL certificate. The company throws in a free domain for a year, too.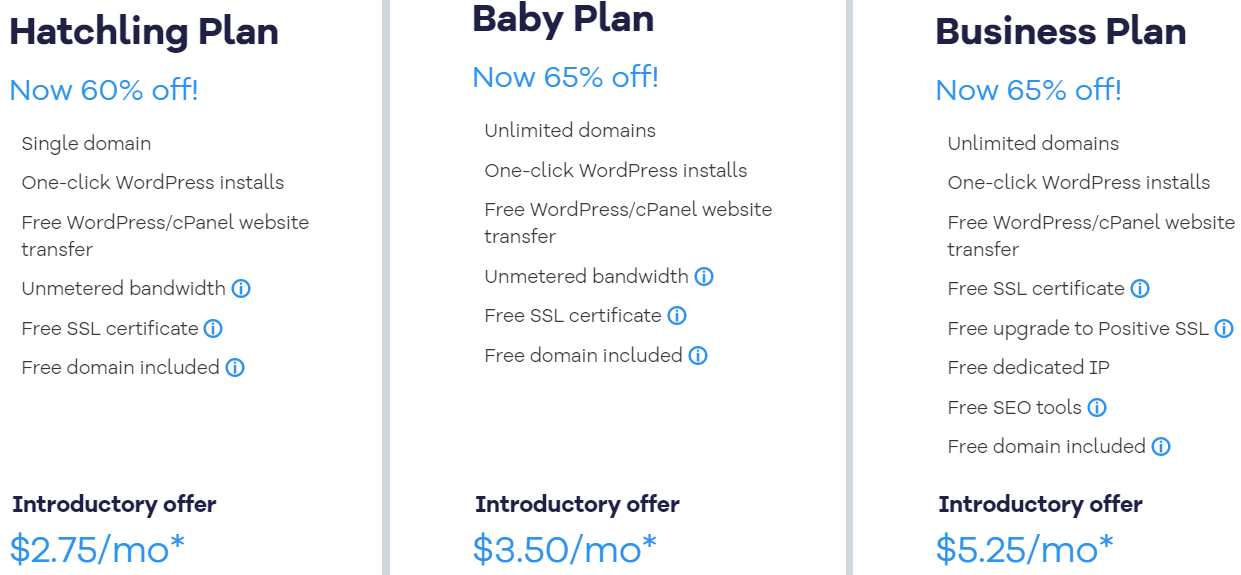 The Hatchling plan, HostGator's cheapest shared hosting plan, is ideal for newbies who want hosting for a single website. The package starting at USD 2.75/month, includes a single domain, one-click WordPress installs free WordPress/cPanel website transfer, unmetered bandwidth, free SSL certificate, one free domain name registration, and more features.
Baby is the mid-tier and officially-recommended shared web hosting plan at HostGator. The plan starts at USD3.50/month and allows for hosting unlimited websites, and includes all the Hatchling plan features.
The top-tier and the most expensive 'Business' shared hosting plan starts at USD 5.25/month. It includes additional features such as a free upgrade to positive SSL backed by a USD10K warranty and provides a TrustLogo Site Seal to display on a website. Other features include- a free dedicated IP and free Search engine optimization (SEO) tools that help increase the website's visibility and boost online search rankings to boost site traffic.
HostGator WordPress hosting reviews
WordPress hosting is tailor-made to cater to WordPress sites, but it doesn't mean that your WordPress website will not work with other web hosting plans like shared, VPS, or any other. With WordPress hosting, you get access to more WordPress-specific features with more customization options and enhanced security.
HostGator's WordPress hosting packages include perks like free site migrations, free domain, simplified control panel, USD150 Google Ads spend match credit, one-click WordPress installs, and advanced security, to name a few.
HostGator customers can install WordPress, one of the most popular blogging platforms and website content management system (CMS), in several ways, including the One-Click that installs WordPress on your account in one click.
Hostgator offers WordPress hosting in three tiers:
Starting at USD5.95/month, the Starter Plan allows for hosting one website with 100k visits per month. The package includes- unmetered bandwidth, 1GB backups, one free domain name registration, a free SSL certificate, and 100 percent free migration for up to 1 site.
The Standard Plan includes hosting for 2 websites, each with 200k visits per month, and starts at USD7.95 per month. The plan features include- 2GB backups, a free SSL certificate, and a free domain.
The top plan, i.e., the Business Plan, costs USD9.95/month and allows for hosting 3 websites, each with 500K visits per month. The package includes 100 percent free migration for three websites and all other features from the lower plans.
HostGator Cloud Hosting reviews
Cloud hosting allows website owners to utilize multiple servers' resources, allowing for unlimited expansion and growth. Hostgator's cloud web hosting promises up to 2x faster load times to efficiently manage website content and is 4x more scalable. And This means you can quickly ramp up your cloud resources with one click and respond to large traffic spikes without data migrations, downtime, or reboots.
The intuitive dashboard provides a quick view of usage trends, page download speed, uptime, and other important metrics to effortlessly manage, track a website's performance and with instant resource management, you can easily monitor and allocate additional resources to your cloud-hosted site, even without a system admin or advanced coding skills.
Most importantly, if a hardware issue arises, your website is automatically transferred to another server.
HostGator's cloud hosting plans are divided into three categories:
Hatchling Cloud - USD4.95/month

Baby Cloud - USD6.57/month

Business Cloud - USD9.95/month
Hatchling Cloud, the cheapest cloud hosting plan from HostGator, includes hosting for one domain, whereas the higher plans - Baby and Business - allow for hosting unlimited domains on a single account.
In terms of resources, the Hatchling Cloud Plan includes 2 CPU cores and 2GB RAM, while the Baby and Business Cloud plans include 4 CPU Cores and 6 CPU cores along with 4GB and 6GB RAM, respectively. All plans include a free SSL, unlimited sub-domains, unmetered bandwidth, and storage. The two higher plans also allow for unlimited parked domains to be hosted on a single account.
The Business Plan, HostGators' top-tier plan for cloud hosting, also includes a free Positive SSL upgrade, a free dedicated IP, and free SEO Tools.
Furthermore, customers can purchase other website essentials, including:
CodeGuard:

for regular, incremental, reliable backups of your site's content

SiteLock:

to detect malware and vulnerabilities on your website and address them before becoming an issue

GSuite:

for streamlining business (professional email, online storage, shared calendars, docs, video conferencing, and much more)

Domain privacy:

privacy protection for your personal information and to protect yourself from spam identity theft
HostGator Dedicated Server reviews
As the name suggests, a Dedicated Server is a hosting environment where a server is entirely dedicated to a website. The resources (like RAM and CPU) are not shared with other websites or customers. This type is hosting is suitable for websites with higher traffic and storage needs.
HostGator's dedicated server hosting plans let you choose between Linux or Windows operating systems and offer powerful hardware with options to select a hard drive based on your website's needs- HDD or SDD. All plans are loaded with features like 100 percent server control, DDoS protection, IP-based firewall, and flexible controls (cPanel and WHM on Linux or Webmatric or Plesk on Windows).
You can choose between managed or semi-managed dedicated server hosting services. If you pick managed dedicated hosting, HostGator will take care of all the server's storage and maintenance on your behalf. If you go the semi-managed route, the company will handle any hardware, OS, or basic configuration issues, and you will have to handle the rest.
HostGator offers dedicated server hosting in three packages:
Value Server: USD89.98/month
This plan offers 4 CPU cores, Intel Xeon-D CPU, 8GB RAM, and 1TB HDD in terms of hardware. The Value Server package includes - 3 dedicated IPv4 IPs, advanced DDoS protection, manual and scheduled backups, network uptime guarantee, and multiple bandwidth providers.
Power Server: USD119.89/month
The Power Server plan includes 8 CPU cores, 16GB RAM, 2TB HDD/512GB SSD storage, and all the standard plan features.
Enterprise Server: USD139.99/month
This is the most expensive of all the three dedicated server hosting plans from HostGator. Enterprise Server also includes 8 CPU cores and a massive 30GB RAM, and 1TB SSD storage.
HostGator VPS Hosting reviews
VPS or Virtual Private Server is a form of web hosting wherein a server is divided into fully separate virtualized hosting environments so that you don't have to share resources with other customers. This hosting is ideal for growing websites or expecting a higher volume of traffic in the near future.
As for Hostgator's VPS hosting, it allows you to customize your hosting environment to the exact scale you need without additional charges. With a virtual server fully allocated to your website, you will have more control over your resources. The company offers a 45-day guarantee and 24/7/365 support to answer all your queries.
Hostgator's VPS hosting plans come in three tiers:
Snappy 2000 - USD 19.95/month

Snappy 4000 - USD29.95/month

Snappy 8000 - USD39.95/month
Talking about the resources, the Snappy 2000 VPS plan includes 2 vCPU cores, 2GB RAM, 120GB storage, unmetered bandwidth, and 2 dedicated IPS. The middle-tier plan, i.e., Snappy 4000, includes 4GB RAM and 165GB storage, whereas the Snappy 8000 VPS hosting plan has 4 vCPU cores and 8GB of RAM, and 240GB of storage.
Additionally, you can add more RAM, CPU, or disk space to keep up with your website's growing traffic. HostGator offers complete customization and network uptime guarantee with its VPS hosting plans.
As for the VPS hosting features, each plan includes:
Unlimited email accounts.

Free content transfers.

Optional cPanel/WHM support.

Centralized DDoS protection.

Weekly offsite backups.

Options to create manual backups or scheduled backups.
Hostgator Reseller Hosting reviews
Reseller hosting is a form of web hosting wherein clients purchase web hosting space, bandwidth, and services to resell it to their clients or use it for their multiple websites.
HostGator offers a 99.9 percent uptime guarantee, easy-to-use control panel or cPanel, a free SSL certificate, unlimited domains, subdomains, and email accounts with each of its Reseller web hosting plan.
HostGator Reseller web hosting comes in three levels:
Aluminum Plan: USD19.95/month

Copper Plan: USD24.95/month

Silver Plan: USD24.95/month
The Aluminum Plan includes 60GB of disk space and 600GB of bandwidth in terms of resources. The mid-tier plan - Copper - offers 90GB of disk space and 900GB of bandwidth, whereas the top-tier Silver Plan includes 140GB of disk space and 1400GB of bandwidth.
HostGator SEO Tools
HostGator SEO Tools has multiple customized tasks to help you analyze your website while providing tasks, recommendations, and easy to understand instructions to optimize it. Based on the site analysis, the tool creates an online Markering Report -similar to Bluehost SEO tools - divided into various sections:
Start:

After considering all aspects of your website that influence SEO, an overall score is generated.

Insights:

As the name suggests, it provides insights on how your website's keywords are with Google and other search engines, with a comparison of over 15 days or 3 months period.

Site Review:

It apprises you of any technical issue with your website and provides suggestions on what could be better and what is already done well.

On-Page optimization:

It checks if the structure of your website is understandable for search engines. HostGator SEO Tools analyzes your site content and gives suggestions on what to improve for improving your search engine ranking.

Mobile:

It lets you know whether your site is responsive and loads fast enough on mobile devices.

Popularity:

It is measured by the number of sites that are linking to your site- the more the backlinks, the more visitors your site gets.

Social media:

This section tells how a website is faring in social media by tracking how often your actual website (URL) has been shared across Facebook, LinkedIn, and other social platforms.
What's appealing about HostGator's SEO tools is the continuous updates the company offers to keep up with major search engines' guidelines, including Google, Bing, Yahoo, and others.
HostGator's SEO tool offered in two tiers - Start and Grow. Depending on your needs, you can upgrade or downgrade your package from the control panel.
The SEO Tools Start Plan is suitable for beginners that need to submit their website to search engines, whereas the Grow Plan is for those looking to improving their ranking and increase visitors.
Features
Start Plan
Search engine submission

50-page analysis

Weekly scan

5 keyword ranking reports

2 competitor analyzes

Monthly email report

Marketing report with 5 recommendations
Grow Plan
Search engine submission

500-page analysis

Daily scan

Customized tasks by priority

15 keyword ranking reports

4 competitor analyzes
Monthly email report
Proactive alerts and notifications

Dynamic marketing report with targeted recommendations
HostGator Pros and Cons
Pros
99.9% uptime guarantee:

HostGators ' all web hosting plans come with a 99.9% server uptime promise, one of the essential website performance indicators.

Free domain name and SSL certificate: HostGator offers free domain name registration for one year along with a free SSL certificate.
Multiple affordable plans: Depending on the needs of your site, you can choose from the various types of web hosting plans - shared, dedicated, VPS, cloud, WordPress, and reseller hosting.
45-day money-back guarantee: Customer satisfaction is HostGator's top-most priority, that's why the company gives you a 45-day money-back guarantee. This means if you are not satisfied with their services during the first 45 calendar days, they will fully refund your hosting fees.

Free site transfers:

If you are considering transferring your website to HostGator, you will be happy to know that the company does it at no cost. HostGator is one of the top web hosting providers with free migration services.

Unlimited disk space and bandwidth:

HostGator offers 'unmetered' disk space and bandwidth, which means customers are not charged according to the amount of disk space or bandwidth use.

Professional SEO Services:

HostGator's SEO tools help your website gain more visibility in search engines by improving the site's rankings relative to the best keywords. HostGator utilizes industry best practices to influence website visibility, backed by SEO experts who stay up-to-date on algorithm changes of major search engines, including Google. You can monitor your site's progress via a personal SEO portal.

24/7 support: HostGator is known for the incredible way it treats customers. You can quickly connect to HostGator experts via 24/7 phone, live chat, and email. Additionally, the company's knowledge base and video tutorials are available to help you with all hosting-related queries.
Multiple payment options: HostGator offers multiple payment methods including MasterCard, Visa, Paypal, cash, bank transfers, and money orders, among others.
To know the pros and cons of each type of hosting and which form will be best for your site, read our previous post on "Top 10 Best Web Hosting for Small Businesses".
Cons
Server locations: The location of a web server directly affects a website's speed. While most of the company's web hosting servers are located in the U.S., you can optionally activate CloudFlare that acts as a proxy to route your website content through an additional 23 data centres worldwide.
High renewal rates: HostGator gives special offers to all its customers during their initial term. However, the renewal rates of all hosting plans, after the term expiry, are significantly higher.
Conclusion
HostGator has been in the business since 2002. The web host is a smart choice for all website owners as it offers unmetered bandwidth, free domain for one year, a free SSL certificate, and free site and cPanel migrations even with its basic shared hosting plan that starts at USD 2.75 per month. On top of that, the company provides 24/7/365 support and a 45-day money-back guarantee.
HostGator provides a huge array of videos for newbies that include step-by-step tutorials and additional guidelines to get them started. Additionally, the company's extensive knowledge base provides information on almost every topic - from design tools to security and optimization - to immediately answer customer queries and help them get the most out of their website.
Also Read:-