Longest toilet break? Belgian sits for five days in a bid for a record
Reuters
|
Updated: 13-07-2019 10:56 IST | Created: 13-07-2019 10:30 IST
---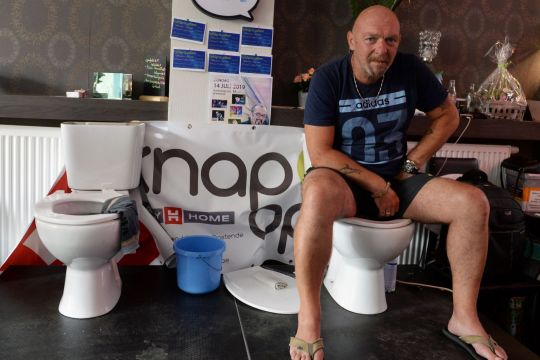 J&J faces U.S. criminal probe related to baby powder - Bloomberg
A Lithuanian couple won the World Wife-Carrying Championship for a second time in a row in the Finnish town of Sonkajarvi on Saturday, triumphing in a contest where men complete an obstacle course with their wives slung over their shoulders. Each year, the championship draws thousands of visitors to the town of only about 4,000 inhabitants in central Finland. Saturday's competition was the 24th year it has been held.
The longest toilet break? Belgian sits for five days in a bid for a record
A Belgian man sat on a toilet for nearly five days this week in a bid to set a world record. Jimmy De Frenne, a 48-year old who is learning to be a bus driver, set himself a challenge of sitting for 165 hours on a toilet set up especially for the feat in the middle of a bar but gave up on Friday morning after 116 hours.
Sneakers give art a run for its money at first-of-a-kind Sotheby's auction
Move over Monet. Nike is hot on your heels. Sotheby's in New York announced on Thursday its first-ever auction dedicated to sneakers, underlining their fast-growing status as collectibles able to command tens of thousands of dollars.
Also Read: Man arrested for killing his two wives in South Delhi
---