Odisha rail tragedy: Cong demands Railway Minister Ashwini Vaishnaw's resignation; slams PM Modi
---
PTI
|
New Delhi
|
Updated: 04-06-2023 18:38 IST | Created: 04-06-2023 18:30 IST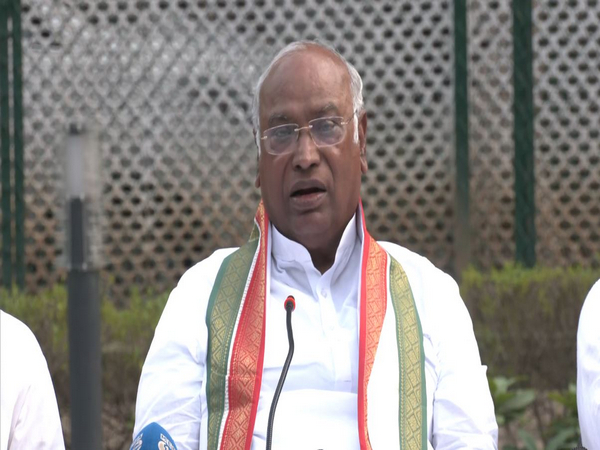 ---
The Congress on Sunday demanded the resignation of Railway Minister Ashwini Vaishnaw over the Odisha rail tragedy and attacked Prime Minister Narendra Modi, saying he should accept part of the responsibility for creating an "all is well" facade even as the critical infrastructure of the Indian Railway ''languishes in neglect''.
The Opposition party asked whether the prime minister will take responsibility for the ''deadliest rail tragedy'' of this century. It also asked who is responsible for ignoring the warnings and suggestions of experts, the parliamentary committee and CAG report.
Congress president Mallikarjun Kharge alleged that Modi was busy flagging off trains while not paying attention to railway safety. He called for fixing accountability of all posts from top to bottom to prevent such incidents in future.
Addressing a press conference at the AICC headquarters here, Congress MP Shaktisinh Gohil and AICC's publicity and media department head Pawan Khera alleged that the Odisha rail tragedy was a ''man-made devastation caused by ''utter negligence, serious lapses in the system, incompetence, and a narcissistic sense of know-it-all attitude of the Modi government''.
Khera said the prime minister has a ''Kavach'' which no other PM had, protecting him from public scrutiny and television debates. He urged the media to not provide that shield to the PM.
''This 'Kavach' does not save rail passengers but only your (PM's) image,'' Khera said.
The Opposition party also said that Modi should accept part of the responsibility for the ''mess'' that it alleged that his government has inflicted on the Indian Railways and the people.
Prime Minister Modi, who has announced that the guilty would be punished, must first start with his railway minister, Khera said.
''Unequivocally and unambiguously, we demand the resignation of the Union Railway Minister Ashwini Vaishnaw. Nothing short of it,'' he said.
''Resignation means taking responsibility on moral grounds, here there is neither responsibility nor morals, do you think any resignation would come? We don't know whom we should ask for resignation.
''The person who goes to inaugurate even small stations or the one who has been busy since yesterday morning in publicity. Modi ji, you decide whose resignation you want. But now the nation expects that you seek the resignation of your rail minister the way Lal Bahadur Shastri, Nitish Kumar and Madhavrao Scindia resigned,'' Khera said.
'''Praan jaye par PR na jaye-- you have to leave this principle now,'' Khera said further.
In a series of tweets in Hindi, Kharge posed questions to the Modi government and alleged that ''PR gimmicks'' have made the working system of the dispensation ''hollow''.
Noting that three lakh posts are vacant in the Railways, he said posts at high levels whose recruitment is through the Prime Minister's Office are also lying vacant. He asked why these posts were not filled in the last nine years.
The Railway Board itself has recently admitted that long working hours of loco pilots due to acute shortage of manpower is the main reason for the increasing number of accidents, the Congress president said and asked why the posts were not filled up.
Kharge claimed that the Principal Chief Operating Manager of South Western Railway Zone sought fixing of the signalling system on February 8, 2023, citing an incident in Mysore in which two trains averted a collision.
''Why did the Ministry of Railways not act on it,'' he asked.
The Parliamentary Standing Committee in its 323rd report criticised the Railways for the ''disregard'' shown by the Railway Board towards the recommendations of the Commission of Railway Safety (CRS), Kharge said.
It was said that CRS investigates only 8 per cent to 10 per cent of accidents. Then why was CRS not strengthened, he asked.
''According to the latest CAG audit report, almost seven out of 10 train accidents between 2017-18 and 2020-21 were due to train derailment,'' the Congress president said.
''According to CAG, 79 per cent of funding was reduced in Rashtriya Rail Sanraksha Kosh (RRSK) when Rs 20,000 crore was to be made available every year. Why has there been a huge decline in the amount of track renewal works?'' the Congress chief said.
The train collision avoidance system developed by India's Research Designs and Standards Organisation (RDSO) in 2011 was renamed by the Modi government as ''Kavach'' and was demonstrated by the railway minister himself in March 2022, he said and asked why it has been implemented only on 4 per cent routes till now.
''Mr Modi, you are busy flagging off trains that have been turned white every day but do not pay any attention to rail safety,'' he said in an apparent reference to Vande Bharat trains.
Accountability of posts from top to bottom has to be fixed so that such accidents can be prevented. Only then will the victims of this tragedy get justice, Kharge said.
Congress general secretary Priyanka Gandhi Vadra too called for the resignation of Vaishnaw.
''Following the ethical path of Lal Bahadur Shastri ji, Nitish Kumar ji, Madhav Rao Scindia ji, shouldn't the railway minister resign?'' she said.
Earlier, Congress general secretary Jairam Ramesh alleged that railway safety had been compromised in the ''PR campaign'' of the prime minister and the railway minister.
''Recall that Lal Bahadur Shastri resigned in the wake of the Nov 1956 Ariyalur train disaster & Nitish Kumar did so following the ghastly Aug 1999 Gaisal train tragedy,'' he said in a tweet.
At the presser, Gohil and Khera posed questions to the government and asked when will Modi demand the resignation from his railway minister.
They alleged that Vaishnaw's ''over the top publicity, theatrics and PR gimmicks overshadowed the serious deficiencies, criminal negligence and complete disregard for safety and security of Indian Railways''.
''PM Modi himself is responsible for a green-flagging spree of Vande Bharat Express trains. He is responsible for creating this 'all is well' facade in the Indian Railways, even as crucial, sensitive, and critical infrastructure of the Indian Railway languishes in neglect,'' Gohil and Khera said in their statement.
Khera claimed that before the accident, Vaishnaw skipped presentations on safety at Railway Chintan Shivir because he had to attend the flagging off of a Vande Bharat train.
Gohil said the Railways Minister should take responsibility but ''Modi and morals travel in opposite directions''.
The crash involving Bengaluru-Howrah Superfast Express and Shalimar-Chennai Central Coromandel Express, which were carrying around 2,500 passengers, and a goods train occurred around 7 pm on Friday near the Bahanaga Bazar station in Balasore.
At least 288 people were dead and over 1,100 injured in the accident, the worst rail accident in India in nearly three decades.
(This story has not been edited by Devdiscourse staff and is auto-generated from a syndicated feed.)