Jujutsu Kaisen Chapter 217 full summary out: What to expect from plotline
---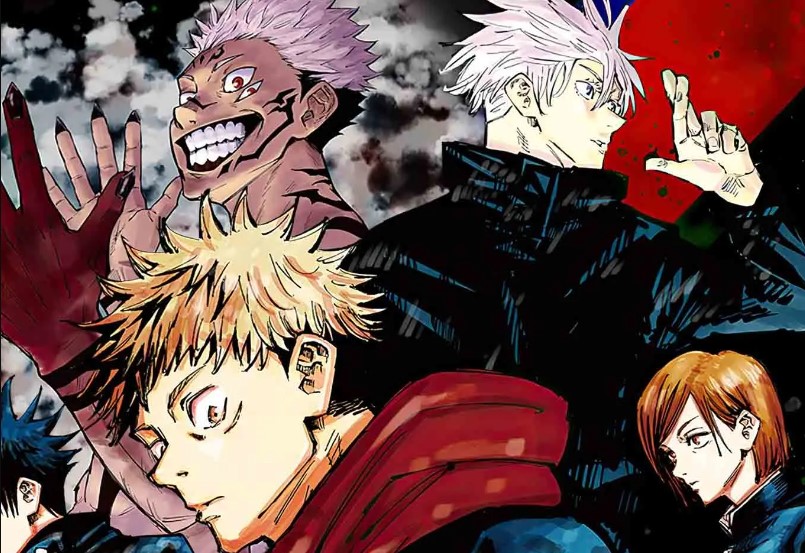 ---
Jujutsu Kaisen fans are shocked because Sukuna has taken control of Megumi Fushiguro's body. Yuji is too weak to stop Sukuna from getting stronger, so fans are excited for the release of Jujutsu Kaisen Chapter 217. This chapter will explain more about Kenjaku and Uraume's plans and will likely have a big fight between Sukuna and Yorozu. The raw scans and full summary for the chapter are out. Here is everything that we know up until now.
Spoilers alert: This article may contain Jujutsu Kaisen Chapter 217 spoilers!
Jujutsu Kaisen Chapter 217 begins with Sukuna and Yorozu facing off against each other in a stadium. Yorozu, who is smitten with love for Sukuna, makes the first move and the battle begins.
According to Jujutsu Kaisen Chapter 217 summary, during the fight, Yorozu demonstrates her construction/architecture technique, which allows her to build numerous weapons and a flesh armor that diverts and specializes in numerous biological functions. She also has a liquid metal technique that changes its volume while maintaining stable physical properties due to the cursed energy of semi-autonomous control.
Sukuna summons Divine Dogs, which are demon-like creatures that attack Yorozu. She manages to escape the attack and makes her technique surround Sukuna, trying to crush him with it. However, Sukuna has already evaded it.
Yorozu then questions Sukuna why he is using the vessel's technique and not the shrine. Sukuna reveals that he won't use his techniques because he wants to make it look like Megumi killed his sister himself.
Yorozu throws a tantrum and gets serious, asking Sukuna if he could beat her without using the shrine. She reveals that her curse technique is called the "Construction/Architecture Technique," which allows her to build various weapons and become a veteran sorcerer.
As the battle intensifies, Sukuna starts to summon Mahoraga to counter Yorozu's attack. The chapter ends with the announcement of a break for the next week, leaving readers on a cliffhanger.
Overall, Jujutsu Kaisen Chapter 217 is filled with action and reveals more about Yorozu's curse technique and Sukuna's plans. The battle between the two sorcerers is intense, with each summoning powerful creatures to aid them in the fight. Fans are eagerly anticipating the next chapter to see how the battle concludes.
Jujutsu Kaisen Chapter 217 is set to release on March 19, 2023, at 7:00 AM PST in the US, the UK, and Europe. In Japan, the chapter will be available on March 20, 2023. The translated version of the chapter will also be released on the same day, a few hours after the initial release. Fans can easily read all the published chapters of Jujutsu Kaisen on official manga platforms such as Viz Media/Shonen Jump and Manga Plus.
Also Read: Dr. Stone Season 3: New World - What fans can expect